2022 Hyundai Tucson Limited AWD Review & Test Drive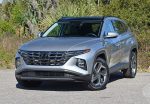 The Hyundai brand has afforded itself a position at the top of the field for mainstream automobiles and the newly redesigned Hyundai Tucson plays an important role in such a recognition. As I embark on another experience with the Hyundai Tucson, there's a lot of new information to take away in having the normal gas-powered Tucson in my possession for a week in the top Limited trim.
What I have found in the new 2022 Hyundai Tucson Limited all-wheel-drive is that its powertrain may be the worst part of such a vehicle, and that's rather unfortunate because it's a likable vehicle with several welcomed features and amenities and the proper spacious accommodations for a "compact" crossover.
Powering the 2022 Hyundai Tucson Limited AWD is a 2.5-liter 4-cylinder engine that has 187 horsepower and 178 lb-ft of torque. The naturally aspirated engine is mated to a decent 8-speed automatic transmission that does all it can to help land the 4-cylinder engine in its powerband. However, the excitement of the Tucson Limited AWD never arrives as the engine feels sluggish, and getting the Tucson moving from a stop is somewhat of a letdown. Getting up to 60 mph takes about 8.8 seconds, which is much slower than the Tucson Hybrid I tested a few months ago, about 1.4 seconds slower. Moreover, the normal gas-powered Tucson Limited AWD wants to lurch and slow preventing you from keeping a consistent pace when you travel at speeds around 40 to 60 mph. At such speeds, the Tucson's transmission never locks up its torque converter leaving the engine to loft around where you can hardly ever find the right throttle position to keep a steady speed. This little quirks is mostly due to the lack of torque from the engine where the 8-speed automatic transmission has to compensate by slipping the torque converter and allowing the engine to rev a little higher without upshifting constantly.
See Also: 2022 Hyundai Tucson Limited Hybrid Review & Test Drive
Apart from the sluggishness from the engine being my biggest issue, the Tucson rides very well and remains compliant through turns, and settled for the most part when you encounter road bumps, undulations, and other road imperfections. Overall, there's a nice premium quality about how the Tucson Limited AWD handles itself. If only there was a turbocharged engine option complementing the quicker Tucson hybrid, then the gas-powered Tucson would be higher on my list of recommendations. For now, I would rather recommend the Tucson Hybrid because of its added performance and better fuel economy.
The fuel economy is mostly consistent where I got a steady average of about 26.8 mpg around town with an even mix of highway and city driving. That matches the EPA estimate of 26 mpg combined falling in place with the estimates of 24 mpg city and 29 mpg highway.
The cabin of the new Tucson Limited AWD is identical to what I experienced in the Hybrid model. There's a bounty of features to add to its value perception, such as heated and ventilated front power seats, heated rear outboard seats, heated steering wheel, a 360-degree camera system, a 10.25-inch touchscreen infotainment system with navigation, Android Auto, and Apple CarPlay integration, and a 10.25-inch digital gauge cluster with a blind-spot view monitor system that displays the live blind-spot image feed upon signaling.
What Hyundai could improve as far as the interior goes is to include a couple of knobs, one for the volume and maybe one more for the radio tuning. Having the flat glossy waterfall panel for the infotainment unit and nothing but touch-capacitive buttons can sometimes take your focus off the road and require several repeated presses of buttons like the volume button. The system is user-friendly, overall, but is not conducive to keeping your attention on the road unless you are the front seat passenger making the adjustments.
The seating accommodations are very versatile with an ample amount of seat travel for the front seats allowing the driver to easily find an optimal driving position. The rear seats provide a good amount of space as well for a compact crossover along with 60/40-split folding seatbacks that open the decently sized cargo area that's accessed by a power liftgate with a smart feature to automatically open on detecting the key fob in your pocket as you walk up to the rear of the vehicle.
Hyundai has done well with the new Tucson. Its styling sets it apart from anything else out on the road with the unique LED daytime running lights that illuminate parts of the front grille along with the chiseled body molding lines, sporty-looking 19-inch wheels, and distinctive rear LED lighting elements.
There's also a list of expected active safety tech features, including adaptive cruise control, lane keeping assist, blind spot monitors, forward collision-avoidance assist, and rear cross-traffic alert.
As far as value, the Hyundai Tucson is priced just right for the base model starting at $25,350 before any fees or additional charges. However, moving up through the chain of four trim levels (SE, SEL, N Line, Limited) to the top-level Limited trim that includes all available features, the Tucson's price rises quickly to land at $37,454 including a $1,185 inland freight and delivery charge. Though, each trim level has a set list of included features with a limited list of options to choose from other than a couple of option packages and a list of accessories like roof racks, tow hitch, wheel locks, cargo options, and carpeted floor mats. In all, the newly redesigned Tucson is an original approach to a compact crossover that has a versatile and stand-out touch to attract buyers who want something fresh with the availability of several desirable features.