2022 Jeep Grand Wagoneer Series III 4×4 Review & Test Drive
After a long 30-year hiatus, the Jeep Wagoneer and Grand Wagoneer have returned to run with the big boys of luxury and excess, such as the Cadillac Escalade, Lincoln Navigator, Land Rover, and even alongside the offerings of Chevrolet's Tahoe and GMC's Yukon. The all-new Jeep Wagoneer and Grand Wagoneer are new mainstays for the Jeep brand that seem to branch off into a new Wagoneer line that's suited for luxury duties.
To quickly chart the main differences in the new 2022 Wagoneer and Grand Wagoneer, Jeep basically positioned the Wagoneer as a more affordable option that's still the same size and design as the more-expensive Grand Wagoneer but makes do with a 5.7-liter V8 engine and an eTorque 48-volt mild-hybrid system for a total of 392 horsepower and 404 lb-ft of torque. Towing capacity is at 10,000 pounds. The Grand Wagoneer takes things up a few notches by having the more substantial powertrain, the brand's 6.4-liter 392 V8 with 471 horsepower and 455 lb-ft of torque with a nearly-matching tow rating of 9,850 pounds and a Gross vehicle weight rating of 7,400 pounds (1,360 pound payload capacity). Both vehicles have an 8-speed automatic transmission.
Apart from the engine differences, the Grand Wagoneer is the more luxurious choice, one that gets all the expected comforts that you expect in a luxury body-on-frame large SUV in addition to a plethora of information and entertainment screens. You can almost think of the Wagoneer vs. the Grand Wagoneer being just like the GMC Yukon Denali vs. the Cadillac Escalade. The Grand Wagoneer also somewhat prides itself is how many screens you can get inside of the mammoth-proportioned vehicle. In my Series III test vehicle, there are five screens plus you can get another two as an option for entertainment screens mounted on the back of the front seats. The front passenger's touchscreen that's magically blocked from the driver's view, is a nice addition for viewing movies via HDMI or USB connection.
Having the new Grand Wagoneer in my possession this week, there's a lot to take in. When I say a lot, there's a lot of vehicle here that tips the scale at 6,420 pounds but it doesn't feel so heavy when you have 471 horsepower at your beckon. Fundamentally, the new Grand Wagoneer surprisingly handles itself well out on the road and gets up and moves when you need it to. Zero to 60 mph takes place in just 5.4 seconds, which is just over a second faster than the 'regular' Wagoneer with its mild-hybrid 5.7-liter V8 setup and almost a half-second quicker than the new Cadillac Escalade. Of course, when you start to keep pace with other traffic or listen to that growling V8 rumble there's going to be a price to be paid at the pump. The Grand Wagoneer drinks copious amounts of fuel to the tune of its EPA estimates that fall in line with my real-world observation at 13 mpg city, 18 mpg highway, and 15 mpg combined, which is a slight depart from much of its competition.
There's a lot of mass to keep in check and you feel it if you ever take a sharp turn at speed, but the new Grand Wagoneer does "okay" for handling where the air suspension system automatically lowers at highway speeds for a more aerodynamic profile and lower center of gravity. Of course, you're never going to want to push the Grand Wagoneer near its limits as you can easily find them without trying too hard and end up at the mercy of stability control keeping you out of the nearest ditch. The quadra-lift air suspension does well with the adaptive dampers to smooth out road imperfections and raise the vehicle by 1.7-inches for up to 10 inches of ground clearance for off-roading adventures or lower the vehicle for an easy entry/exit height aided by the power-retractable side steps. Thanks to the trick air suspension, 2-speed on-demand transfer case, electronic rear limited-slip differential, front-axle differential with disconnect, a Selec-terrain management system, and a Selec-speed controls system, the Grand Wagoneer is touted as one of the most off-road capable full-size body-on-frame SUVs, because JEEP! However, the Grand Wagoneer isn't a trail-rated Jeep mostly because of things like its approach angle being just 25 degrees even though you can ford 24 inches of water with the air suspension in its highest position. Speaking of "Jeep," you'd be hard-pressed to find any Jeep logos on the Grand Wagoneer – though, I did manage to find a couple embezzled in the bright adaptive LED headlight housings.
Getting into the Grand Wagoneer is easy, almost as easy to access to the spacious third row of seats at the touch of a button. Inside of the Grand Wagoneer in its top-tier Series III trim is an inviting space with the proper luxury appointments that flow elegantly throughout the cabin. There's an abundance of wood inlaid throughout the dashboard flowing into the door trim surrounded by piano black plastics, a leather-wrapped dashboard, and accented stitching. The seats are exceptionally comfortable up front with 20-way power adjustments, heating, ventilation, power headrest, several lumbar and bolster adjustments, and a decent multifunction massage feature that can be separated to massage your bottom, back, or both. The only fault I find with the front seats is that the power-adjustable headrest is too low for taller individuals. Adjusting it to the highest point is still too low for me at 6-feet 3-inches tall. Moreover, the color heads-up display needs more of a height adjustment to accommodate taller folks, too. However, it's nice to have the seat controls mounted on the door trim along with a neat touch capacitive button with haptic feedback for the seat memory for both front seats.
The layout of the interior and dashboard is well done and there's much thought into the positioning of controls and a welcomed redundancy of controls, whether it be the climate control system, seat comfort, or the audio system, there are multiple ways of controlling it all. The large 12-inch infotainment touchscreen running the new Uconnect 5 system is user-friendly with a short learning curve and a natural voice recognition that can be prompted by saying the prompt words, such as saying "Hey Jeep." The only issue here is there appear to be a few system glitches that arose during my week that hindered the performance of the system and remarkably-sounding 23-speaker McIntosh sound system. It's possible that the glitches may be fixed with an over-the-air software update. Otherwise, when the system did work my iPhone 13 Pro linked up seamlessly via wireless Apple CarPlay. There's also Android Auto integration and a 4G LTE Wi-Fi hotspot.
Seating areas are large and there are no cutting corners for providing the second and third*row passengers with an inviting space. The second-row captain's chairs on my test vehicle (you can opt for a 3-passenger second-row bench seat) are heated and ventilated and have a good amount of support. The third-row seats are wide and have enough space for a few adults to enjoy at least on a trip long enough to empty the large 26.5-gallon fuel tank.
The styling of the new Grand Wagoneer is a different approach that may captivate some with a few cues that harken back to the original Grand Wagoneer. The side windows have an upright framing that looks decent up close but somehow doesn't flow as well when looking at the vehicle from a distance. Otherwise, other small traits that pay homage to the wood siding-clade Wagoneer of the past can be found in the front grille along with a retained Jeep characterization. The Grand Wagoneer is so large that even the 22-inch wheels start to look a bit too small for its tall and upright stature. In all, the Grand Wagoneer looks… "Grand," and that's on purpose.
Overall, Jeep has done wonders fresh out of the gate to compete in the luxury space that was primarily ruled by only a handful of body-on-frame SUVs. There's a nice level of classiness, luxury, and subtle off-road prowess to make the new Grand Wagoneer something special and appealing to those who want something fresh and different encased in an authentic luxury package. The pricing scale is substantial for the Grand Wagoneer starting at $88,440 for the Series I and rising to $103,995 for the Series III, which includes a long list of standard luxury features and amenities along with a bevy of your expected active safety features. My almost-loaded Grand Wagoneer Series III 4×4 test vehicle comes to the price of $106,990, which is right in line with competition from something like the new Cadillac Escalade Luxury/Sport Platinum. Which American luxury brute will it be for you?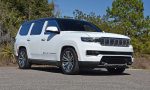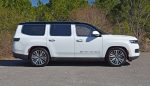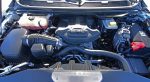 Automotive Addicts Read More