Audi R8 Spyder RWD video review: How good is 2022's hottest V10 cabrio?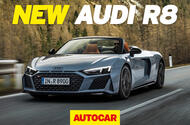 Drop-top R8 has been given a nip and tuck. We get behind the wheel to see how it handles on the limit
This is the, deep breath, 2022 Audi R8 Spyder V10 Performance RWD. Which is a long title that means it's a rear drive supercar with no roof.
The R8 is Audi's staple mid-engined supercar. These days it comes with a V10 engine only, of 5.2 litres, making 562bhp at 7900rpm, and 406lb ft of torque at 6400rpm.
Performance is spectacular. The 0-62mph dash takes 3.7sec and the top speed is 204mph.
Best of all, perhaps, is that the roof comes off so you can hear the sound better and rather than being all-wheel drive, this version is rear-driven only, which makes the car a bit lighter and its handling more adjustable.
In the UK this R8 variant costs from £135,525 – though you can easily spend more on options if you like. But is it any good? Join Mike Duff on some deserted closed roads as he finds out.
Autocar RSS Feed Read More