Autocar and Beaulieu name their top five Future Classics
You voted for which of today's cars are most deserving of future classic status. Here are the winners
The votes have been counted, the shortlist has been set and now you're looking at the five cars likeliest to be revered collectibles in 50 years' time, as decided by the Autocar-Beaulieu Future Classics competition.
Last summer, we announced this new initiative as a way to mark the 50th anniversary of the National Motor Museum at Beaulieu – and to recognise and cherish our current generation of wonderfully varied, engaging and special new cars, whose like we might never see again.
We put 100 contenders on a long list, from the Abarth 595 to the Volvo XC40, via the Dacia Duster, Jeep Wrangler and Rolls-Royce Phantom. They qualified simply by being new and available to buy at the beginning of 2022. You voted on that list to produce a shortlist of 10 contenders, among which were the Porsche 911, Morgan 3 Wheeler, Volkswagen Up GTI, Ford Fiesta ST and Mazda MX-5.
That shortlist was then whittled down to a field of five winners by expert judges from the National Motor Museum, with a little help from some Autocar journalists. The basis was simple: pick the cars we will look back on in 50 years' time and wish we could have again.
Our winners, then, decided by Autocar's readers and writers and Beaulieu's experts, appearing here in alphabetical order and all due for recognition at the Autocar Awards in May, are the Alfa Romeo Giulia Quadrifoglio, Alpine A110, BMW i3, Land Rover Defender and Toyota GR Yaris.
We gathered all five at Beaulieu for a celebratory photoshoot and for a refresher on what makes them so special, on which subject Autocar's Illya Verpraet, Jack Warrick and Matt Saunders are about to expand.
Thank you for your votes and for the continued enthusiasm that makes cars such as these so treasured in the first place.
Alfa Romeo Giulia Quadrifoglio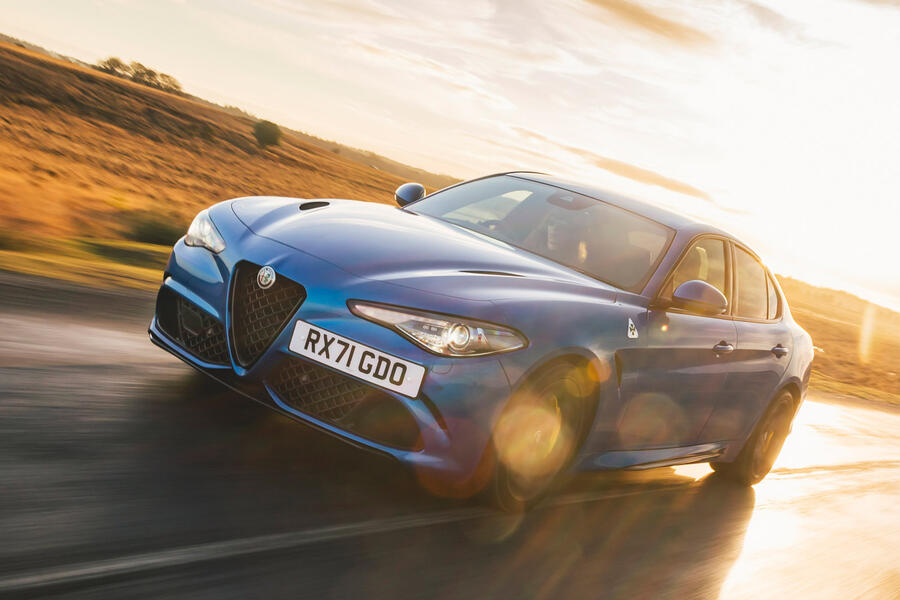 Rarity alone doesn't make something a future classic, but it sure helps. What sealed the deal for the Alfa Romeo Giulia Quadrifoglio's invitation to our winners' circle is that it's one of the most soulful cars on sale today. It is utterly sublime to drive, it is a car whose like we don't see often and it is simply adored by those who love it. 
Any BMW M3 is great, but there have been lots of M3s in the past and there will probably be a better, quicker one in a year or two. In contrast, after decades of great-looking but disappointing cars, the Giulia was intended to be the first product of a reinvigorated Alfa Romeo. To find the last truly great Alfa before it, you probably need to go back to the Giulia of the 1960s and 1970s. And as for the next truly great Alfa? Who knows?
The Giulia's bespoke rear-wheel-drive Giorgio platform reportedly cost more than £4 billion and was meant to underpin a number of future cars. Alas, electrification caught up with it and it will die with the current generation of models, so we're not going to see anything like the Giulia again. As Alfa goes electric, there will no doubt be future Quadrifoglio models, but something with the same (relatively) light weight and such an engaging powertrain is unlikely.
Aside from the uniqueness of the Giulia Quadrifoglio, well, just look at it. It exudes purpose but without resorting to needlessly aggressive chew-your-face-off styling. It would be a future classic simply as a static object – except it's even better to drive than it is to look at.
You might not have thought so during the past two years' staycations, but Britain is a lot like Italy. Not so much for the weather but because of the lamentable state of the roads. The result is that cars developed in Italy often work well in the UK. And indeed, the Giulia Quadrifoglio rides with an eerie serenity on uneven asphalt.
That's not even the best thing about it, though. Tip it into a fast bend with the ultra-quick but laser-precise steering (which does take some getting used to) and it responds by starting to yaw slightly. Not in a disconcerting way but by feeling hyper-agile and signalling that it's up for anything. Incidentally, the Alpine A110, also on this list, does a similar thing. Almost all modern performance cars suffer from being too serious: you have to go too fast for the road to really get to know their character. This Alfa reveals itself earlier and with more honesty.
In most of the areas in which you would judge an executive saloon, the Giulia is outclassed by the BMW 3 Series. But who will care about that in 2070? The Giulia Quadrifoglio is rare, unrepeatable and brilliant to drive. Most important of all, though, it gets under your skin very quickly and makes itself right at home.
Illya Verpraet
Price £70,299 Engine V6, 2891cc, twin-turbocharged, petrol Power 503bhp at 6500rpm Torque 443lb ft at 2500rpm Transmission 8-speed automatic, rear-wheel drive Kerb weight 1580kg 0-62mph 3.9sec Top speed 191mph Economy 28.2mpg CO2 227g/km Tax band 37%
Alpine A110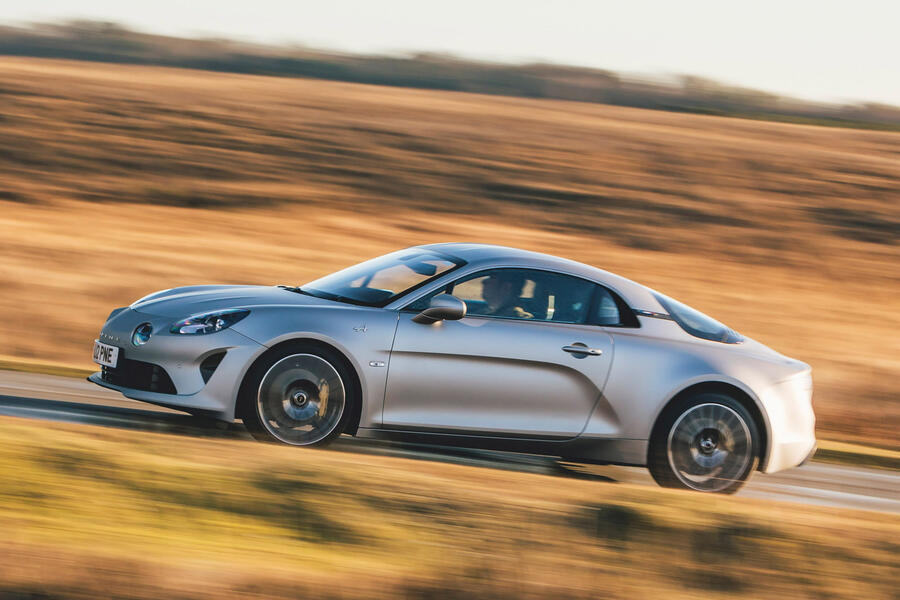 The judges debated and agonised over some of our finalists, but the Alpine A110 wasn't one of those cars. Even those who had never driven it recognised its claim as a guaranteed future classic. For those who had enjoyed the experience, the certainty was all the clearer.
This is a very rare and special car indeed: a compact sporting two-seater for the car enthusiast cognoscenti that will always have a following. Something great looking and also right looking: tastefully retro, purposefully low and compact and genuinely beautiful in this era of increasingly aggressive and aerodynamic sports cars.
The A110 is probably the most critically acclaimed and inf luential sports car to have been introduced in the past decade – and yet it almost didn't happen. It made our winners' circle when neither the Mazda MX-5 nor the Porsche 911 managed to – something that the Alpine's modest size and power output and its relatively low commercial success might lead you to question.
But the A110 didn't have the brand awareness of many successful generations of models behind it or a queue of returning customers to upgrade when it appeared in 2017. It was the car with which the Alpine brand was relaunched after a 22-year hiatus. Sure, it might have struggled to convince some buyers to convert from their Audis, BMWs and Porsches. But those who know, know. Little makes for more sure-fire collectability of a classic car than critical acclaim that's guarded like a well-kept secret.
If you trace the story of the A110's genesis and of the path that it's now set to take to retirement in 2024, you will see 'classic status' written large throughout. It was the joint venture project between Renault and Caterham, part-funded by the latter's ambitious Tony Fernandes, whose creation would inspire so many exiles from the famously tempestuous Bahar and Gales management eras of Lotus. Drive one and you can feel the Hethel DNA running through the compact aluminium tub, hard-working, mid-mounted four-cylinder engine and long-travel double-wishbone suspension. This is a British sports car in French clothing.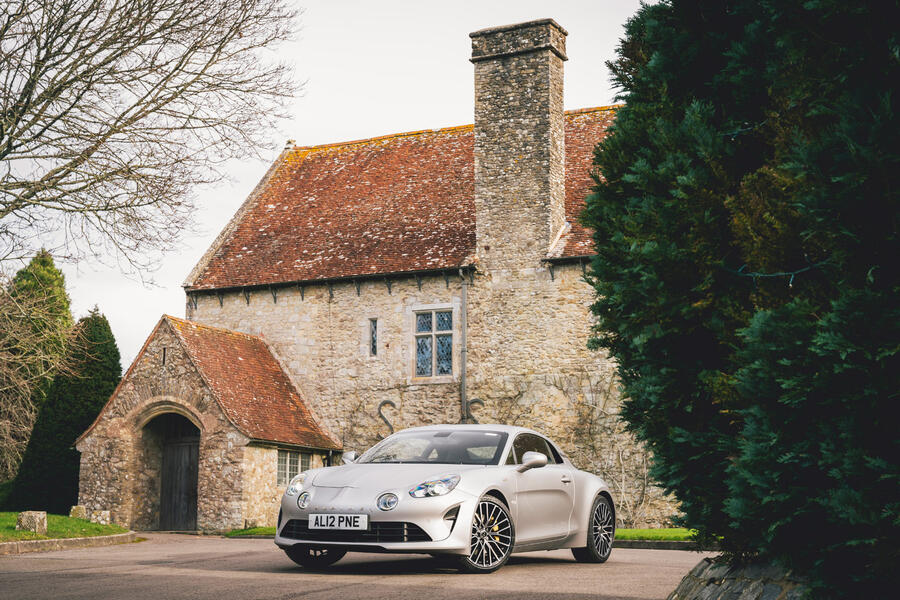 It's a truly compelling fast car, too, with an uncommon lightness of touch. One that's right-sized for UK country roads, with just enough performance to deploy on them to unlock the delights of its uncommonly poised lightweight chassis but not a hint of ballast or excess to be found anywhere. It's a car you can use every day, but one that feels made to be savoured and enjoyed and is capable of bringing to life roads and drives that other performance cars simply can't.
Within a couple of years, the A110's story will be over as Alpine moves boldly towards its all-electric future, and so a car that has sold only slowly, despite the raving of the motoring press at large, will probably bow out just as it lived: mostly unnoticed by the motoring public but celebrated by the knowing few.
Matt Saunders
Price £61,655 Engine 4 cyls in line, 1798cc, turbocharged, petrol Power 292bhp at 6400rpm Torque 236lb ft at 2000-6400rpm Transmission 7-speed automatic, rear-wheel drive Kerb weight 1134kg 0-62mph 4.4sec Top speed 155mph Economy 40.4-41.5mpg CO2 153-158g/km Tax band 34-35%
BMW i3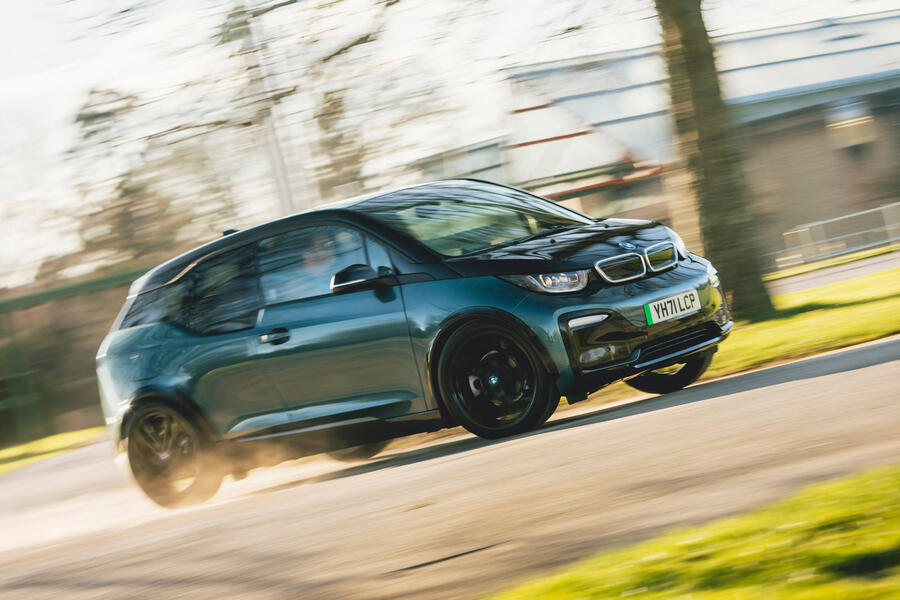 It's amazing to me that no other manufacturer has offered to buy the tooling for the BMW i3. Perhaps they have and BMW has simply said 'no thanks'. This marvel of a modern supermini is due to go out of production in July this year and so only qualifies for our Future Classic award by the skin of its teeth. But, excepting the excellent Porsche Taycan, it's probably the only electric car on the market right now that was ever likely to be in contention. I'm delighted that it has made the winners' circle and by doing so proved that life after the internal combustion engine really needn't be dull and charmless.
When the i3 comes up in conversation, a great many people sagely comment that it has been a car so far ahead of its time. It was introduced way back in 2013, when the first Nissan Leaf and Renault Zoe were at much greater pains to show how normal an electric car could be. And these people are right to say so: but what perhaps they don't realise is that the i3 was that way by design.
BMW created the i sub-brand explicitly to make cars that would be ahead of their time, that would challenge norms and preconceptions and demonstrate technological potential for their forward-thinking owners, even though neither the cars nor the owners would number very many. And the i3 was the first i car. So when we look at one now and think "that's precisely the car BMW should be introducing today, albeit with a cheaper and more mass-production-viable chassis than carbonfibre and a range longer than 175 miles", we're only confirming what a great job BMW did when it created the car more than a decade ago. The i3 nailed its brief; it was never intended to really sell in volume, but not because it wasn't desirable or brilliantly conceived.
When Renault built an electric supermini at the same time, let's remember, it simply electrified the Clio and then wrapped it in prettier panels. BMW, by contrast, designed an entirely new small car concept from scratch. It was one made of lightweight materials to offset the extra weight of the batteries. One with a low scuttle and window line and a raised ride height so as to grant first-class visibility in city driving. One smaller than the average small car in order to be extra manoeuvrable and agile at low speeds. One with rear-hinged rear doors to grant the easiest access in tight spaces and a roomy and open interior that combines appealing recycled materials with top-level infotainment technology. And, last but not least, one with the performance and handling balance for it to be genuinely fun to drive.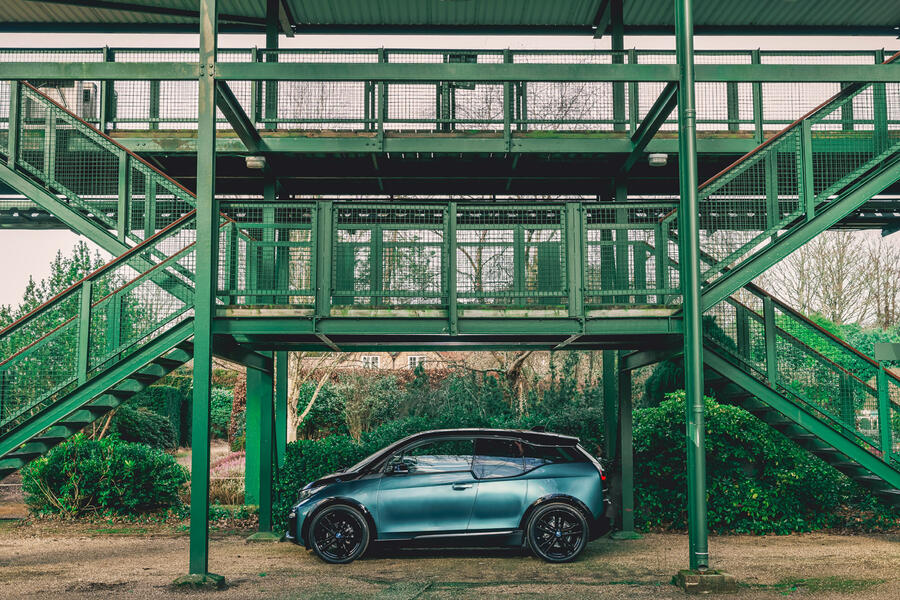 The i3 symbolises the kind of unshackled, inspired design that ought to have been applied to every electric car that the market has gained since but so seldom actually has. If that isn't enough to make it a future classic, there's no justice.
Matt Saunders
Price £34,750 Engine electric motor Power 181bhp Torque 199lb ft Transmission single-speed reduction gear, rear-wheel drive Kerb weight 1290kg 0-62mph 6.9sec Top speed 99mph Range 175 miles CO2 0g/km Tax band 1%
Land Rover Defender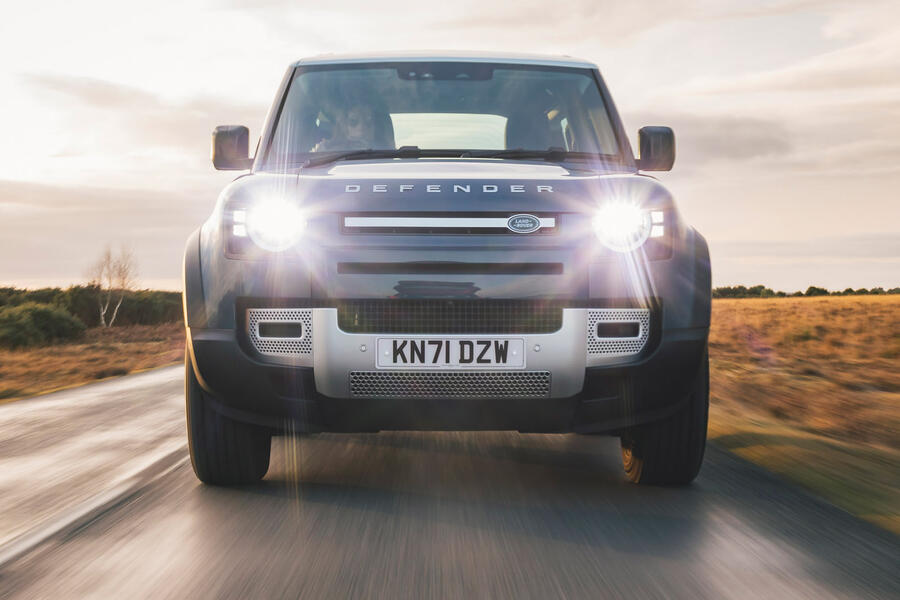 "IT'S NOT A proper Defender! It's too posh! It doesn't have a hose-out interior!" There will always be those who think that once a car has nailed its colours to the wall and defined its place and role in the world, that's what it has to be forever. Nonsense. Cars have always had to move with the times in order to stay relevant, and this is a brilliant reinterpretation of Land Rover's classic.
What makes it a future classic in the eyes of our judges is that, despite taking inspiration from the original car, it's also fresh-feeling and so well executed that it effortlessly escapes any sense of being a modern pastiche.
This car is instantly recognisable as a Land Rover Defender, for example, and yet it's not retro. The three-door 90 model's proportions are so perfectly absurd that looking at it never fails to brighten your day: it's like a giant cartoon puppy. The five-door 110 loses some of that charm in return for greater versatility, but the details are just as delightful. The steel wheels and the patterned wing plates of our test car set off the aesthetic perfectly, and the way the lights are shaped and sculpted is simply inspired.
The revived Defender takes its function seriously, too. Yes, it's expensive, but then farmers weren't really buying old-style Defenders any more. Thanks to supremely clear approach and departure angles and commanding ground clearance and wading depth, and helped by clever electronics that can nip at individual brakes in a way that no driver ever could, the Defender is a formidable car to drive off the road.
What's remarkable about the Defender, though, and what makes it rather different from the original, is that it's also a lovely car to drive on the road. It's a characterful one, too. While most modern SUVs try to behave like hatchbacks but usually don't quite succeed, the Defender takes a different approach. The steering, gearbox and suspension are much less immediate than you might expect with a modern car, but it still manages to proceed in such a relaxing, unhurried way. In a sense, it is reminiscent more of a classic Range Rover.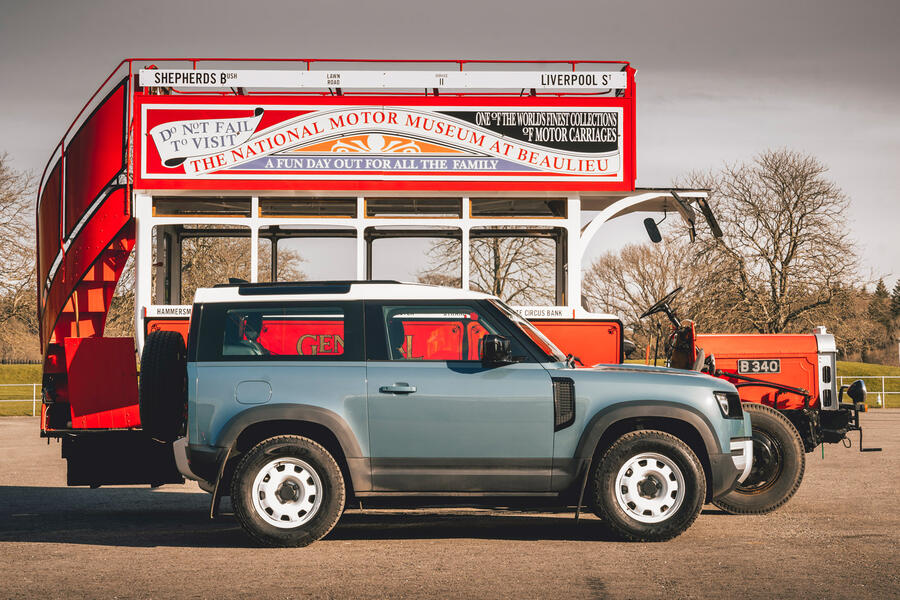 You can get it with Land Rover's long-running supercharged 5.0-litre V8. The concept of a big floaty off-roader with a 518bhp V8 is joyfully ridiculous, but the other engines are great as well. The four-cylinder options wouldn't be our choice but, other than the earliest examples, all the diesels are creamy 3.0-litre straight sixes, and even the base D250 is muscular. The petrol straight six is also great, if rather thirsty.
Some cars lose some of their identity as they age because they're no longer the fastest, the most powerful or the most technologically advanced of their kind. But it's easy to see how the Defender would continue to delight even when it transitions to becoming an old car. Local trips in comfort, longer holidays four-up or off-road expeditions will all be just as much fun in 15 or 20 years' time as they would be today.
Illya Verpraet
Price £59,130 Engine 6 cyls, 2997cc, turbocharged, diesel Power 245bhp at 4000rpm Torque 420lb ft at 1250-2500rpm Transmission 8-speed automatic, all-wheel drive Kerb weight 2303kg 0-62mph 8.0sec Top speed 117mph Economy 31.2mpg CO2 238g/km tax band 37%
Toyota GR Yaris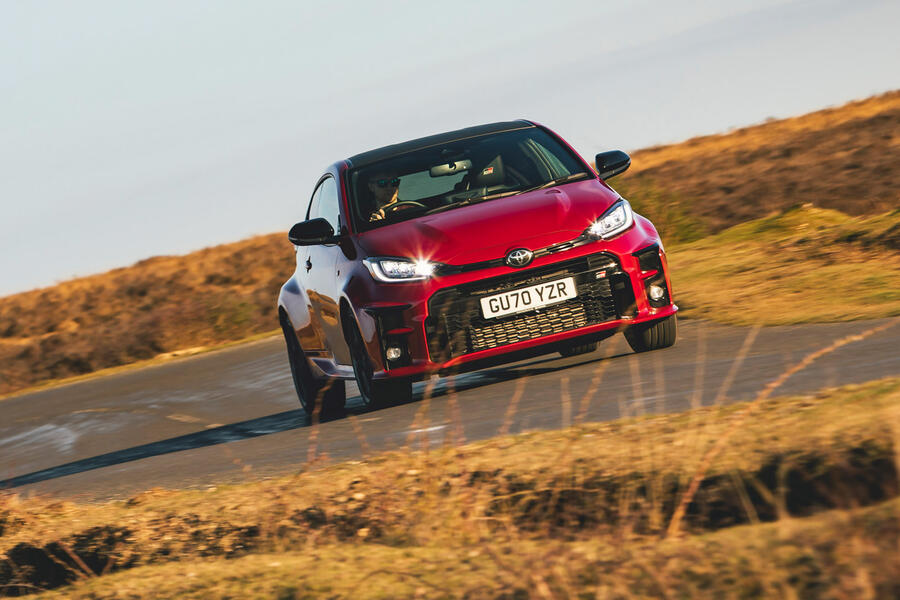 You might think the GR Yaris is just a frenzied version of Toyota's stylish supermini, but it's so much more. Following the Toyota GR Supra coupé, it was the second performance model to bear the now-venerated Gazoo Racing tag. It reinjected some much-needed life and spark into the hot hatch segment – and it has done even greater things for Toyota's reputation as one of the ruling powers of the affordable driver's car firmament.
You might already have a grasp on how much we love the Toyota GR Yaris. Our testers gave it a perfect five-star score in both its first drive and road test, and it went on to secure the title of Britain's Best Affordable Driver's Car back in 2020. In the year of its launch, there wasn't a more talked-about new performance car of any kind, and there's a considerable buzz about the model still.
Artificial soundtrack aside, the GR Yaris is all about the purest of driving experiences. There's no launch control, no hybrid powertrain and no stonking great engine, but the little sports hatch packs the performance credentials to go head-to-head with even the most established sports cars.
Developed from the ground up using the firm's recently revived interest in motorsport, the GR Yaris is powered by a relatively modest turbocharged 1.6-litre three-cylinder engine that makes 257bhp and 266lb ft, which is deployed to the road via a six-speed manual gearbox.
A truly tremendous throttle response allows for a 0-62mph sprint of 5.5sec, while it also benefits from four-wheel drive, with really reassuring grip and traction on offer. That allows you to make good use of the GR Yaris's excellent blend of four-wheel-drive stability and effortless agility, darting into corners with full confidence in its unbreachable traction.
Factor in the optional Circuit Pack for tuned suspension, recalibrated steering and Torsen limited-slip differentials at the front and rear and you will struggle to find a supermini – or a hot hatch of any kind, for that matter – that offers so much driving pleasure. It very much stands as a champion in the world of small, all-weather performance cars.
Yet although the GR Yaris is a very serious thing, it's also a versatile car that you can live with every day. More conservative drivers can return an economy figure of 32mpg; and alternatively you can choose a Convenience Pack over the Circuit Pack to benefit from sat-nav, better speakers and a head-up display.
The GR Yaris is like some mad 1990s rally-homologation throwback and undoubtedly among the last of a dying breed. It's the only car here to feature a manual shifter, and with Toyota (and sibling brand Lexus) targeting a total of 30 battery-electric models between them by 2030, there may not be another along in future.
We strongly encourage you to get behind the wheel of one before it's too late – and if you then end up buying one, to think long and hard before selling it.
Jack Warrick
Price £31,120 Engine 3 cyls, 1618cc, turbocharged, petrol Power 257bhp at 6500rpm Torque 266lb ft at 3000-4600rpm Transmission 6-speed manual, all-wheel drive Kerb weight 1283kg 0-62mph 5.5sec Top speed 143mph Economy 34.4mpg CO2 186g/km Tax band 37%
Autocar RSS Feed Read More