Autocar Business Live: join us in conversation with Bentley's CEO Adrian Hallmark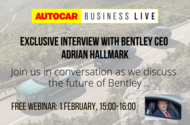 Live interview on 1 February as we discuss the future of Bentley off the back of its record sales
Bentley recorded its second consecutive year of record sales in 2021, despite all the headwinds it faces from the pandemic and semiconductor shortage. Adrian Hallmark has been at the helm of the British luxury car manufacturer since 2018, overseeing Bentley's huge changes and challenges in those four years.
Join us for the next installment of Autocar Business Live as we discuss all this and more with him, delving into what the record sales mean for the future of the factory in Crewe and how the firm's electrification plans are shaping up.
The free webinar takes place on 1 February at 1500-1600. You can sign up to watch via the specific page on the Autocar Business webinar site.
The webinar will be hosted by Mark Tisshaw and Steve Cropley from Autocar, as we look to discover how Hallmark has helped turn Bentley into one of UK manufacturing's success stories.
Audience members will also be able to submit questions during the event, which will be addressed during the webinar, time-permitting.
Autocar Business is our industry-focused brand, which provides news and insight into the business of the automotive world.
Autocar RSS Feed Read More