Business briefing: British hydrogen car maker reveals new roadmap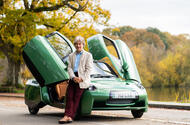 Riversimple CEO Hugo Spowers on why he feels the tiny fuel cell car could change how we view hydrogen vehicles
Hugo Spowers didn't just want to reinvent the car, he wanted to reshape car ownership as well. Even Tesla's Elon Musk himself would goggle at the scale of the work Spowers' company Riversimple has given itself.
The proposed car is a two-seat, carbon-fibre fuel-cell coupe that's been uppermost in this former race-team owner's life since he first set up the company in 2001. Since then the project, now based in Llandrindnod Wells, central Wales, has sucked in £20 million of investment funds and seen the projected production start date pushed back multiple times.
The Rasa's fuel-cell powertrain with the additional acceleration boosting 'supercapacitor' batteries (which release power very quickly) and in-wheel electric motors is radical enough but Spowers doesn't dwell on this, calling it 'off-the-shelf' technology.
Instead, Riversimple's breakthrough is said to be at a 'system' level. Spowers draws a comparison with how Cooper humbled Ferrari in Formula 1 in the 1950s by focusing attention away from the engine by completely reinventing the layout. So Riversimple fits a tiny 10kw (13bhp) fuel-cell stack from Cummins and relies on a max 70kW (94bhp) from the supercapacitors to beef up acceleration so the car can hit 60mph from rest in around 10 seconds.
For Autocar Business webinars and podcasts, visit Autocar Business Insight
The carbon fibre chassis weighs just 72kg for a combined car weight of a projected 580kg, so there's not much to push along. Even so, top speed is currently capped at 60mph, at least at the moment.
The range with just 1.5kg of hydrogen on board is said to stretch to 300 miles but the Rasa isn't a car intended to cure battery-induced long-range anxiety. Instead this is a 'local' car that'll be sold to customers in specific geographic areas that are within range of a hydrogen pump that they'll top up from weekly. Encouraging fuel retailers to install those hydrogen pumps and solve the UK's almost non-existent refuelling infrastructure is another item on Spowers' insane to-do-list.
Riversimple cares deeply about how little hydrogen you use because it's paying. Customers subscribe to cars at £354 a month plus 38p a mile. That includes everything: insurance, maintenance, fuel, tyres, the lot. "Don't say it looks expensive until you've totted up all your bills, not just compared it to the PCP figure," Spowers says. Also, zero emission cars, whether battery or fuel cell, are expensive.
"The cost price of a combustion engine car is truly incredibly low," he adds. Spowers says his company's newest date for production is 2024 in a new factory scheduled to be built at one of two possible sites in Wales, a push back from the year predicted when we last spoke to him in 2019. Entrepreneurs with lesser spirit might have thrown in the towel by now but not Spowers. "The thing that is slowing us down is always funds," he admits. "We're working way ahead of the curve so we have been pushing against closed doors." The difference now he says is the growing interest in zero carbon transportation. "Those doors are now opening."
"Last year was one of Riversimple's best for fundraising," he says. The company concluded a £1.5 million funding round with investors including a syndicate with the title Angels Invest Wales and the Development Bank of Wales.
The Welsh Government has long been supportive of the project, for example granting £2 million in 2015. What they'll get for their money is a factory employing 220 and building 5,000 cars a year, at least initially. Cars with different body styles but built with the same philosophy as the Rasa will spring from similar micro-factories, "built as and when required," Spowers hopes. A four-door car and a van are on the wish list. First though, he has to get the Rasa ready.
The first, or alpha, prototype has been replaced by a beta car of which 20 are going into limited trials this summer. It doesn't look much different bar a redesigned nose to improve cooling and new subframes front and rear made from carbon-fibre instead of aluminium. "All the work is to make sure it's reliable enough and low enough maintenance to get out in trials," he says. "The Alpha car wasn't."
He also has worked to bring down the bill of materials for the car (the unit cost with all parts prices added up). Currently this is running at £170,000 per car, but will reduce to "well below £50,000" he says, when he's buying parts in bulk rather than in ones or twos.
The Rasa is an intellectual study in how zero-emission cars should be. Parts are chosen for lightness and longevity. Because Riversimple will own the car for its entire life, it wants to ensure it can recycle or reuse parts at the end, so it's the opposite of throwaway.
One of Spowers' irritations is with age-related number plates, describing them as "a mechanism for building obsolescence into the marketplace for cars". His own car encapsulates his philosophy: a 20-year-old Audi A2 3L, an experimental diesel eco supermini in which the three-litre bit stood for the (very impressive) fuel economy as measured in litres/100km. Audi didn't sell many.
Spowers thinks batteries are expensive and wasteful. "The energy intensity to make the batteries for a long range car makes it a complete nonsense," he says. He believes car companies, far from backing off from fuel-cells as the likes of Honda and Mercedes have publicly said, are secretly continuing to invest in them with a view to eventually replacing EVs. "They can't sell battery cars to everybody if they say, well hang on, this is just a stop-gap solution and in five years we'll sell you something else," he says.
The question remains whether enough customers will buy into Spowers' philosophy. The Rasa will likely be short on modern safety and comfort gadgets. He's not doing any work to integrate adaptive cruise control for example. He says: "We've got much bigger issues to deal with than that."
Autocar RSS Feed Read More