Cash and carry: Jaguar XF Sportbrake vs rivals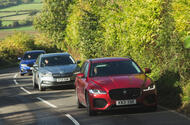 Jaguar has upgraded the XF Sportbrake yet also reduced its price, dropping the estate down into BMW 3 Series and Skoda Superb territory. We ask if it's too good to be true
The seemingly never-ending SUV boom has left a trail of destruction in the sales charts, with everything from city cars to executive cars left fighting for their lives on the showroom floor as buyers make a beeline for their bulked-up, off-the-beaten-track-biased brothers. 
With almost every class and niche being given an injection of ride height and a big dose of chunky body cladding, the fate of less overtly outdoorsy offerings looks increasingly precarious. The stark truth is that if it doesn't look like it will tackle the north face of the Eiger as comfortably as the North Circular, most buyers don't get that excited.
And perhaps no sub-species has been harder hit than the estate car. Once the obvious option for those wanting more space for growing families or to indulge in hauling large objects or outlandish lifestyle pursuits, load-luggers have been increasingly usurped by SUVs that look bigger and more versatile on the outside, yet rarely deliver any more carrying capacity.
Even so, not everyone has given up on these wonder wagons, and certainly not Jaguar, which recently refreshed its XF Sportbrake. As you would expect, there are sharpened looks, a classier interior and a range of engines that give greater performance while using less fuel. So far, so predictable. However, it's not just the sheet metal that has been massaged: the prices have been, too, but not in the way you would think.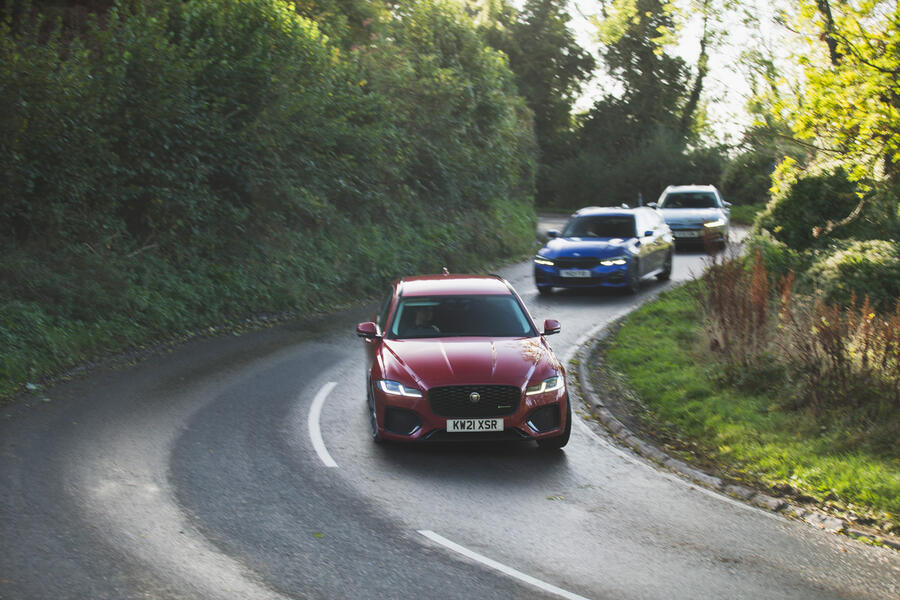 You see, unlike almost every product and service at the moment, the cost of owning this big cat has actually gone down. As in the past (think the E-Type going up against the Aston Martin DB6 or the XJ40 against the W140 Mercedes S-Class), Jaguar has gone back to its more-for-less roots. In fact, the accountants at Coventry have taken a rather large knife to the numbers, which throws up some interesting possibilities, particularly when it comes to rivals. 
For instance, would you want the XF or a similarly priced and equally premium but smaller BMW 3 Series Touring? Or, to look at it another way, you're in the market for a large mainstream estate, such as the Skoda Superb, but now it looks like a Jaguar is within reach. So what do you do? Well, let's find out.
Whip out the pocket calculator and our trio are remarkably evenly matched; although, just to confuse matters a little, despite this being a box-fresh offering, Jaguar has already rationalised the range a bit, so the £37,414 D200 R-Dynamic S AWD seen here is no longer available. 
If you want an XF Sportbrake with this 201bhp four-cylinder diesel engine and four-wheel drive, you're now limited to flagship R-Dynamic HSE trim (£43,255). Meanwhile, the entry-level rear-wheel-drive D200 now starts at R-Dynamic SE trim, costing £38,590. You can still get an R-Dynamic S Sportbrake, but only with the P250 petrol engine, at £37,190. Got that? No, neither have we.
Either way, these numbers are competitive, because for a similarly equipped BMW 320d Touring M Sport, you're looking at £41,165 (our £46,005 M Sport Pro Edition test car is a whisker over £50,000 with options. Yikes!), while adding xDrive four-wheel drive raises the price to £42,755 before extras. 
And the Superb? Well, the DSGequipped (because an automatic gearbox is your only option on the Jaguar and BMW) 2.0 TDI 150 SE L lists at £34,525, but with the few rival-matching options on our test car, that figure increases to £37,790.
If you truly want to go toe to toe with the other two for luxurious upmarket vibes, you will need the flagship 2.0 TDI 200 Laurin & Klement, which will set you back £40,605, while a 4×4 version of the 2.0 TDI 150 SE L is £38,005.
Okay, enough of the numbers: let's look at the cars. You would certainly never guess that the handsomely proportioned XF isn't the priciest of our trio. It turns the most heads and has the most presence, and that's not just because it's the largest car here. By contrast, the squat and aggressive BMW looks a bit too fussy, while the smart but slightly bland Skoda appears a little undernourished on its 18in wheels. Still, these are estates, so surely function is as important as form?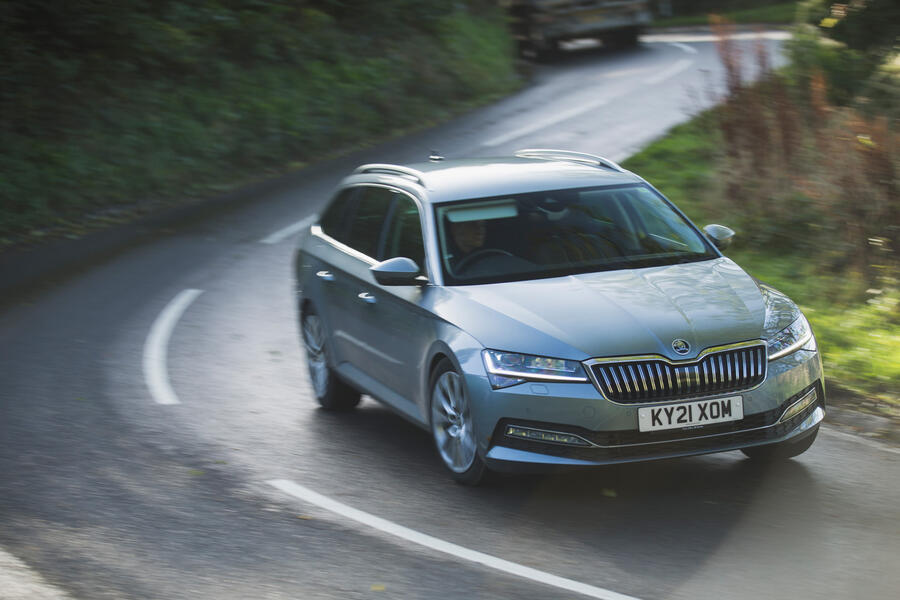 When it comes to squeezing stuff in, the Superb is comfortably ahead. Its large tailgate opens wide to reveal a vast 660-litre boot that's packed with handy features, such as heavy-duty bag hooks and neat movable luggage dividers that are attached with Velcro.
It's just a shame that you have to pay £160 extra for the variable-height boot floor that allows for a totally flat load area (the Jaguar and BMW do this as standard) when you fold the rear bench to unleash the Skoda's Luton van-like 1950-litre capacity.
The XF isn't quite as clever or as big (563 litres), but its boot is well shaped and the backrests lower with the tug of a lever (like in the Skoda; it's a prod of a button in the BMW) to liberate a handy 1695 litres. There's precious little underfloor storage, however, as that space is taken up by the battery for the 48V mild-hybrid electrickery. 
Either way, the Jaguar is still way more usable than the BMW, which has both the smallest (500 litres) and most awkwardly shaped load area as a result of the excessively intrusive wheel arches, limiting seats-down capacity to 1510 litres. At least it retains the trademark opening tailgate window, which is a boon for loading shopping when you're in a tight parking spot.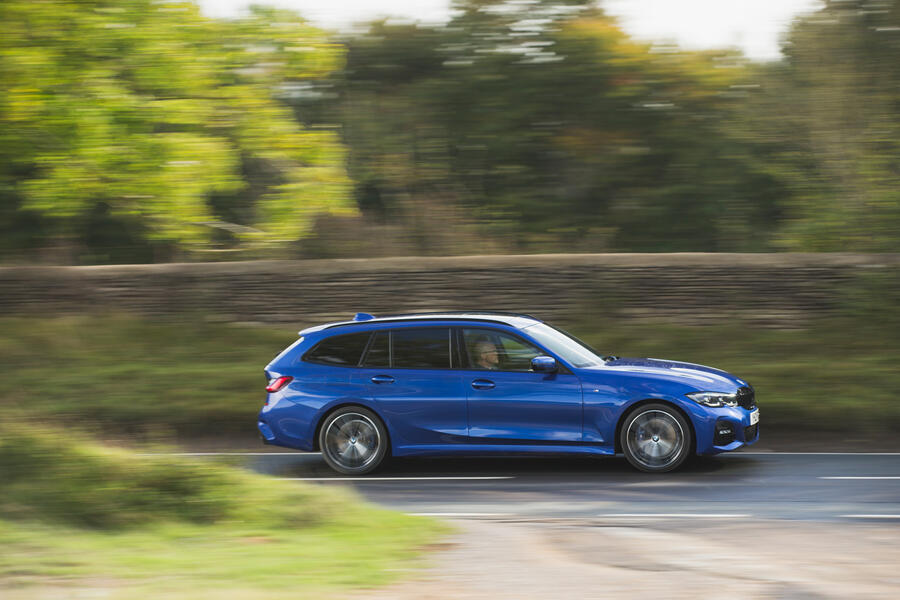 Where the BMW scores is in the perceived quality of its cabin: it's the priciest car here – and it feels it, too. From its top-notch materials through to its slick screens and its carefully considered layout, the interior oozes premium appeal. It has the best driving position as well, giving you the opportunity to sit low with your legs outstretched, sports car-style, if that's your thing.
As befits its price, the Skoda can't quite compete. Make no mistake, it feels every bit as tightly built and its materials are far from shabby, but the execution isn't quite there, with features like the clunky gear selector and the array of blank switches betraying its humbler roots. It's packed with useful storage, though, while features like the umbrellas hidden in the doors deliver a dose of surprise and delight.
It's the Jaguar that's the most pleasant in which to spend time, its recently refurbed interior finally recreating the calm and cocooning ambience that used to be a Coventry calling card. The large and easy-to-use 11.4in Pivi Pro infotainment touchscreen dominates, but it's integrated well with sumptuous materials that add a sense of luxury, while the driving position almost matches the BMW's for putting you at the centre of the action.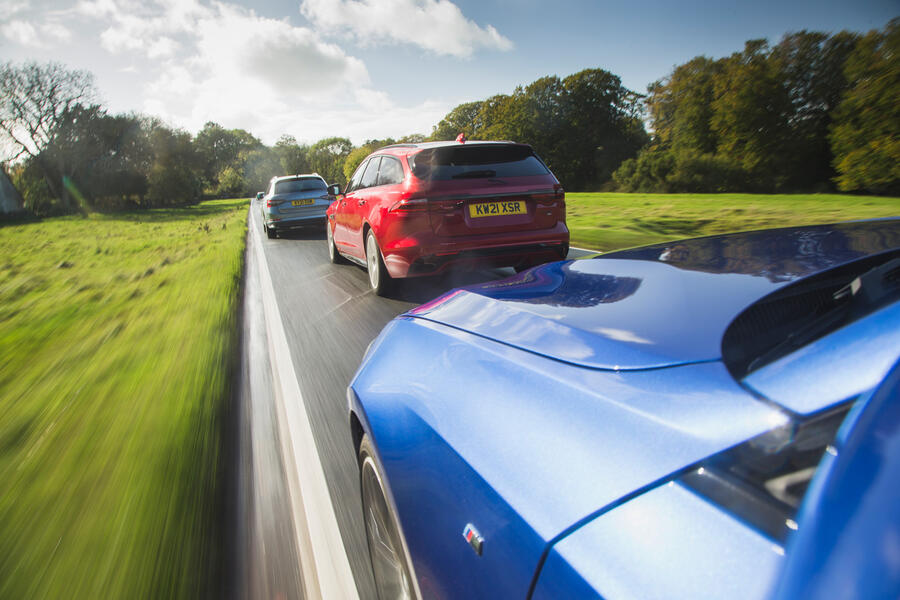 Unfortunately, the XF's sense of serenity is somewhat undermined by its four-pot diesel, which fires into life with a noticeable clatter that is at odds with the rest of the car's suavity. This Ingenium unit has never been a smooth talker, and despite its best efforts, Jaguar has failed to make it any more erudite. It sounds gruff when extended and sends occasional vibrations fizzing through the pedals and wheel.
Its all-out urge is respectable, as evidenced by the claimed 0-62mph time of 8.0sec; yet in direct contrast to the usual diesel work ethic, it feels sluggish off the line and at low revs, only pulling with any real conviction above 2500rpm, despite the mild-hybrid assistance. Ultimately, it feels like just about the minimum amount of power the hefty Jaguar can get away with. The eight-speed automatic gearbox's tightly packed intermediates help disguise the slight shortage of puff, but it never feels like there's enough get-up-and-go to seriously test this car's four-wheel-drive traction.
The lower-powered (148bhp) Skoda feels as lively, even if the numbers suggest it isn't, and while its engine is no less audible, you don't feel it like you do in the XF. Arguably the highlight of the Superb's drivetrain is its seven-speed dual-clutch 'box, which slots home gears with a speed and smoothness that just eludes the traditional torque-converter units of its competitors here.
Neither the Skoda nor the Jaguar can hold a candle to the BMW when it comes to under-bonnet excellence. Its 187bhp 2.0-litre unit not only feels more responsive but is also keener to rev, with a nicely sporting growl, plus it has more low-rev pulling power.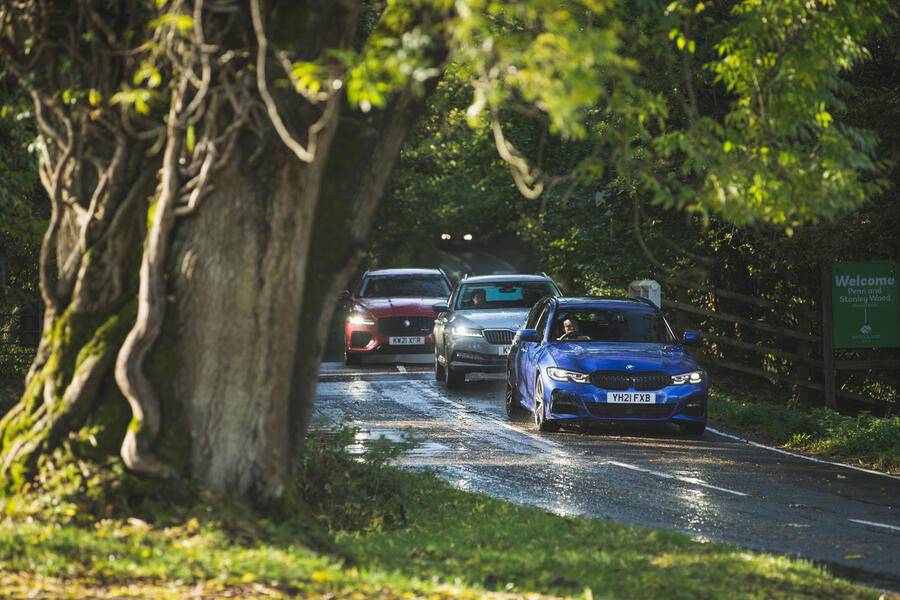 Factor in the BMW's relatively light frame and it's no surprise to find that its fleet-footed feel is backed up by its superior statistics, with a more-than-quick-enough 0-62mph time of 7.1sec. Impressively, the BMW combines this straight-line athleticism with commendable refinement. Lessnoise makes it through to the cabin, with disturbances from the tyres, wind and suspension kept to the bare minimum. That's not to say the Jaguar and Skoda are wearisome or obtrusive partners (the gruff Ingenium engine aside), it's just that neither feels like it has been as expensively insulated as the BMW.
That said, the German car gives you rather more information about what's rolling underneath you than the other two. Ours was fitted with optional variable dampers, but their efforts were partly undone by the 19in alloys wrapped in liquorice-thin rubber. It's far from uncomfortable, but there's a gnarled quality to the ride that results in a restless fidgeting over anything other than mirrorsmooth surfaces. 
The softest is the Skoda, even on its standard passive dampers, with its long-travel suspension swallowing turbulent topography that the more intransigent BMW is tripped up by. Yet while it's pleasantly pliant, it lacks outright control, wallowing and heaving a little when you're really pressing on.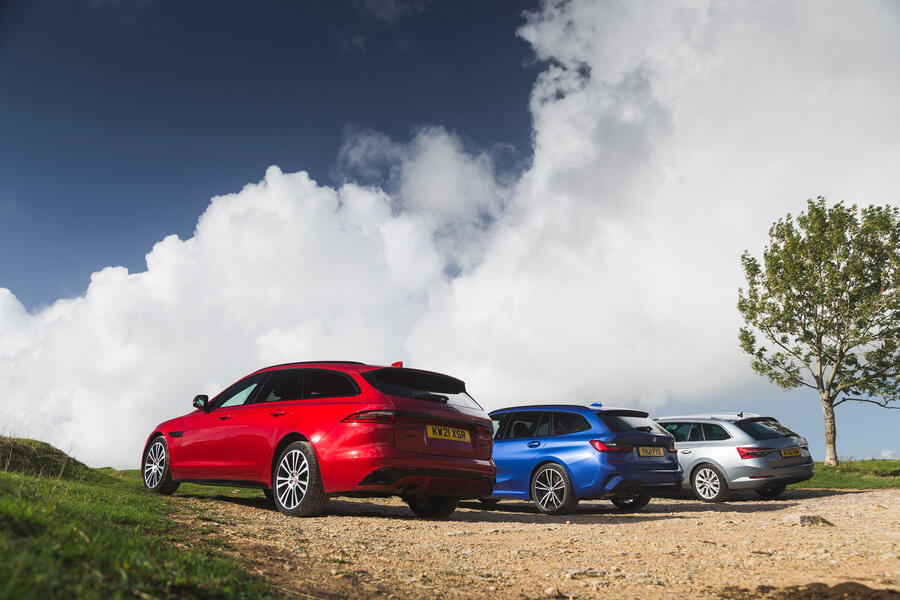 The honours for the deftest ride go to the Jaguar, which takes the bumps in its stride. There's a hint of firmness at low speeds, but overall it combines comfort and control to impressive effect, breathing with the surface rather than smothering it or pummelling it into submission.
What's more impressive is that it combines this comfort with incisive handling. As is the Jaguar norm these days, the steering is quick and positive off the straight-ahead, the XF diving into corners with a fleet-footed zeal that belies its tape-measure-stretching dimensions.
There's bags of grip too, while the big Brit is nicely balanced, pivoting around you mid-corner in a way that allows you to feel the front and rear axles taking their fair share of the lateral loads as they ebb and flow. 
Combined with the finely controlled ride, this gives the Jaguar a wonderfully fluid demeanour as it slices through corners with poise and precision. It's a minimum-effort sort of car; you glean satisfaction from covering ground at pace in a machine that finely balances the conflicting demands of accurate handling and a cosseting ride.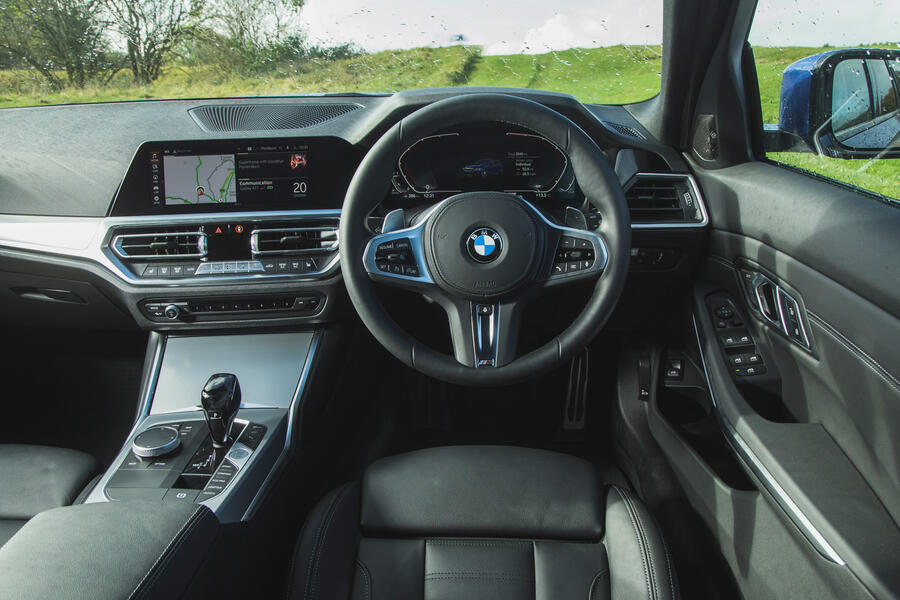 The BMW doesn't aim for the same compromise, choosing instead to put most of its weight behind a larger serving of pure driver delight. It's a more focused machine, its controls weightier and its suspension tuned to deliver a more immersive experience.
Tip it into a corner and you will discover steering a fraction slower than the Jaguar's; yet thanks to stronger front-end bite and a shorter wheelbase, it rotates faster around your hips for enhanced agility.
Its steering also has the most heft and feel here, and while the BMW clings on hard, you can subtly alter its trajectory with a twist of extra steering lock here, a squeeze of the but that £40k Laurin & Klement looks more like an over-tinselled rep special. Crucially, the Skoda's very functionality counts against it, making it feel a little cold and clinical, particularly after the Jaguar, which oozes character and charm at a not much higher price point. That would present any potential Skoda customer with a real dilemma.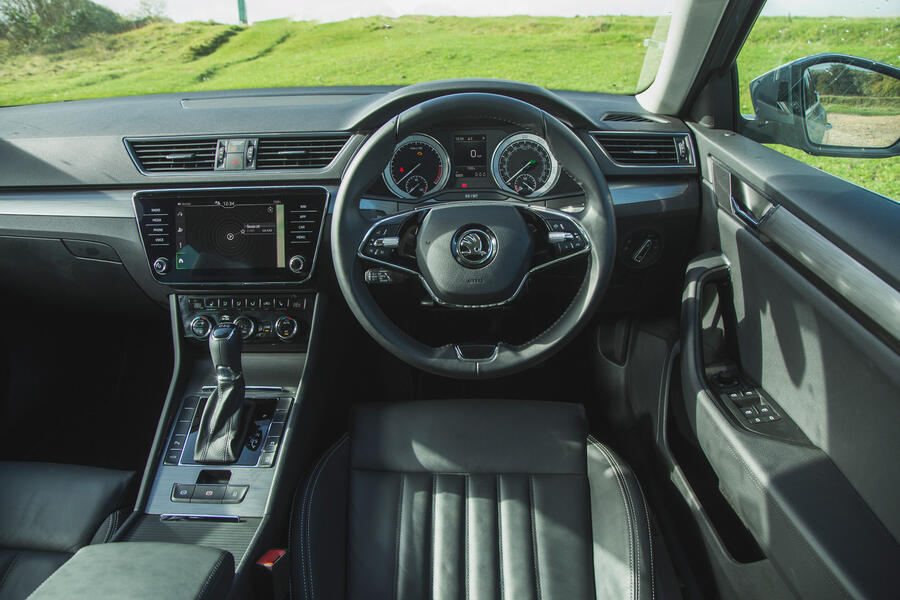 The unfortunate truth is that you really do get what you pay for, with the result that Jaguar and BMW feel a cut above their Czech mate, although their advantages are slim.
In many respects, the BMW does justify its top sticker price, at least in terms of engineering integrity and finish. It feels the most expensive car in the way it's constructed and in the brilliance of its finely honed dynamics and refinement. 
Is it enough to offset its premium? If you value driving pleasure above all else, maybe – and we would be as tempted as you. Trouble is, there's not enough clear air between it and the Jaguar in this regard. Both entertain and engage, just in different ways.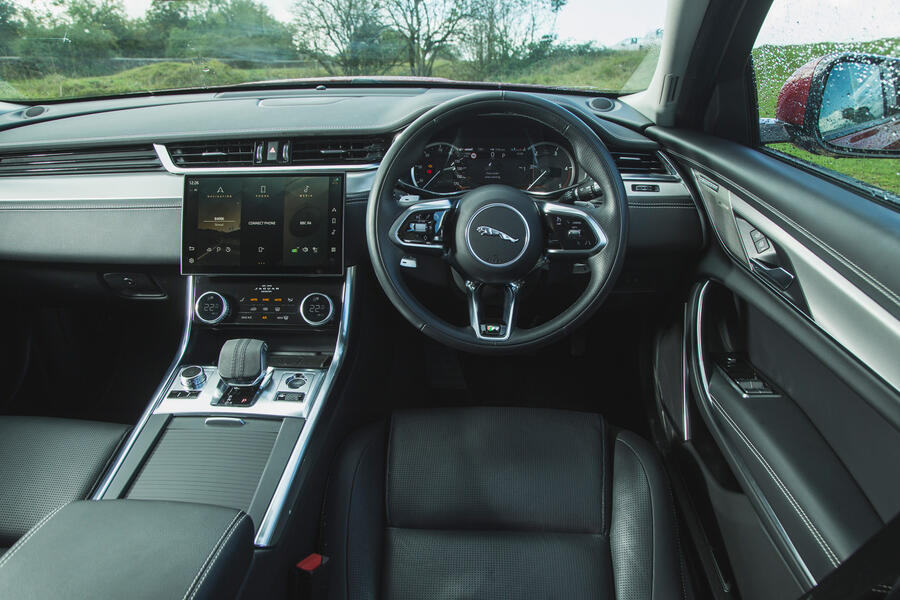 Take account of the Jaguar's greater space and practicality, plus the genuinely special feel of its cabin and, if they cost the same, this would be too close to call. But the British car is on a like-for-like basis about £2500 less, which makes it hard to resist and by a wafer-thin margin our winner. 
Ultimately, however, it's the estate as a concept that's the real victor here, these three serving as a powerful reminder that such cars can turn their wheels to almost anything. So make sure you take a long hard look before committing to an SUV.
1st: Jaguar XF Sportbrake
Jaguar used to sell cars under the strapline 'Grace, pace and space'. With this elegant, engaging and versatile XF Sportbrake, it has revived those values.
2nd: BMW 320d Touring M Sport
The priciest here and feels it. Exquisitely engineered, the BMW is also the most involving. Yet it's the least effective estate here.
3rd: Skoda Superb Estate
The roomiest and cheapest to buy and run. Good to drive, too, but doesn't have dynamic depth and lacks character in this company.
Diesel do nicely
It has become something of a dirty word in automotive circles, but look past the bad press and diesel still has some merit. For starters, with all these cars, there's a certain satisfaction from getting behind the wheel and seeing you have at least 600 miles of range on a full tank – quite something in the early electric era, when party poppers are set off and a klaxon sounded when a new EV promises 400 miles on a charge (in ideal conditions).
Then there's the cleanliness of the latest generation of engines, which all need to meet the Euro 6 and RDE2 standards, essentially meaning they now emit the same levels of NOx as an equivalent petrol engine but are around 25% more fuel efficient (our three returned an easy 45mpg during hard testing) and emit 15% less CO2.
Of course, the application of this technology doesn't come cheap, meaning you will pay more than for a similarly powerful petrol car, plus the fuel itself is more expensive, so you will have to travel at least 15,000 miles a year to offset the extra outlay. The choice of engines is also smaller as manufacturers heavily rationalise their ranges in response to dwindling demand. 
Yet in the right circumstances, Dr Rudolf's engines still make plenty of sense.
Autocar RSS Feed Read More