Cupra Formentor 2022 long-term review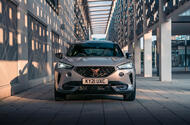 We got familiar with this head-turning crossover in plug-in hybrid form
Why we're running it: To see if Cupra's classy crossover is up to the rigours of day-to-day running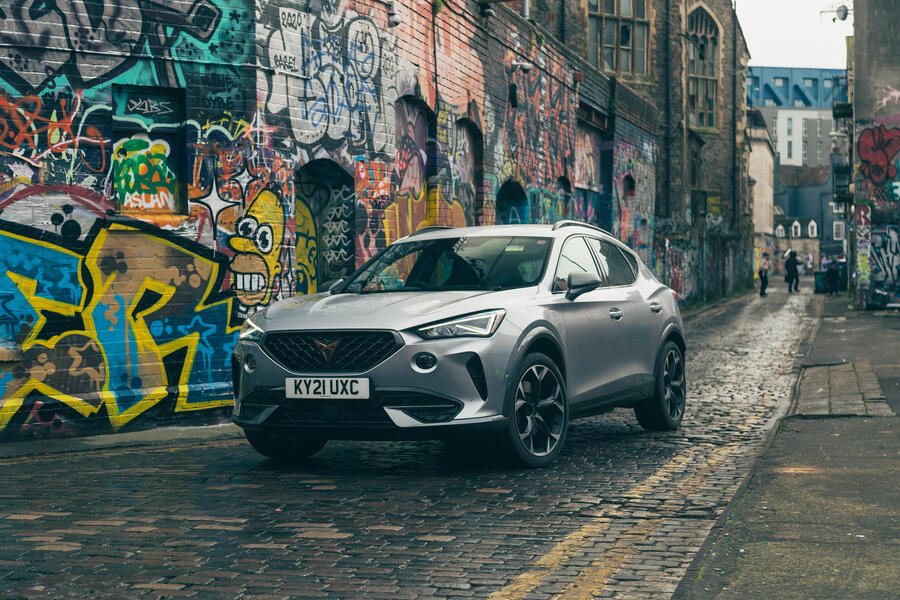 Life with a Cupra Formentor: Month 5
Time has been called on our eye- catching crossover. Will it be missed? – 23 February 2022
"Is that a Lamborghini?" No, stranger in the supermarket car park, it isn't – but you're not the first to ask.
The Cupra badge is clearly still something of a mystery to many Brits, because after several months and 15,000 miles with our Formentor, I continued to find that people wanted to stop and talk about it when I was out and about.
That was especially true at night, which I chalk up to the prominent rear light bar and interestingly shaped LED headlights, which look tastefully futuristic.
Factor in the angular design and bronze trim accents, plus the fact that sister brand Seat has resisted the urge to release its own version, and you've got an undeniably distinctive car. Prospective owners who relish the attention would be wise to spring for the Petrol Blue Matte paint (a £1860 cost), which, I think, is much more menacing than our car's (admittedly less expensive) Urban Silver.
I hadn't had a long-term test car I'd consider 'fun to drive' for a while, so I was keen to explore the Formentor's dynamic ability. It didn't disappoint: the supportive seats hug you nicely in place through corners, the adaptive dampers tighten everything up when you find a fine stretch of road, and the PHEV powertrain delivers as much power as a Volkswagen Golf GTI. The augmented engine note was a little too fake for my liking, and having all the power sent to the front wheels could make the steering more than a little lively under full throttle, but the overall experience was much closer to a hatchback than the many 4x4s that use the same platform.
The Formentor's hybrid system was at its most efficient on shorter journeys where I could plug in at either end, letting me largely rely purely on electricity. I don't remember ever seeing the claimed 33 miles of range, but even during the colder months, EV mode could handle trips of 20-plus miles without calling the petrol engine into action. Fully electric driving was always nicely refined and super-smooth.
In reality, though, those trips were the exception to the rule. Most of my driving typically involves racking up long motorway miles between photoshoots in rural locations, with little opportunity to charge. So mid-journey top-ups for the Cupra weren't really an option, with its low maximum 3.6kW charge rate requiring a three-hour wait at a public charger. I know rapid charging on PHEVs is a thorny issue among EV owners, who are entirely dependent on public chargers when travelling far from home, but it really would have boosted my EV-only miles.
My biggest bugbear with the Formentor was its climate controls – just as it has been for virtually all of my colleagues whenever they've driven a recent Volkswagen Group model. Ditching physical controls in favour of on-screen ones seems like such a backwards step, and one that makes me think twice about whether I really need to turn the heating up while at motorway speeds. The touch-sensitive slider bar beneath the infotainment display doesn't have any more haptic feedback than a touchscreen, and the fact no one thought to add some sort of backlight for easier night-time use is a real head-scratcher.
I eventually came around on the rest of the infotainment set-up, having initially been put off by the overly vibrant colours and iPhone-like icons. It didn't take long to learn where the most important functions were, and the combination of physical steering-wheel buttons and a fully digital instrument binnacle meant most things could be changed on the fly without taking my eyes off the road. Apple CarPlay was still my go-to for convenient navigation and music playback, though: the Waze nav app really is unbeatable when you have to be somewhere in a hurry.
In all other respects, the Formentor slotted into my lifestyle rather well. Practicality was as you might expect from a car of its size, with plenty of room for rear passengers and a boot full of shopping despite the sloping roof. Admittedly, my camera gear did flow over onto the rear seats during the week, and I was unable to fit a ladder in like I could with the comparatively giant Ford Tourneo I ran previously, but the car made up for it in other ways. Such as the heated steering wheel and seats, which were a dream in the depths of winter. The wheel in particular got properly toasty, which was very welcome after long days of shooting outside in the cold.
My biggest takeaway from my time behind the warm wheel has to be the Formentor's versatility. To me, it looks equally at home in a city centre or in the wilderness. It can be a sedate and comfortable motorway cruiser one moment and a B-road entertainer the next, in a high-riding body that doesn't compromise driver engagement. And in hybrid form, it delivers decent electric-only range, if you're able to charge it regularly.
That the Formentor line-up stretches from a 150bhp base model to a five-pot flagship (albeit left-hand drive only and in very limited numbers) shows how multifaceted Cupra's halo car really is. It will be a tough act for its replacement to follow.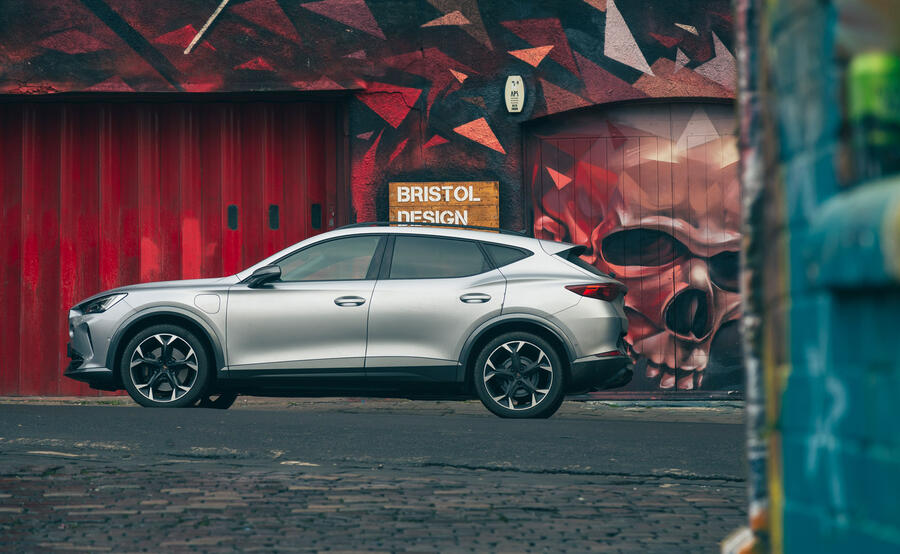 Second Opinion

The Formentor is the most unusual of things: a crossover that's widely liked by people who enjoy driving. There's a certain Subaru Forester- ness about it in that it's not too tall and almost looks rear-driven, while it's also likeably unmannered and quick in this plug-in-able form. Kind of what Cupra should be about.
Matt Prior
Love it:
Distinctive design Never fails to grab attention, even as Formentors become a more frequent sight on our roads.
Handling It feels more resolved in its handling than any crossover SUV has the right to be.
Performance Hybrid powertrain delivers plenty of oomph and is still enjoyable once you're out of battery.
Loathe it:
Heating controls Touch slider control has no backlight and is impossible to see or feel at night.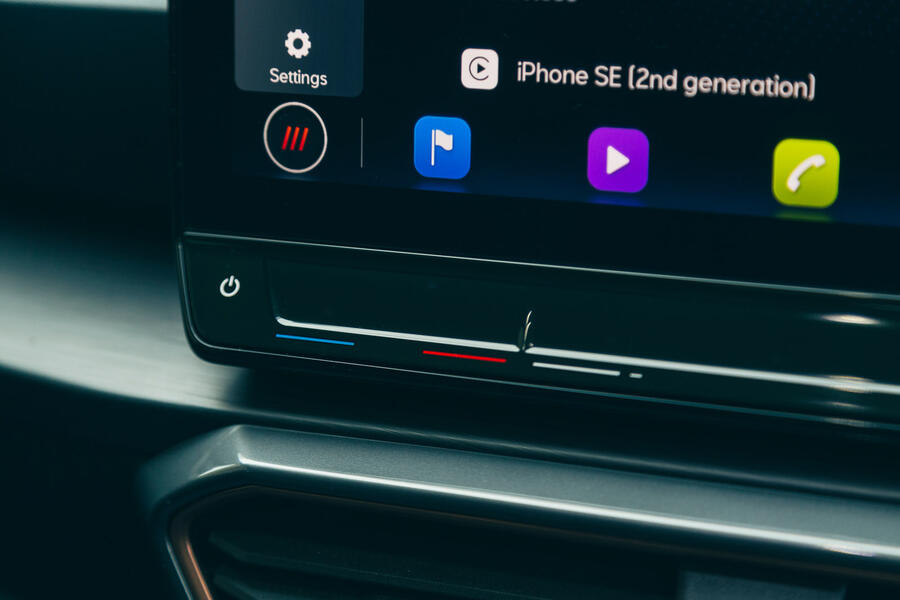 Lane keep assist Overly intrusive system is constantly finding imaginary lines in the Tarmac.
Final mileage: 17,689
Life with a Cupra Formentor: Month 4
Smart and stylish in equal measure – 12 January 2022
Design-led features can often be an ergonomic nightmare, so it's refreshing to see thought has gone into the Cupra's blindspot warning system. Rather than LEDs slapped onto the wing mirrors, it's neatly integrated into the interior ambient lighting system. It illuminates but doesn't distract and doesn't detract from the car's sleek styling.
Mileage: 15,662
Life with a Cupra Formentor: Month 3
So much going on – 24 November 2021
With the climate control handled by the touchscreen instead of buttons, the Cupra's infotainment system looks overly busy. The graphics are colourful and distinctive, but their resemblance to those used by Apple CarPlay can make it easy to mix up which does what. When you're busy driving, a whole screen full of similar shapes just becomes distracting.
Mileage: 7255
Easy reach, but not in regular use – 3 November 2021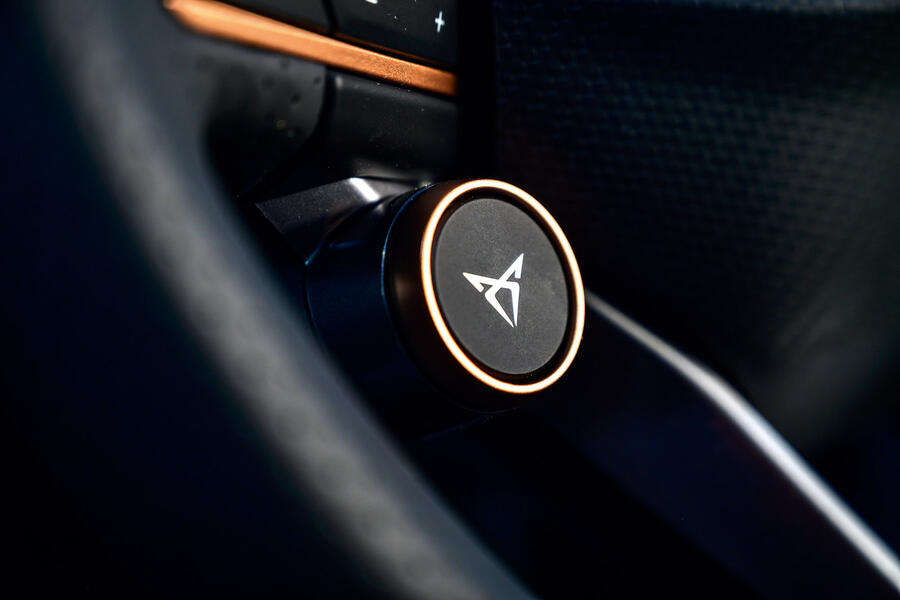 The oversized button on the steering wheel looks inviting, but I rarely use it to swap driving modes. The plug-in hybrid Formentor is well balanced as standard, with respectable performance (regardless of battery charge) and sensibly weighted steering. Perhaps it makes more sense in the spicier versions, where Eco mode can help offset a thirstier engine on longer journeys.
Mileage: 6964
Life with a Cupra Formentor: Month 2
A useful addition? – 13 October 2021
Adopting the Formentor had me a bit worried, if only for that photographer cliché: will it hold all my stuff? The visual promise that crossovers give of extra room over hatchbacks is often not kept, and I was stepping out of a Ford Tourneo that could swallow all my outdoorsy gear, too. The car's roof rails might yet come in handy, but for now I've been using straps to attach things like surfboards.
Mileage: 5105
Our potent crossover isn't always easy to live with – 29 September 2021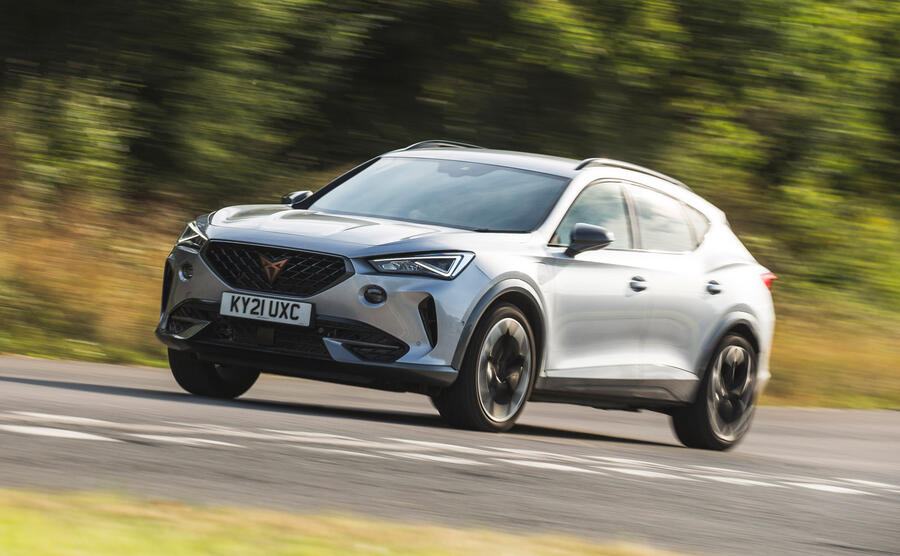 The honeymoon is over. I was still gleaming with faint pride six weeks ago when I wrote the first report on our Cupra Formentor long- termer. Well, now I've encountered a few quirks and frustrations, which I'll fill you in on shortly. On balance, though, I'm still feeling good about life in this handsome, alternative, high-rise hatchback.
So far, I've just been using and abusing the car on the daily grind. The occasion has yet to present when I might take it on a really long trip, although I did manage to get out to South Wales the other day, and I've now had a full roster of passengers on a couple of weekend trips.
We've got the PHEV version, but since it doesn't do DC rapid charging (which is gripe number one) and I'm not set up for home charging, I've yet to charge it up more than once in our 3000 miles together. That being the case, the 43.2mpg that the car's long-term trip computer is displaying doesn't seem half bad.
So, 3000 miles later, what have I learned? That life aboard the Formentor isn't always quite the picnic that the inviting cabin might suggest. Six weeks in, I'm still getting used to some of the car's ergonomics. Despite using it pretty much every day, I regularly press the traction control button adjacent to the gear selector when I'm looking to start the engine, instead of prodding the starter button, which hangs off the steering wheel boss.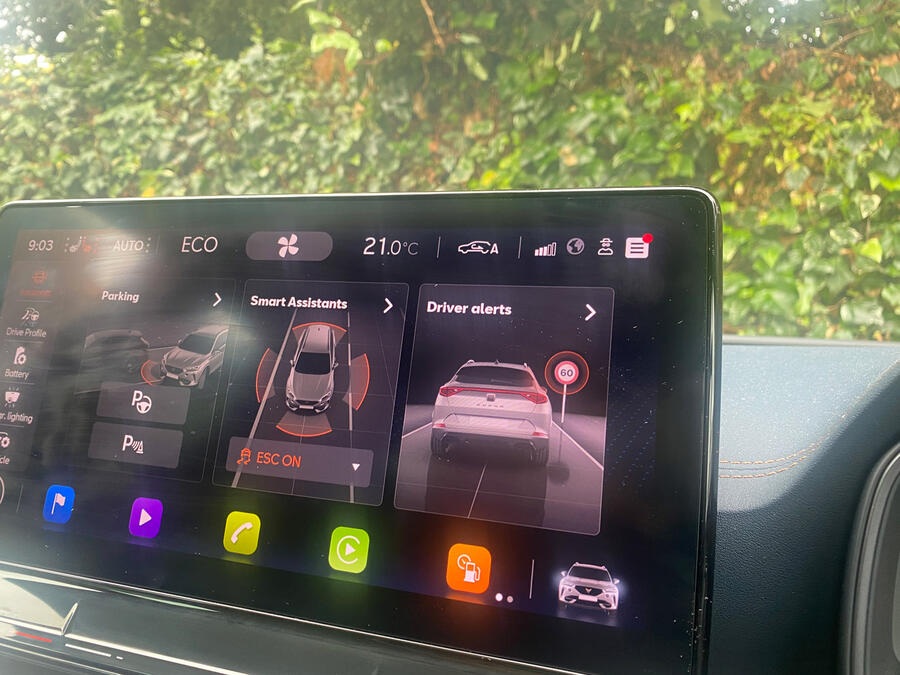 This, to me, just seems the wrong place for a starter button. I mean, this isn't a Lamborghini. And while I find other Volkswagen Group cars a cinch to just get into and drive, the Formentor's alternative layout makes it that bit less intuitive and – only occasionally – a bit frustrating.
The other button located just off the steering boss is the car's driving mode selector, which I've been fiddling with aplenty. Our test car has Cupra's adaptive dampers, so it's worthwhile experimenting to find a profile that you like.
I rarely use Cupra, the car's sportiest mode, for a few reasons. On the back roads near where I live, it makes the car feel a bit frantic and bouncy, and while it can be kind of exciting set up like that, it's more often annoying.
Like Cupra, Sport mode introduces a lot of fake engine noise into the driving experience, which is another personal bugbear. So I've configured my own combination of preferences for everything from engine sound to gearbox setting in the Formentor's Individual mode: dampers set to maximum soft and engine noise set to quiet, but sporty settings for most other things.
Thus configured, I'm enjoying putting some miles on the car. It feels lower, lighter and sportier than my last long-termer (a Suzuki Across), albeit a bit less versatile and mature. I'm used to the seats now and find them comfortable over distance.
I've even found a colour I like for the ambient lighting in the cabin: a bronzey gold that matches the car's decorative interior trim.
Mileage: 3394
Life with a Cupra Formentor: Month 1
A comfortable ride – 8 September 2021
After some adjusting from the instantly comfortable seats in my previous long-termer, the Suzuki Across, I am pleased to report that I'm finding my back no longer hurts after long journeys in the much sportier Formentor. I recently went for a short drive with my partner and his family, and they also approved of the lovely blue seats.
Mileage: 2895
Welcoming the Formentor to the fleet – 18 August 2021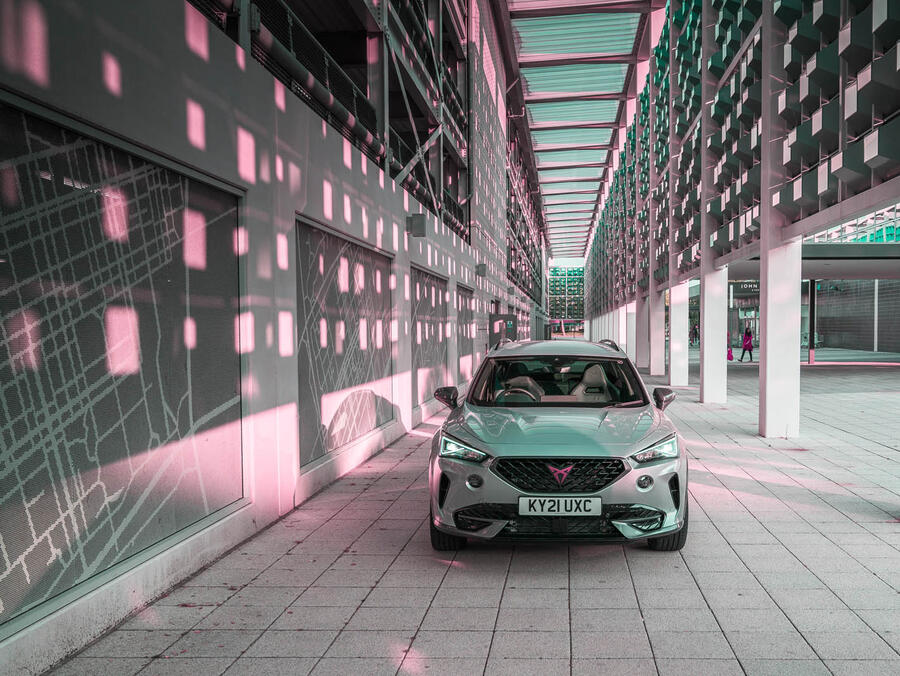 Some enthusiastic horn-tooting accompanied my first drive in the latest addition to Autocar's long-term test car fleet: the alluringly different Cupra Formentor.
There was I, waiting at the traffic lights when I looked to my right and saw an excited man gesturing at me to lower my window. "What is that? I like it so much." I told him. Maybe now he's a Cupra customer-in-waiting.
Evidently this is a car that has an effect on people, and that alone ought to make the coming months interesting. I remember finding it similarly arresting when I first saw the Formentor concept on a motor-show stand a couple of years ago (the production version hasn't changed much in the meantime).
The details all look great. The full-width light bar at the back is really well integrated and more cohesive than it is on the Cupra Leon. The front foglights, tucked away neatly beneath the headlights, give a concentrated look to the car's face. And I'm particularly taken by the crease above the rear wheels: it's confident, it adds dynamism and it breaks up the car's visual mass in a clever way.
All of which is another way of saying I'm looking forward to taking photos of this car as time passes. The Urban Silver paintwork will allow the shadows and highlights created by its sculpture to really shine. I think the standard-fit 19in alloys could have been a little less generic and a touch more technical in their design, like some of the options offered by Audi and Volkswagen, but otherwise I've got very few complaints.
Taking in the car as a whole, perhaps it's the unconventional body type that makes people stare. The Formentor is a 'crossover-lite' kind of vehicle. The ride height and overall profile is only slightly raised over that of a Cupra Leon: just enough to make the driver's seat a bit easier to access but not feeling so tall that the car feels at all bulky or becomes in any way unwieldy to drive.
The Formentor is a something of a throwback to all those early, family- size crossover hatchbacks that the market wasn't quite ready for around 20 years ago: the Vauxhall Signum, Fiat Croma, Subaru Forester and Lancia Delta. I think it's a much more accomplished design than those earlier efforts, though: more attractive and less geeky. It lacks some of their quirkiness, granted, but that should play well for its commercial success. I foresee a lot of these emerging onto our roads over the next 12 months, and have already been eyeing a neighbour's black one.
Ours comes in a lovely shade of silver, with a slightly golden-grey look to it. It's a higher-spec VZ2 trim level, which means you get leather as standard, and you can choose between regular black nappa hide or a two-tone interior in black and petrol blue (which we plumped for, and very nice it looks, too). The air vents have a bit of a Lamborghini vibe about them, and there are lots of copper-coloured trim highlights around the place (a Cupra-brand design signature) to help lift the ambience.
In the past I've noted that Seat's cars have often had funkier interiors than their Volkswagen Group opposites, but ultimately they are less classy-feeling ones with harder, more monotone plastics. In this Cupra, however, that situation has been emphatically reversed: there's real material plushness here. I'd much rather spend a long journey in the Formentor than the Volkswagen Golf R we had recently, for example. The Cupra has lots of soft-touch plastic, and the combination of interior colours is both lavish and classy.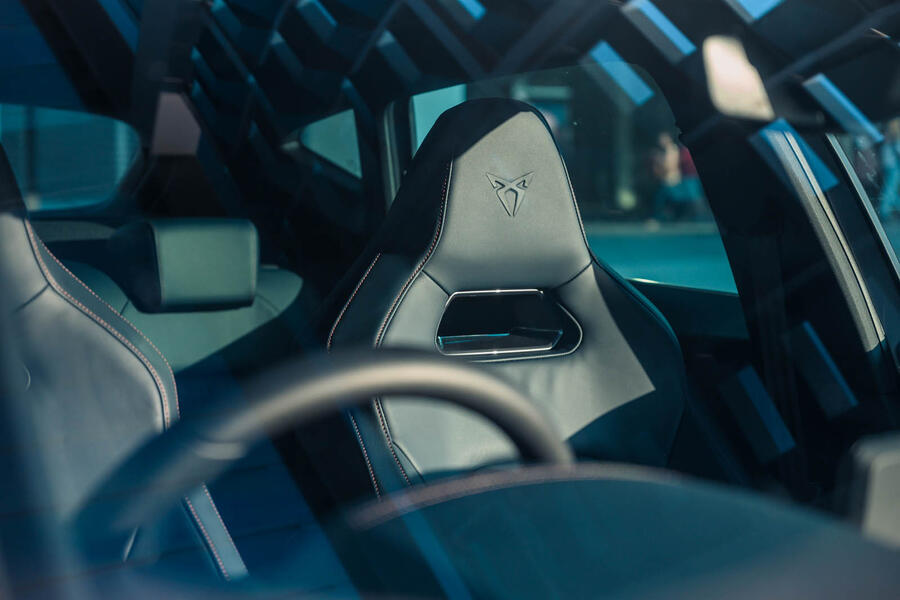 We've gone for Cupra's upper- level plug-in hybrid powertrain, which is sure to be popular with fleet operators. It's the Volkswagen Group's familiar combination of 150bhp 1.4-litre petrol turbo, 114bhp electric motor and six-speed DSG dual-clutch automatic gearbox: the same one that powered a Skoda Superb iV I ran for a while last year. The difference is that here it makes nearly 30bhp more than in the Skoda (242bhp in all), and it gives a slightly quicker 0-62mph time of 7.0sec versus 7.4sec.
The Formentor is smaller than the Superb was, of course, and I'll be interested to find out if that also makes it any more frugal in the real world. With lots of motorway miles to do and little opportunity to charge, I'll be doing well if I can beat 45mpg. Already it's clear that this isn't a slow car, and apart from four-wheel drive, it lacks little of the technical content that you get on the more powerful, top-of-the-range petrol version (it comes with Cupra's adaptively damped sports suspension and variably geared steering, but no Brembo brake calipers).
All in all, I'm very happy with the specification of this car. It doesn't have a panoramic sunroof or surround-view parking cameras, which is a bit of a shame; but it doesn't have matt-finish paint (which isn't remotely a shame in my book). Overall, the car seems well prepared for everything my daily motoring routine may throw at it.
Here's to continuing to cut a dash at the traffic lights, then. If you see me, just wave your arms and honk your horn like a lunatic – I'm always happy to chat.
Olgun Kordal
Second Opinion
A big chunk of the Formentor's appeal lies in the richness of its interior, so I'm delighted that we've got a pretty high-end trim with the two-tone leather and multi-coloured ambient lighting. It's a really handsome car externally, too. If Olgun ever needs somewhere to charge it, there's a spot on my driveway always open to him.
Matt Saunders
Prices: List price new £40,560 List price now £41,185 Price as tested £41,115
Options:Urban Silver metallic paint £555, Mode 3 charging cable £0
Fuel consumption and range: Claimed economy 176.6mpg Claimed electric range 33 miles Fuel tank 40 litres Test average 50.4mpg Test best N/A Test worst 43.2mpg Real-world range 443 miles (petrol) 25 miles (electric)
Tech highlights: 0-62mph 7.0sec Top speed 130mph Engine 4 cyls in line, 1390cc, turbo, petrol, plus electric motor Max power 241bhp Max torque 184lb ft at 1550-3500rpm Transmission 6-spd automatic Boot capacity 420 litres Wheels 19in, alloy Tyres 245/40 R19 Kerb weight 1629kg
Service and running costs: Contract hire rate £399.27 CO2 33g/km Service costs None Other costs None Fuel costs £2158.35 Running costs inc fuel £2158.35 Cost per mile 14 pence Faults none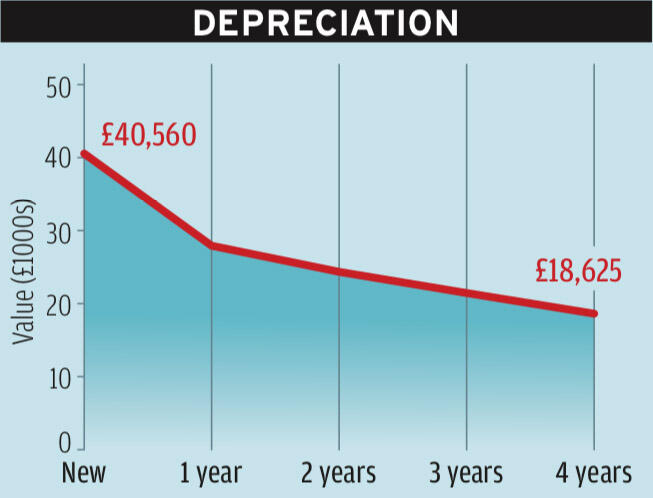 Autocar RSS Feed Read More