Ferrari 296 GTB video review: fantastic new V6 supercar driven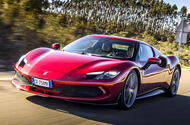 Maranello's 819bhp plug-in hybrid gets tested on road and track
When it comes to mid-engined supercars, Ferrari tends not to miss. And so to the Ferrari 296 GTB, reviewed here by Matt Prior. 
Instead of having a V8 like Ferrari's mid-engined supercars tend to, the 296 GTB represents a new generation of Ferrari supercar. In its middle is a 3.0-litre twin turbocharged V6 engine making 654bhp on its own, augmented by a 164bhp electric motor, bringing the total system output to 819bhp.
They drive the rear wheels through an 8-spd twin-clutch automatic gearbox and have enough power and torque (546lb ft) to propel the 296 GTB from 0-62mph in 2.9sec and on to a top speed of 205mph.
And you can plug it in. Do so and the 296 GTB can run on electric power alone for 15.5 miles, making it the … perfect city car? Well, perhaps not, but bringing unusual versatility to such a powerful supercar.
The 296 GTB costs £241,550 in the UK. Oh, and for the record, owing to the PHEV system the fuel consumption is around 44mpg and its CO2 emissions 150gkm. Until you turn up the V6 noise.
Autocar RSS Feed Read More