First drive: VW ID Buzz 2022 prototype review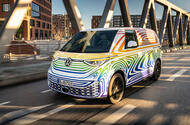 At long last, Volkswagen has reinvented the much-loved Type 2 'Microbus'. Drives more like a car than the van it really is, promises a long range and should prove very versatile
Camper. Bulli. Hippie van. That Volkswagen's second- most-recognisable vehicle, the Type 2 of 1950-1975, has been known by so many names in so many different places around the world is evidence of just how widely and well loved it was and of the many purposes that it served.
But the nickname that's most relevant to us now is another one again: Microbus, or just Bus for short. That's the one to which Volkswagen now refers with the rather cutesy handle of its much-anticipated, all-electric modern successor for the celebrated Type 2: the ID Buzz.
The finished version is slightly less cutesy to look at than it has been in concept form, however, or that the memory of the Type 2 might make you expect. There are reasons for that, some of which you will probably predict and others we will explain as we go. It's still great looking, though, and really distinctive for a monocab.
Volkswagen has somehow resisted the temptation to make the van's mandatory electronic low-speed pedestrian safety noise something akin to a low-flying bumblebee, which goes down as a missed opportunity in my book. Even so, it's surprisingly agreeable to drive, too.
The ID Buzz concept caused what its maker calls a "sensational response" when it was first shown back in 2017, but that wasn't the first time that we had been promised a new Type 2. There were not-dissimilar show cars in the 2010s and the Microbus concept of 2001, which caused as great a stir as any of the others. This 'car' has certainly been coming a while, then, but finally it's (nearly) here.
The fourth of Volkswagen's ID-branded electric vehicles, it will go into production in the German city of Hanover this summer and start appearing in the UK and in European markets in the autumn, before enjoying what's expected to be a particularly warm reception in North America in 2023.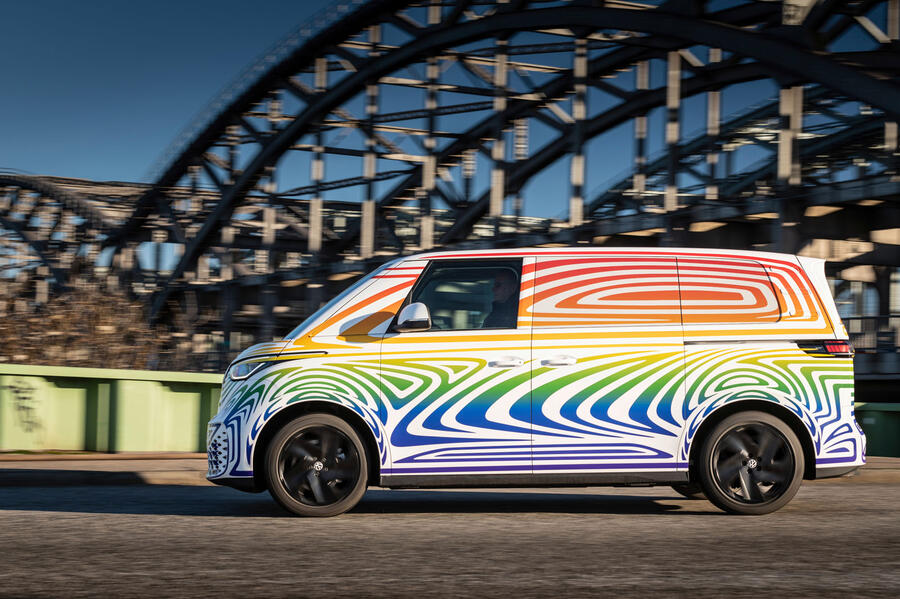 What makes it different from other electric vans or monocab utility cars is that it has been designed from clean sheet as an EV, not adapted from an ICE one. It's based on Volkswagen's very clever MEB platform, showing just how versatile that architecture is. And so it has coil suspension, a very car-like wheel-at-each-corner stance and a surprisingly tight turning circle.
Launch models get a sole rear-mounted electric motor making 201bhp and 229lb ft of torque, plus a battery with 77kWh of usable capacity, yielding a range that's likely to be rated at around 250 miles (which, if delivered, would knock some of its MPV and commercial competition right out of contention).
Prices have yet to be confirmed, but Volkswagen insiders suggest that the first five-seat passenger versions will be relatively expensive – probably upwards of £50,000. Commercial versions should be a little cheaper, though, and cheaper derivatives with smaller batteries (as well as long-wheelbase versions, a camper van version and some higher-output, four-wheel-drive versions) will come later.
The ID Buzz is clearly ready to be a lot of things to a great many different people, but here's one observation to start with: honestly, the new Microbus isn't very micro.
The original Type 2 could measure less than 4.3 metres in length, depending on which version you plumped for. Whenever you see one, it's the sheer amount of stuff that can be produced out of one, and then packed cleverly back in, that never fails to raise a smile. The ID Buzz, while only slightly taller than its forebear, is nearly a foot wider and a foot and a half longer, even in its smallest form. 
It's a modern passenger vehicle, and so a bit of extra bulk was inevitable, perhaps. That it has squarer corners to its body than the 2017 concept was also important for the provision of enough interior space – especially for the commercial version (which has a load bay big enough to swallow two Euro pallets and can haul 600kg, boss).
But those who do fail to recognise this car's famous ancestor when they look at an ID Buzz will, I suspect, do so because it's simply too big for a really close resemblance. That, and because the ID Buzz doesn't have the tiddly inboard wheelbase and forward-control cabin layout of the original Type 2, of course. How could it and still pass a modern frontal crash test?
It hasn't been allowed to grow beyond all reason, though: Volkswagen has kept the roofline well under two metres, so you can squeeze it into multi-storey car parks easily. It also reckons that, because the car is also much shorter than the latest Transporter and Volkswagen Multivan, it's easier to fit into a normal parking space. It's a sort of right-sized utility car; smaller than the Ford Transit but bigger than the Citroën Berlingo et al. By definition, then, not very micro at all.
We will have to wait to give real detail on what it's like to drive and be in and how clever its various cargo- and people-carrying capacities are, because Volkswagen allowed us only one chaperoned hour in a commercial version and disguised most of its interior. The headline impressions, though, are promising.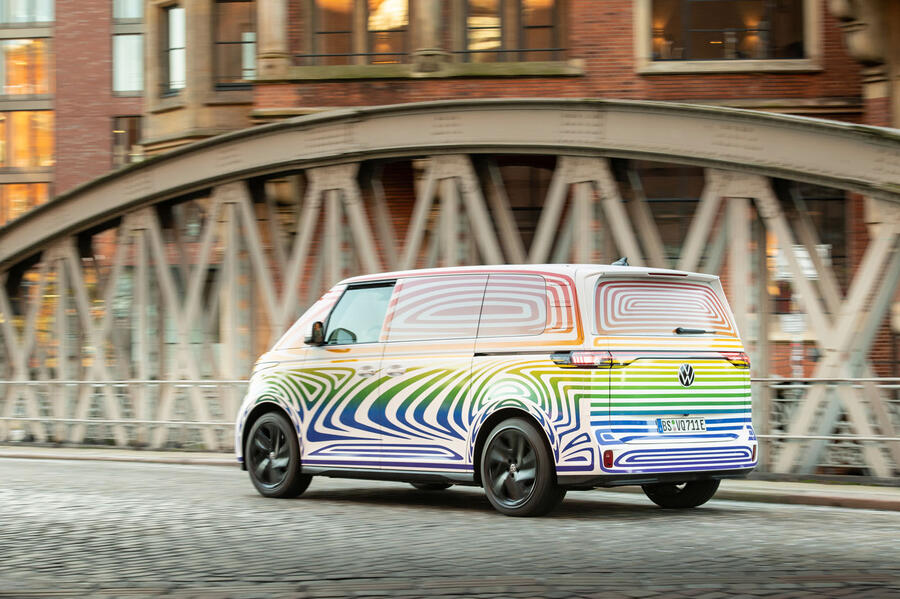 It takes a good step up to board the Buzz, and once you're in, you're made very comfy in one of VW's 'ergo-designed' seats, in typically upright, van-like orientation to the pedals and its fairly raked steering wheel.
The drive selector is a stalk to the right of the wheel. It's a little fiddly-feeling, but perhaps only at first. The instruments are, like in other IDs, all digital; and you can have up to 12.0in of infotainment touchscreen if you want, together with ambient lighting, wireless phone charging, and wired charging power for as many as seven devices. If you want a really high-end look outwardly, there are optional 21in alloy wheels, too.
Out on the road, the ID Buzz is smooth and responsive, with plenty of muscle at urban speeds. Beyond those speeds, it doesn't feel superfluously, Tesla-courtingly fast. Twin-motor versions might do a better impression, I guess; but, other than simply because they might well have cost you Tesla money, well, why on earth should they? Afterall, with the family onboard, a kayak on the roof and a week's camping paraphernalia sliding around in the boot, fast ought to come a very distant second to simply 'easy to drive' with a vehicle like this.
It's the refinement of the ID Buzz that really cuts through, and that promises to make it a lot more inviting to use daily than its light commercial rivals. Not just because the motor is so much quieter than you expect in a car like this, but also because the ride is quiet, supple, settled and isolated (even in the case of the Cargo, which has slightly firmer rear coil springs), and because that upright windscreen doesn't make for too much wind noise (although we didn't have a chance to drive it at motorway speeds).
The steering is only medium-paced, so while body control is tidy and grip levels are assured, the ID Buzz doesn't feel much nippier or more agile than van-derived rivals when it's cornering. If it had been smaller, lower and lighter, perhaps it might have, but the dynamic compromise that Volkswagen has chosen here is certainly a slightly hefty-feeling one. 
It's a seriously wieldy car around car parks, with loads of steering angle; but, rear drive or not, it handles like the big, high-sided, fairly heavy car it evidently is most of the time. If it has a dynamic advantage over its cruder opponents, it could come on back roads, where its body control might stand up a bit better at speed for those who notice such things. We will have to wait and see.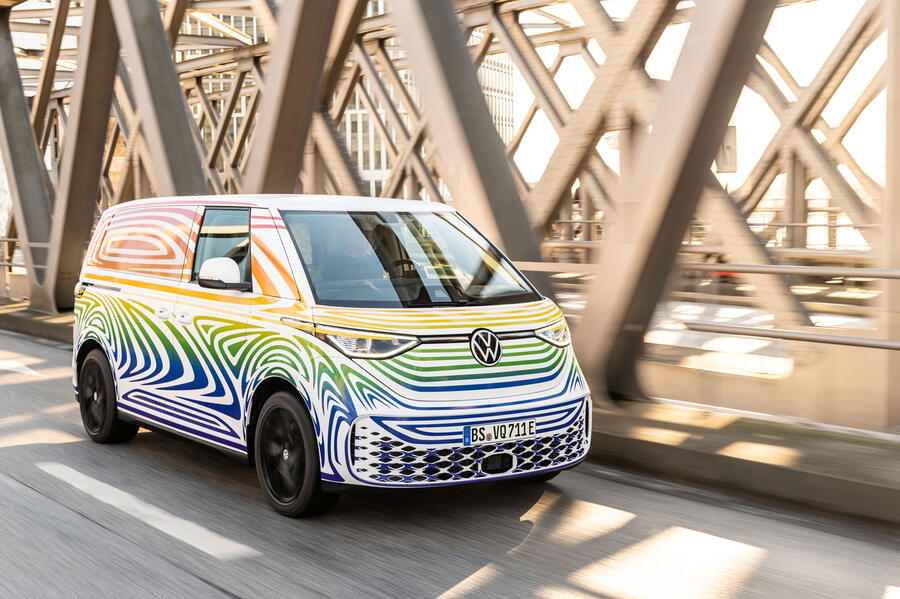 There are certainly plenty of things here that you might feel inclined to pay a pretty stiff price for to have in your extra-versatile, zero-emissions family wagon or right-sized, 21st-century workaday tool: comfort, equipment, space, adaptability, refinement, range, drivability and manoeuvrability, not to mention a particular sort of desirability.
Wolfsburg is expecting big things of the ID Buzz, and will be charging big money for it. But given that there's so little else like it, it might just prove itself worth the big billing.
Volkswagen ID Buzz Cargo prototype specifications
Price circa-£50,000 (estimated) Motor permanent magnet electric Power 201bhp Torque 229lb ft Gearbox single-speed automatic Battery 82kWh total, 77kWh usable Kerb weight 2200kg (estimated) Top speed 90mph (governed) Range 250 miles (estimated) CO2 0g/km Tax band 2% (from April 2022) Rivals Mercedes-Benz eVito, Toyota Proace Electric
Autocar RSS Feed Read More