Ford Mondeo Estate 2021 long-term review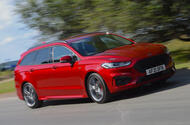 With the Mondeo's end in sight, we gave the hybrid wagon one last hurrah
Why we ran it: To see if the Ford stalwart was still fit for purpose in its final year of production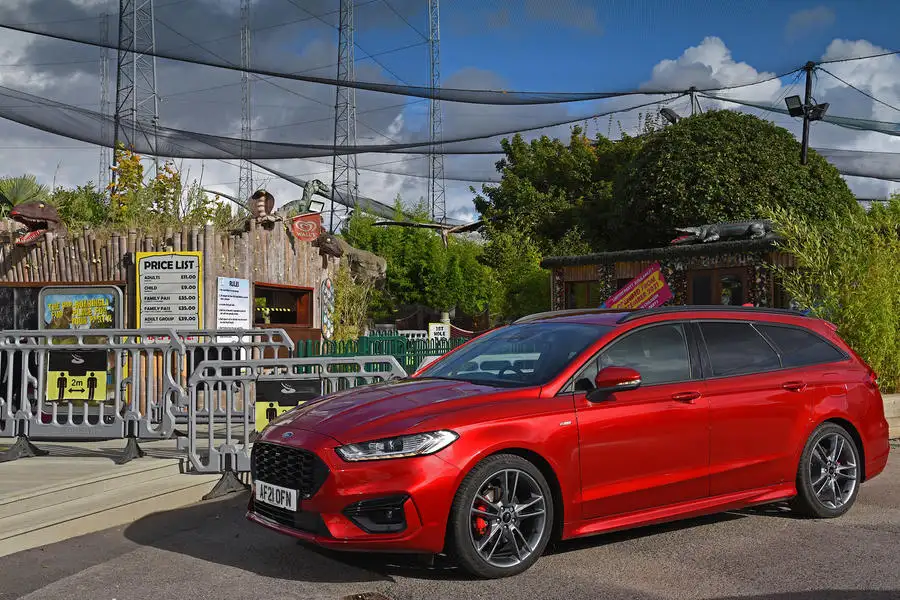 Life with a Mondeo Hybrid: Month 4
We've been enjoying a last hurrah with Ford's outgoing icon. So how has it fared? – 22 December 2021
"Nice car; is that a new " Audi S?" To be fair, he had only taken a fleeting glance, but that passer-by as we took the photo below later admitted that he owned an Audi RS himself. His approval for the Ford was mirrored in the surprise that most people express when I explain to them that we've been running the Mondeo as a final fling before its production line falls silent early next year.
After four months together, I can't help feeling that the Mondeo remains relevant but is a victim of the fickle nature of fashion. In a world where all buyers want is an SUV, for most of them a conventional estate – particularly a slightly dated one that's struggling to keep up with the latest technological advances – just doesn't stack up any more.
Early in my tenure, I was inclined to agree. I love how the Mondeo looks,particularlyinthisST-Line Edition trim, but it soon became clear that it was a bit all mouth and no trousers. With just 128lb ft of torque and an enthusiasm-sapping CVT gearbox, making swift progress was a thrashy, unrewarding process, with hard acceleration resulting in plenty of noise but not much increase in momentum, and no ability to manually select gear ratios.
Instead, however, you soon learn to relax and enjoy both the refinement that this petrol-electric combination deliverswhenitisn'tbeingstretched and the comfort of the roomy cabin. It steers and rides really well – the latter a remarkable feat considering its rubber-band tyres on 19in alloys – and only the slightly soggy brake pedal, so often a criticism of hybrids that use braking to harvest energy, mars an impressive dynamic package. It doesn't take long to realise that all of the Mondeo's famed qualities as a driver's car survive into this fourth generation: this is a chassis with real polish.
It's in its elementon a medium-speed cross-country route, when it can effectively use its electric motor to maintain speed and alternate between charging and deploying its limited battery power. Much of the time, you don't feel the regeneration on a trailing throttle, and I occasionally used the Hill Descent Control button on the side of the gearlever to give it a bit of extra encouragement. Even when fully charged, however, the battery is too small to usefully run the Ford as an EV for any length of time.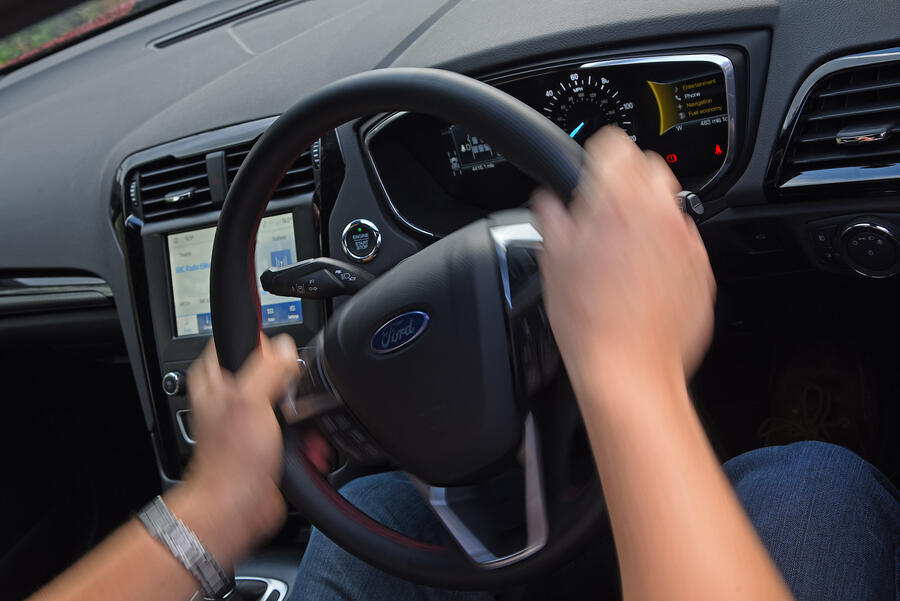 So it's perhaps not ideal that I live in town and am either shunting around in traffic – getting the occasional fright from the over- enthusiastic collision warning system as it picked up a parked car – or doing a motorway hack. Fuel consumption tended to hover around the 44-46mpg zone, but I suspect it would have been a lot better if I lived a more rural life.
With its comfort and generous kit levels, the Mondeo's cabin satisfied all but two members of the Clements family. By 2021 standards, the dashboard architecture looks a little dated and the infotainment screen is small in comparison with the current fashion for something that looks like an iPad Pro bolted to the dash, but it all works well and is intuitive to use. There are plenty of useful storage ideas, such as the shelf behind the centre console that's ideal for placing your phone while it's on charge or the two-piece centre armrest set-up with a separate tray for keys, face masks or credit cards so they don't get lost in the bin beneath with all of the travel sweets, hand sanitiser and other detritus that a family car accumulates.
The children complained a little about the rear cabin feeling dark, with those high windowsills, but they were otherwise happy. Only the dogs in the very back came away unimpressed, with their head room restricted by the large chunk taken out of the Ford's boot space to accommodate the additional battery required for this hybrid version.
It proved less of an encumbrance when I was using the car for my weekly stint restocking the local food bank: the raised boot floor makes loading easier and means a completely flat load area with the seats folded – ideal when sliding boxes forward. But there's no doubt that the boot is compromised, not only by the high floor but also by the thick tailgate that results in a fussy two-piece load-bay cover.
So does it feel appropriate that the long-running Mondeo name should be put out to pasture? To be honest, it feels a little premature. A fifth-generation redesign would easily address complaints over the compromised packaging brought about by foisting a hybrid drivetrain on a car that was never meant to have one, and a plug-in hybrid variant with a bigger battery would result in a more meaningful EV element around town and fill that gaping torque gap.
But the numbers don't lie: where once our roads were populated by Mondeo Man and his clone army, today he has become an endangered species. People simply aren't buying Ford's one-time volume seller any more, making the business case for its survival impossible to justify.
Yet the rose tint of our time together comes from more than just the optional Lucid Red paint. There's no doubt that today's Mondeo is flawed, but it's an easy car to love.
Second Opinion
As much as I would love to see the Mondeo live on, perhaps as a Volkswagen Arteon-rivalling fastback (complete with a shooting brake version), you have to respect Ford's decision to bow out now, while there's still plenty of love for it, instead of seeing it become one of those cars that remain on sale for too long after its expiry date. Given Ford's tendency to revive old model names, there's still every chance the Mondeo will return eventually in some form.
Tom Morgan-Freelander
Love it:
Soft yet sporty Apart from a slightly short squab, the seats are superb: supportive yet squishy-comfortable.
Growing old gracefully It's getting long in the tooth, but the Mondeo is still a great-looking car, particularly in ST-Line trim.
Faithful helm The communicative, accurate steering is a revelation in a world where true feel is a thing of the past.
Loathe it:
Flabby performance Minimal torque and a CVT leave you feeling short-changed with such an excellent chassis.
Practically imperfect The batteries for the hybrid system really eat into boot space, which already lags behind the class best.
Final mileage: 4488
Life with a Mondeo Hybrid: Month 3
Petrol-electric powertrain isn't proving quite as economical as we had hoped – 17 November 2021
As well as eating into boot space, the addition of a hybrid drivetrain into the existing Mondeo bodyshell has meant a reduction in fuel-tank capacity to fit it all in.
The drop from the 62 litres of diesel versions to the 51 litres of my petrol hybrid might not seem like much but, given that an MPG figure in the mid- 50s should be easily achievable in the oil-burner, it has a significant effect on the car's real-world range.
Chuck in that my average economy has been dropping – now down to less than 45mpg overall – due to the number of town miles I cover, and that I'm not in the habit of letting the car run almost dry between top- ups, and I've found myself covering fewer than 300 miles before having to return to the pumps. That's well under half the mileage I would expect to get between fills in a 2.0 Ecoblue.
This shortcoming is one shared by plug-in hybrids I've run before, but in their case, it was masked by the larger-capacity battery's ability to offer a useful additional mileage; in a 'self-charging' hybrid such as the Mondeo, however, where it rarely runs on electric power alone for more than a short burst at a time, it comes into sharp focus.
At least those all-too-regular visits to the forecourts are made easier and faster by every Mondeo being fitted with Ford's Easyfuel system. You just release the petrol flap and the spring-loaded lid opens only when the correct-sized fuel-pump nozzle is offered up to it – with the additional benefits of preventing unscrupulous people from trying to steal your fuel and preventing you from filling up with the wrong type.
Not that there's much danger of the latter happening, so quiet is the Mondeo Hybrid's 2.0-litre Duratec petrol engine. Diesel technology has come a long way in recent years, but it's hard to match a well-engineered petrol for refinement. As long as you're not pushing it hard, that is, because demand maximum acceleration and the CVT will hold it at high revs, making things uncomfortably thrashy.
That temptation is rarely there, and when it's driven gently, there's little more than a murmur from up front; indeed, you have to be listening carefully to detect the changeover from battery to petrol power when you're moving. Only if the engine kicks in when you're stuck in traffic does it really make its presence felt.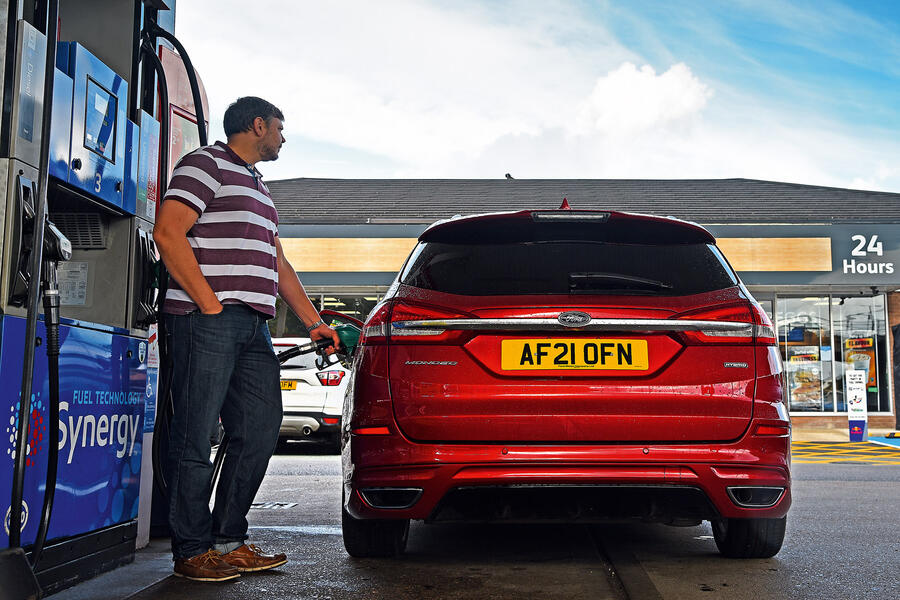 Love it:
Infotainment The Mondeo's system isn't the last word in modernity, but it is intuitive and Apple CarPlay synchronises seamlessly.
Loathe it:
Collision sensor It's oversensitive around town: every parked car seems to raise the alarm.
Mileage: 4125
Intelligent illumination – 3 November 2021
Swivelling headlights are hardly new; the Citroën DS offered them back in 1967. But those on my Mondeo are particularly good, turning on both dipped and full beam and being far more responsive than older systems that faithfully followed your steering. In fully auto mode, they also switch from dipped to full in line with road conditions, and do so brilliantly.
Mileage: 3765
Economy instructions – 20 October 2021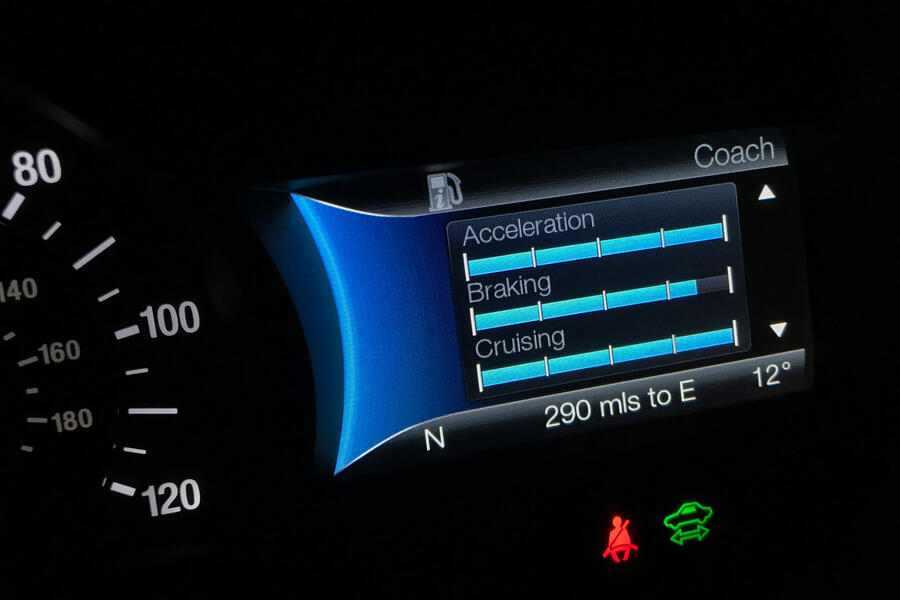 Following the panic at the pumps, I've been using the Mondeo's 'coach' function to maximise the efficiency of its hybrid drivetrain. Getting 100% for acceleration and cruising is easy if I'm careful, but boosting my braking score is more challenging. The result? According to the trip computer, consumption has dropped from 46.3mpg to 46.2mpg.
Mileage: 3543
Life with a Mondeo Hybrid: Month 2
How does this family hauler do when more than fully laden? – 13 October 2021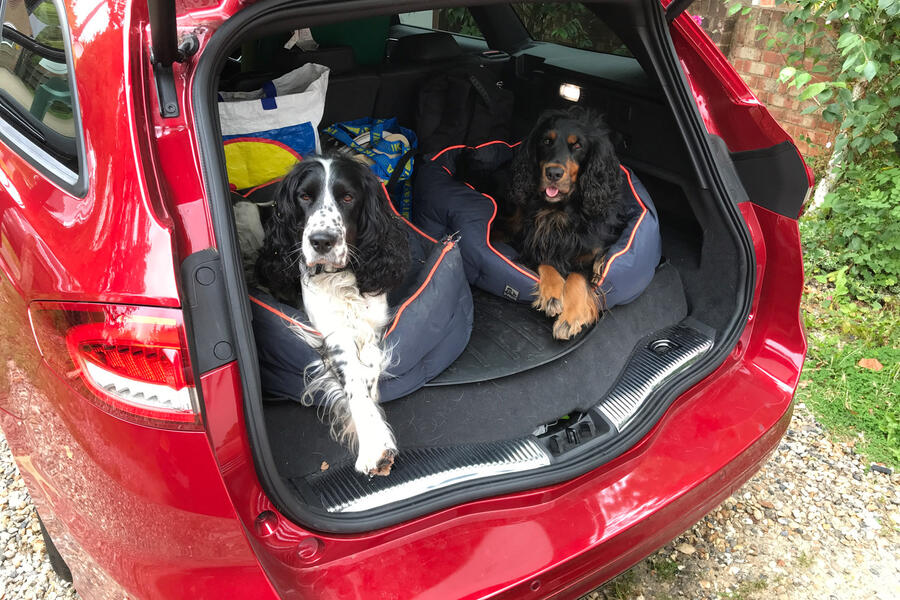 When designing a new hybrid car on a clean sheet of paper, it's easy to plan out the packaging to ensure that its occupants realise that the drivetrain is such only when it makes the transition from the seamless waft of electric power to the grumble of internal combustion. When you're trying to make a hybrid from a car that was never meant to be one in the first place, however, the engineers will always face the quart- into-a-pint-pot challenge of trying to find somewhere for a drive battery.
In the case of the Ford Mondeo Estate, they decided, sensibly enough, to put it in the boot. Unfortunately, however, rather than find space for them under the boot floor, they're perched on top of it, with a false floor above.
I realise that this particular drum is one that I've banged before, but it warrants repeating, because it's such a dominant feature of the car.
And the resulting compromise was highlighted once again recently when we were heading off for a family narrowboating holiday, complete with our two dogs and a week's worth of clothing and rations.
The hounds and their beds pretty much filled the 403-litre boot, so if we were to take more than a single change of undies each, we had no option but to fit a roof box. The good news was that the factory roof bars for the Mondeo are a doddle to fit, with a neat miniature torque wrench preventing clumsy over-tightening of the fittings, and we had soon added an extra couple of hundred litres of storage space over our heads.
There was further good news to be found on the cross-country route we took from the motorway to our rendezvous in Trowbridge. The extra weight the car was carrying made the ride, which can get a bit jittery around town, settle even more; and through the twistier sections, the car felt just as secure as when unladen.
With its feelsome and accurate steering and surprising agility for quite a big car, the Mondeo still offers plenty of driver reward on a sinuous, undulating route. It's just a shame that the power unit in my Hybrid version doesn't live up to the promise of the rest of the underpinnings: with just 128lb ft of torque to call on, you either have to wait patiently for the speed to build organically on a combination of electric and petrol power or endure the noisy thrash as the CVT holds the 2.0-litre turbo petrol engine at high revs to exploit its 184bhp (delivered at 6000rpm).
There's no rev counter nor manual shift function, reinforcing further the impression that, for all the sporting pretence of the ST-Line trim, this car's focus is firmly on efficiency rather than entertainment.
Nonetheless, at least that excellent chassis means that once up to speed, you can enjoy the challenge of trying to hold on to it as frugally as possible, by carrying momentum through corners and using downhill stretches to keep the batteries topped up, ready to deploy on the inclines.
The result of all that was a pretty impressive 45mpg average, in spite of the extra weight and drag courtesy of that lump on the roof. Still, I can't help thinking that a 2.0-litre diesel would have bettered that figure and offered a more potent punch.
Love it:
Sitting pretty The seats that come with my car's ST-Line trim are fantastic: stylish and supportive when you're driving hard yet also squishily comfy.
Loathe it:
Lack of leverage Bearing in mind how often the back bench has to be dropped for extra storage space, the lack of a remote release in the boot is frustrating.

Mileage: 3365
Smooth sailing – 22 September 2021
In spite of its 19in alloys, standard on ST-Line trim, the Mondeo has a remarkably supple ride. It can be knobbly on scarred city streets, but on decent Tarmac it's serene – so much so that it's the camera car of choice for one of our snappers. Its smooth suspension recently helped him get the perfect cover shot for sister mag Classic & Sports Car.
Mileage: 2543
Life with a Mondeo Hybrid: Month 1
Not as big as you think – 1 September 2021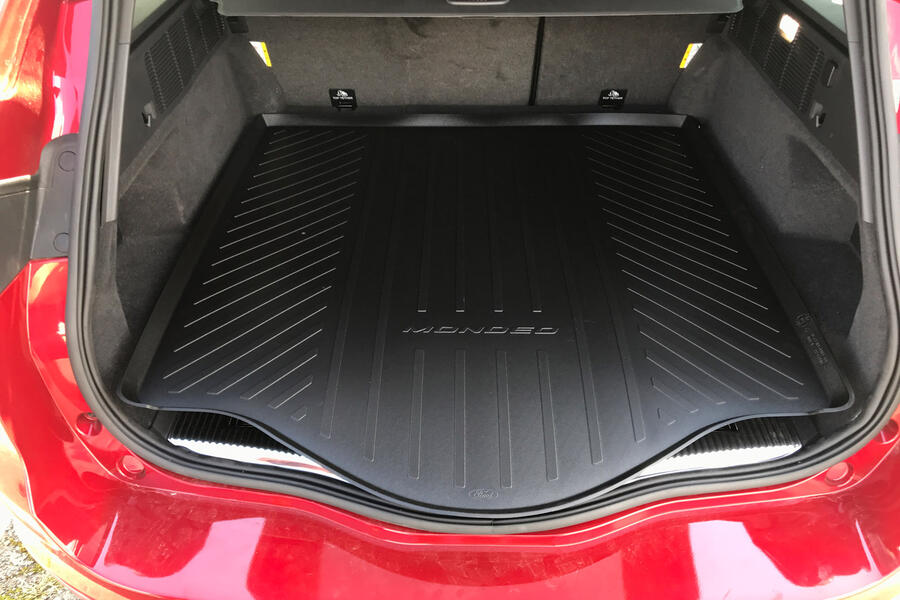 Because my two spaniels will spend plenty of time in the Mondeo Estate, it seemed sensible to get a mat to protect its carpets. Unfortunately, the Quasimodo-style lump in the boot floor to cover the hybrid drive battery meant judicious hacking of the new mat was required to get it to fit. I hope my dogs' legs won't need the same…
Mileage: 2180
Welcoming the Mondeo to the fleet – 25 August 2021
It must have felt like the end of an era – well, more like five of them – when the Ford Cortina came to the end of its life in 1982, after 20 years and five generations. Likewise the demise 11 years later of the Sierra, which represented a quantum leap in styling terms at its launch yet carried the Blue Oval's family car baton for more than a decade before handing it over to the 'world car' Mondeo in 1993.
And now here we are again, waving goodbye to another long- serving stalwart – indeed, it has outlasted both of its forebears – from the Ford line. Or, more precisely, we will be in March next year, because its maker has decided that from spring 2022, the Mondeo will be no more. The bad news for Ford fans is that this time there won't be a like-for-like replacement, ending 60 years of gentle evolution from that original Cortina.
But the good news is that it gives us time for this, one last hurrah in the outgoing former favourite in its final, fourth-generation form (albeit often known as the Mk5, due to the facelifted Mk1 looking so different from the original). And while this is a car that may not enthuse hordes of buyers any more, with sales in the UK having dropped from a 86,500 annual high to fewer than 2500 in 2020, my prior encounters with the Mondeo tell me that it's likely to be a pleasure to live with across the coming months.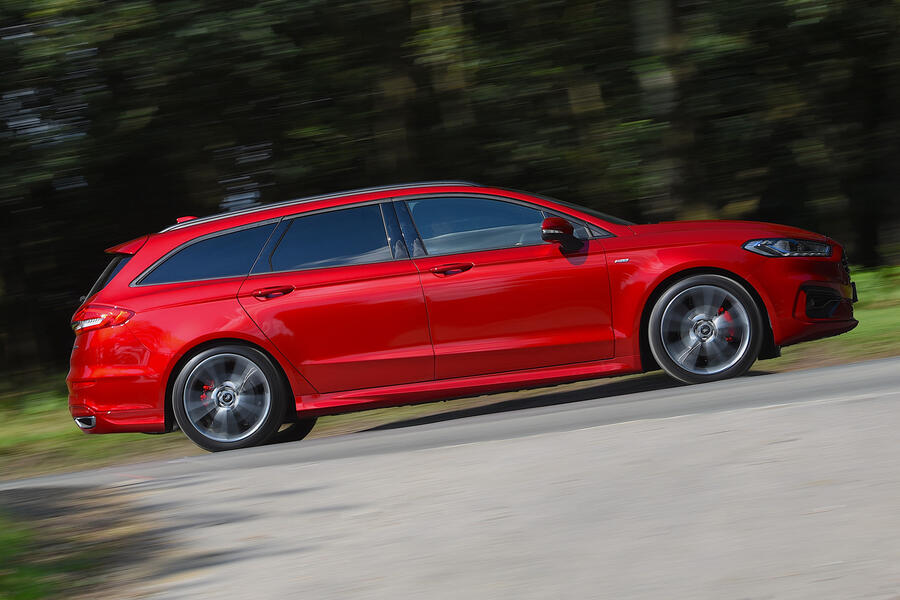 Much of that previous experience was acquired in a 2.0-litre diesel estate with which I hauled a caravan to the Scottish Highlands and back, but repeating those kinds of heroics might be more challenging this time, because I've opted for the Hybrid. Launched in 2019, this version offers the most up-to-date form this supposed dinosaur takes today, but it produces a relatively meagre 128lb ft of torque from its combination of Duratec 2.0-litre turbo petrol engine and an electric motor with a 1.4kWh battery pack.
There's 184bhp of power at a fairly lofty 6000rpm, but you rarely feel motivated to reach for those kind of heights, not least because the engine is hamstrung by being mated to a droning continuously variable transmission that doesn't encourage you to drive the Mondeo in the racy fashion that its sporty styling pack encourages.
Those sharp threads come courtesy of the generous ST-Line Edition trim of our car, which is hard to fault: a panoramic roof and a reversing camera are the only things that might have been nice inclusions, but that's me being spoiled.
Aside from the slight disappointment of the performance, the first few weeks with the car have served only to back up my Mondeo preconceptions. The big Ford remains a very appealing daily companion, with delightfully accurate, well-weighted and responsive steering, a supple ride (in spite of my car featuring 'Sports Tuned' suspension and sitting on whopping 19in rims) and a roomy, practical and comfortable cabin.
And as well as the Mondeo Estate Hybrid officially emitting a relatively meagre 106g/km of CO2 (just 12g/km more than the Toyota Prius), the first few hundred miles suggest that it's going to be pretty economical. I've been restricted to mainly town use so far, and it has returned a perfectly acceptable 45.9mpg, with the electric and petrol power units working in seamless harmony. It pulls away silently on self-charged battery power, with the combustion engine only kicking in once you want to make more confident progress.
The boot is slightly less impressive, however. Even in standard form, the Mondeo Estate's 500-litre load bay is bettered by roomier rivals, but in the Hybrid, that's cut to just 403 litres by the location of the additional battery pack beneath the boot floor. It's still a useful space, but it's disappointing when you consider the car's overall dimensions, and it really underlines the fact that this is a model that wasn't designed with an electrified future in mind and has instead been bent to the will of the buying public, slightly against its wishes.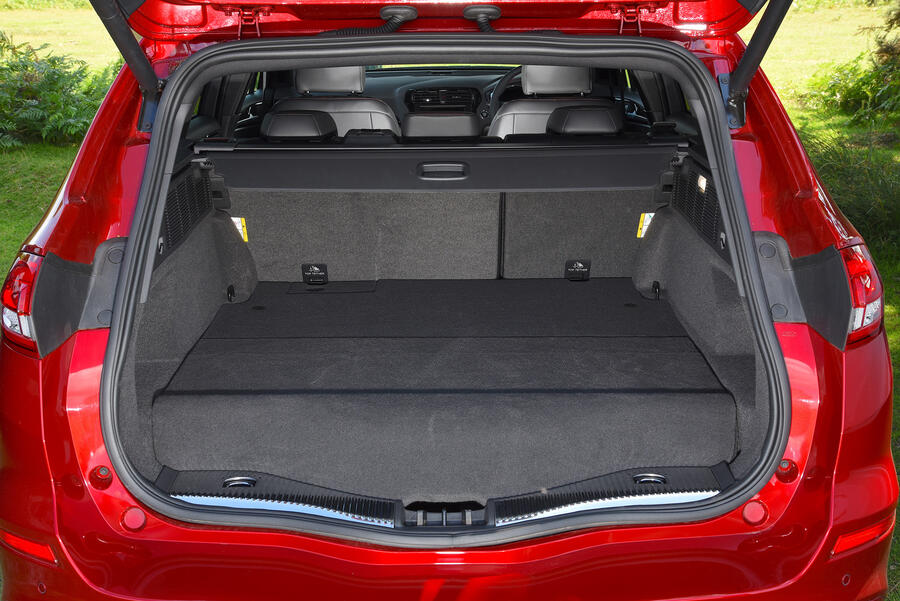 Being so low-slung and sporty in comparison to the SUVs that have taken its place higher up the sales charts means it's harder to accommodate that all-important battery, but it's also easy to forget just how well a good estate can drive.
Instead of the high-set, commanding driving position of an SUV, you get a relaxing, cocooned feelrelaxation seems to be the order of the day in the Mondeo: the seats are cushioning and well shaped, if a bit short in the squab, and the ergonomics refreshingly simple and well laid out. There are even proper old-school buttons instead of the often-frustrating touch-sensitive controls that are becoming ever more prevalent.
Perhaps that's just my age talking, and I should learn to embrace such new tricks like this old dog has. I have plenty of time to learn from it, and first impressions suggest that life as one of the UK's last Mondeo Men is going to suit me very well.
Second Opinion
You might imagine the hybrid powertrain and ST-Line Edition trim make for something of a contradiction, but don't forget Ford knows how to deliver a capable chassis. A short stint behind the wheel showed me the Mondeo can still entertain on the right stretch of road.
Tom Morgan
Prices: List price new £31,690 List price now £31,690 Price as tested £32,540
Options:Lucid Red premium paint £850
Fuel consumption and range: Claimed economy 47.9mpg Fuel tank 51 litres Test average 44.0mpg Test best 47.5mpg Test worst 39.7mpg Real-world range 494 miles
Tech highlights: 0-62mph 9.2sec Top speed 116mph Engine 4 cyls, 1999cc, petrol, plus electric motor Max power 184bhp Max torque 128lb ft Transmission CVT automatic Boot capacity 403 litres litres Wheels 8.0Jx19in, alloy Tyres 235/40 R19, Continental Premium Contact 6 Kerb weight 1716kg
Service and running costs: Contract hire rate £366.48 CO2 103g/km Service costs None Other costs None Fuel costs £388.62 Running costs inc fuel £388.62 Cost per mile 14 pence Faults None