Jeep reveals six new concepts alongside updated Magneto EV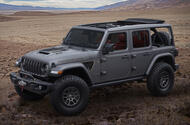 The concepts include a 20th anniversary Rubicon, a military-styled Wrangler and a car named 'Bob'
Jeep has unveiled six concept cars alongside its all-electric Wrangler Magneto, ahead of the firm's annual Moab Easter Safari event. 
Among the concepts is a vehicle celebrating the 20th anniversary of Rubicon, a Jeep Wrangler inspired by the firm's historic military applications and a car named 'Bob'. 
The firm's Moab event is held every year in Utah, and puts the four-wheel capabilities of four-wheel drive Jeep models to the test. The event generally runs for nine days, through to Easter Sunday. 
Jeep Grand Cherokee Trailhawk PHEV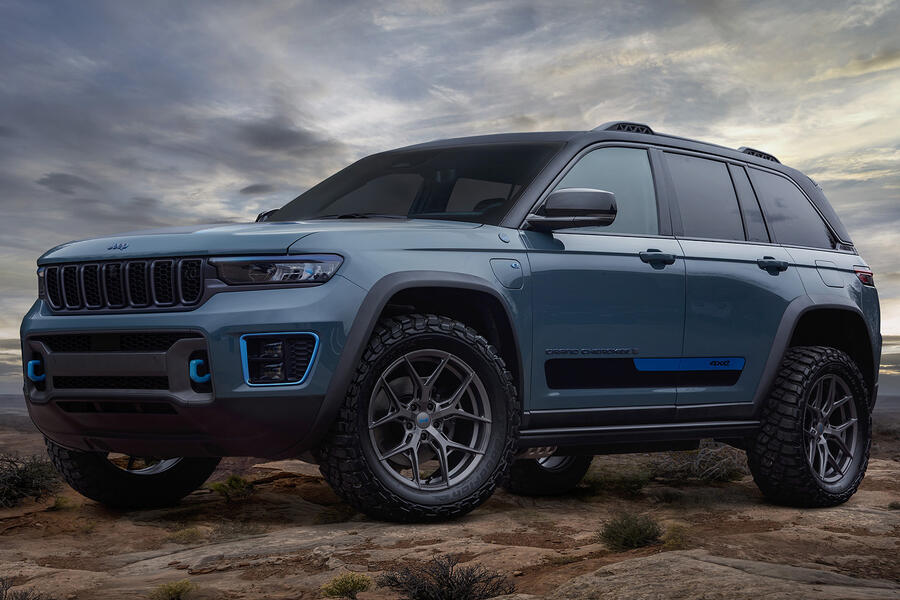 The first concept on display was a plug-in hybrid (PHEV) of the Jeep Grand Cherokee Trailhawk, underpinned by the firm's 4xe powertrain, and based on the Grand Cherokee 4xe which will go on sale later this year. 
It's powered by a 2.0-litre turbocharged engine mated to two electric motors and an eight-speed automatic transmission. Jeep has also equipped the model with the firm's quadra-lift air suspension to improve ride quality. 
The PHEV concept sports a unique 'industrial blue' exterior paint colour, blue tow hooks and a matte black and blue, glare-proof bonnet design. It also gains an adventure-inspired roof rack, a black Rhino liner roof, custom fog-light trims and quad-LED fog lamps. 
Jeep '41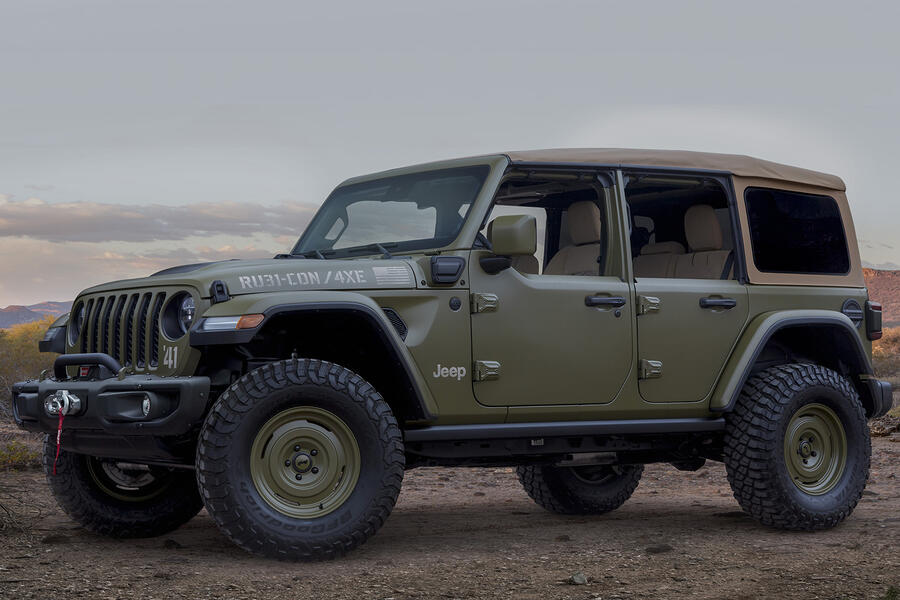 The Jeep '41 concept meanwhile pays homage to the first ever Jeep model – the Willys MB – and the firm's military heritage. Driven by the same 2.0-litre 4xe powertrain as the Cherokee Trailhawk, the model boasts up to 49mpg and 21 miles of all-electric range. 
Its design features a matte, olive green exterior paint named D.R.A.B, as well as black steel bumpers, a winch, and a tan-coloured soft-top roof. The side of the car also features custom decals, while accent-coloured tow hooks also appear. 
Inside, the '41 is fitted with canvas-coloured seats, digital camo inserts, a Rhino-lined floor and a matte green instrument panel. A set of 25in tyres sit on 18in wheels, also painted matte green. 
Jeep Rubicon 20th anniversary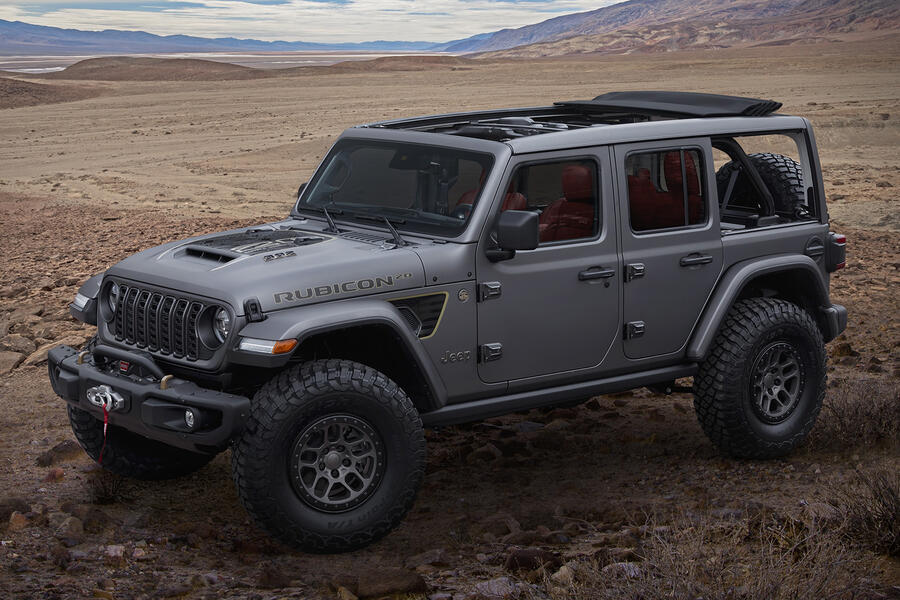 To celebrate 20 years of the Jeep Wrangler Rubicon, the firm debuted an anniversary model based on a 2003 model-year, two-door version of the popular off-roader. 
Under the bonnet sits a 6.4-litre V8 engine from the Wrangler Rubicon 392, producing 443bhp and 450 lb.-ft, with a 0-62 mph time of under 5.0secs. 
The concept is also equipped with a dual-mode performance exhaust, a performance hood with a centre scoop, custom-built half doors and an electric roof. It's wrapped in a granite crystal colour and has been lifted by 2in. Its 17in wheels, meanwhile, feature 37in mud-terrain tyres. 
Jeep Bob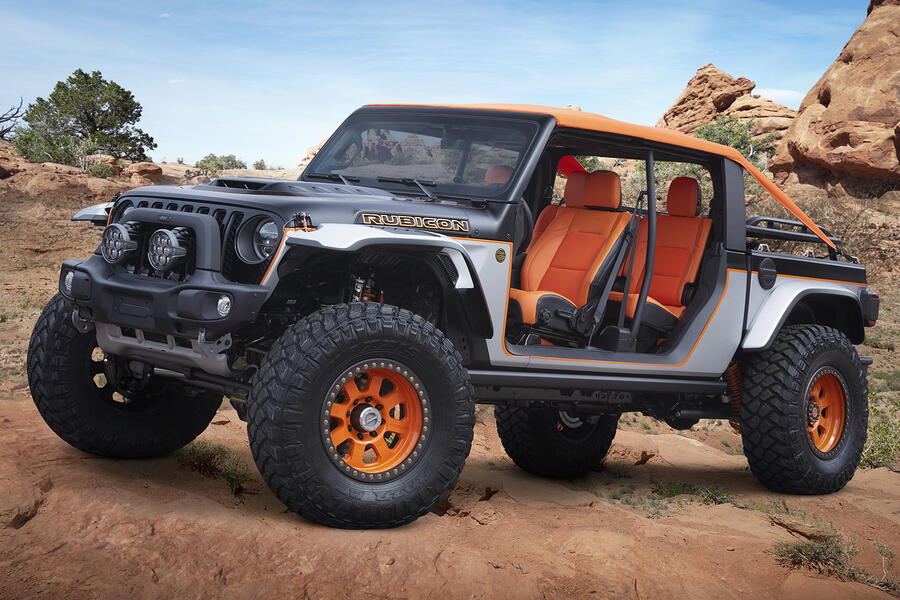 The Jeep Rubicon-based Bob concept was created as a reference to "bobbing," where drivers shorten the frame of their Jeep behind the rear axle to reduce the overhangs of pick-up beds. 
Some 12in has been shaved off of the concept, while steel front and rear bumpers have improved approach and departure angles. Off-road performance has also been improved with the addition of an off-road suspension kit, Dynatrac Pro-Rock 60 axles, King coils and Bypass shocks. A set of huge 40in tyres are mounted to 20in wheels. 
Bob is driven by a 3.0-litre diesel V6 engine, mated to an eight-speed automatic transmission. A Mopar cold-air intake is said to further boost torque and improve fuel economy, while a vented carbon bonnet improves airflow to the engine.
Jeep D-Coder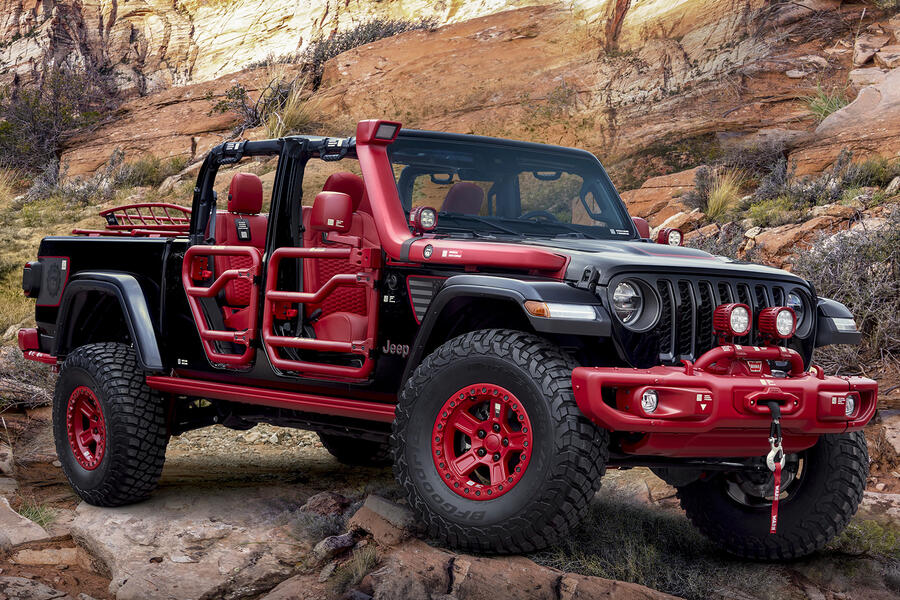 The Jeep D-Coder acts as a "rolling catalogue of factory-tested and factory-backed items" which Jeep customers can buy and equip to their vehicles. 
Each part of the Rubicon-based concept is equipped with a scannable QR code. It features a JPP snorkel to support the model's 3.6-litre engine in deep water, while rock rails offer protection for the concept's underside. 
On the exterior, a red paint contrasts with Katzkin leather seats, while the door-sill guards, stainless steel pedal covers and floor mats are all supplied by Mopar. 
Jeep Birdcage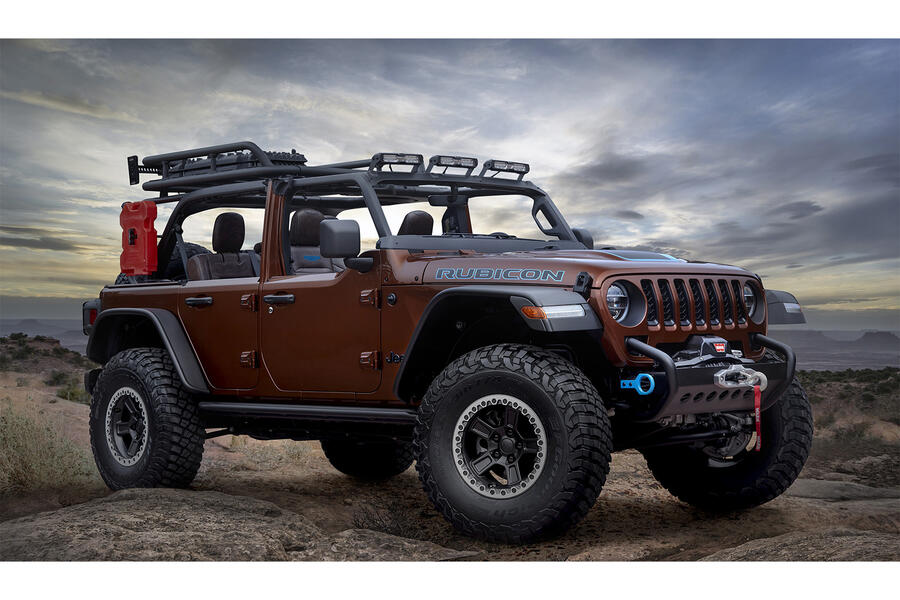 Based on the Jeep Wrangler, the Birdcage concept is claimed to be a "wide-open-air extreme 4×4 machine," and features several accessories from Mopar and JPP.  Under the bonnet sits a plug-in 4xe powertrain. 
It features an eagle brown ​​exterior paint with granite crystal and surf blue accent. Its offroad capabilities have also been improved with the addition of a rock-slider skid plate, a winch, tow hooks and a set of 17-by-8.5in wheels, fitted with 37in tyres. 
The Birdcage will also be easier to use at night thanks to a set of underbody rock lights, but don't expect to stay warm – its windscreen, wipers and doors have all been removed, but Jeep says drivers will be protected from dirt and debris. 
Source: Autocar RSS Feed Read More