New Car Preview: 2023 Honda HR-V Redesign Based on New Civic Coming Soon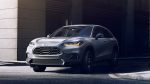 Crossover utility vehicles (CUVs) have undoubtedly taken over the automotive landscape as the top preference for Americans, and automakers like Honda are taking time to redesign vehicles like the new 2023 HR-V, which was revealed today with a fresh take on a subcompact CUV.
The new 2023 Honda HR-V is redesigned inside and out bringing us a larger overall package that's more accommodating like the new Honda Civic that it is now based on. For the 2023 model year, the HR-V utilizes the new Civic's platform naturally allowing the HR-V to grow in overall size, which isn't a bad thing at all.
The new HR-V for America departs from the global variation found in other countries and gets a little more serious to depart from being based on the old Honda Fit. With that, there's more refinement, improved driving dynamics, a better powertrain, and more space.
Honda hasn't yet revealed the full details on the new 2023 Honda HR-V but with it being based on the redesigned 11th generation Honda Civic we suspect it will get at least one of the new Civic's powertrains, possibly the 2.0-liter naturally aspirated 4-cylinder or the 1.5-liter turbocharged 4-cylinder. The outgoing HR-V uses a naturally aspirated 1.8-liter with 141 horsepower, which yielded somewhat lethargic acceleration. Using one of the Civic's engines would naturally give the HR-V better performance and having the new platform will elevate the HR-V's road prowess and stability, all good moves for the small-ish CUV.
The new styling of the 2023 HR-V get's some modern cues from the new Civic, also not a bad thing! Other details about the new 2023 HR-V can only be speculated but if the HR-V gets most of what we like in the new 2022 Civic, then Honda has done justice to update their little crossover. We will be sure to report on the fine details and specs when they are made available hopefully in the coming weeks as Honda promises that the HR-V will, "advance its position as the segment leader with young buyers, first-time buyers, and multicultural customers." We expect pricing to start close to the outgoing model's $22,870 figure.
Source: Automotive Addicts Read More