New Car Preview: 2023 Mercedes-AMG EQE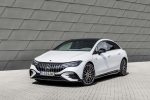 Electric cars are coming in hot, and that heat is being brought by Mercedes-Benz in the form of a new Mercedes-AMG EQE electric midsized sedan that touts 677 horsepower and 701 lb-ft of torque with a range between 276 and 322 miles.
The new Mercedes-AMG EQE gets the AMG treatment by the way of subtle sporty treatments over the base Mercedes EQE that may not be as noticeable as we've seen in past AMG vehicles. The AME EQE does get a few other performance bits that elevate its ability to outperform its siblings getting larger brakes with six-piston calipers up front clamping down on 16-inch rotors. There's a slippery mode to somewhat extend the electric range where the two motors dial back power output to 308 horsepower. The max 677 horsepower is only a temporary thing provided by a boost function in the enhanced EQE's Race Start mode. In such a mode the EQE should hit 60 mph in just 3.2 seconds while without the boost function and Race Start mode the time is cut to 3.4 seconds and horsepower is leveled out at 617-hp.
The suspension system is the latest AMG Ride Control+ system with adaptive dampers and other support structures being optimized for more rigidity and stability for when you configure the new AMG EQE with the Dynamic Plus package enabling it to get up to the top speed of 149 mph.
Inside of the new Mercedes-AMG EQE will be a familiar cabin that gets the full "EQ" treatment featuring Mercedes' latest MBUX system and large screens encompassing most of the dashboard's face. There are a few AMG exclusive bits such as the flat-bottom steering wheel, sports seats, contrasting red stitching throughout, and even new AMG-specific sounds for each drive mode and MBUX infotainment unit.
There's a 90.6-kWh battery back powering the AMG EQE and it is said to have fast-charging up to 170 kW where it can reclaim 112 miles of range in just 15 minutes. While the exact electric range and pricing haven't been announced yet, we expect full details in the coming months with the Mercedes-AMG EQE slated for the American market later this year.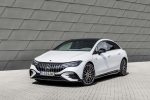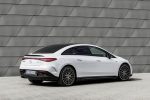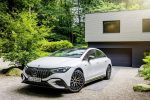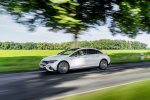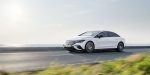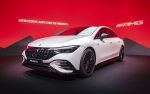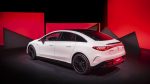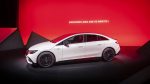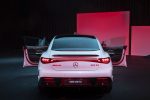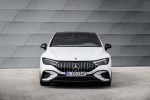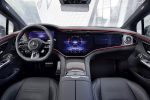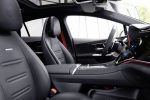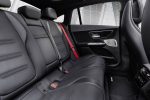 Automotive Addicts Read More