Opinion: What the Tonale tells us about Alfa Romeo's future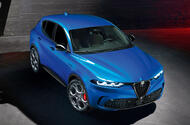 A hatchback seemingly won't be on the cards for the Italian firm, if customer buying habits are any indication
That the newly-revealed Alfa Romeo Tonale is likely to be the Italian firm's best-selling car tells us a few things.
For one, how limited the Alfa Romeo line-up is at the moment, if one can easily predict that a compact crossover will become the biggest seller. That wouldn't be a guarantee at every car company.
And for two, that could mean trouble for Alfa hatchbacks in particular but also for hatchbacks in a broader sense. Companies like Nissan ditched the small family hatch years ago and the move towards crossovers seems relentless. Is the everyday hatchback an endangered species?
How, then, did Alfa get here? Alfa is the sporty brand of Stellantis (or, at least, it was of FCA before it merged with PSA), yet its top-seller will be a tall car.
Customer perception, it seems, is that you can have a tall, sporty car. See the Cupra Formentor, Ford Puma ST and Hyundai Kona N. Heck, there's even a raised Lamborghini Huracán, the Sterrato, forthcoming.
Personally, I think cars are generally better to drive if they're lower to the ground than crossovers. But there's no denying the ease of use, a load bay at a more convenient height, a seat that you can slide gracefully in and out of.
Clearly people like the style as well: a crossover says you're active, outdoorsy, yes, even perhaps sporty and dynamic. Dynamism transferred from car to owner.
Autocar RSS Feed Read More