Steve Cropley: Why we need more fun EVs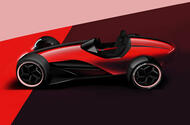 Our man thinks our Backfire concept should be setting a precedent for future electric sports car
Remember Backfire? It's the proposal for a simple, low-volume EV roadster along Caterham lines that we dreamed up (using practical wisdom from Equipmake and WEVC) in our Christmas double issue. Since then, I've carefully collected reactions from readers who spotted it – and liked it enough to write and say so – and the tally has just reached 30. Thank you, Bill and Lizzie Stanley of Herts; your note is the latest.
Thirty people isn't exactly a football crowd, but I believe it's a modest validation of the idea, given that there must also be others who approve but didn't write. I must say I grow ever more impatient for some enterprising niche vehicle maker to tackle a project like this: EV-dom needs proof that driving will be simple fun tomorrow. 
No gears, true, but Backfire would have brilliant weight distribution and great torque characteristics. And if someone built a car like it, we'd soon understand how small a roadster's battery can be, and how little such a car can weigh. In the original feature, our experts were all optimism, but I'd love to see it proven.
Tuesday
This week's story about Rolls-Royce redesigning the age-old Spirit of Ecstasy emblem for superior aerodynamics and a smaller frontal area – to better suit the drag-busting shape of the forthcoming Spectre EV – reminds me how much activity there seems to be in badge engineering (the proper kind) nowadays. 
Both McLaren and Gordon Murray have for years been conscious of saving badge bulk and weight, and now we hear that even the nose badge of the forthcoming Morgan 3 Wheeler, whose official launch is a couple of weeks away, has had 'work' to ensure its edges comply with global safety regs. The radii of various edges have been changed and the thickness of the whole badge has been shaved by one millimetre (to 4.5mm) just to be sure.
Wednesday
Interesting chats with Iain Sanderson, the British marketing agency entrepreneur working to revive the legendary Vanwall race car marque since he first acquired rights to the brand 12 years ago. A classic disruptor, Sanderson initially came to notice in 2008 when he launched the pioneering all-electric Lightning GT at the London motor show when electric performance cars were still a subject of mirth.
Sanderson bought the Vanwall trademark outright in 2012 and has since registered it around the world (EU, US, Japan, Australia and Malaysia). He has promoted the re-publication of what he calls "the best-ever Vanwall book", launched a range of Vanwall merchandise, built several Vanwall-badged UK road cars and is hatching grand plans with Hall & Hall, the respected race car restorers, to build six 'toolroom' single-seat Formula 1 continuation cars. 
After that, he's talking about some road cars – and all of this with the blessing of company founder Tony Vandervell's family. There's a long way to travel, but Sanderson is busy making it his life's work.
Thursday
After years of empty threats, the automatics are taking over. This matter struck me forcibly today as I was beetling about the Cotswolds in my latest Dacia Duster long-termer, a manual gearbox car with a diesel engine. It suddenly dawned on me how rare it has become, in today's traffic, for the car ahead to take that characteristic pause at 20mph-ish while the driver dips the clutch and slots second gear
Don't get me wrong: I love self-shifters. Driving the Steering Committee's automatic Mini Cooper S is pure pleasure (even if laying hands on the keys isn't so easy). But maybe we'd all better get used to – and savour – the feel of a manual gearstick while we can. It'll soon be on borrowed time. 
And another thing…
Keen to know the identity of this year's Car of the Year as soon as anyone in the world? The verdict of Europe's 61 jurors – a group that includes our own Matt Prior and Andrew Frankel – will be announced on 28 February. We'll have the result on our website as soon as it's revealed.
Autocar RSS Feed Read More