The history of Mercedes-Benz AMG – picture special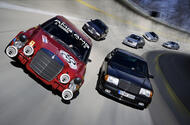 The AMG name is today synonymous with Mercedes-Benz, but the tuner had humble beginnings
AMG started when two talented Mercedes-Benz engine tuners set up their own workshop in the town of Burgstall. We take a high-speed blast through the firm's archives
Sometimes good news comes in curious forms. For Hans-Werner Aufrecht, the decision by Mercedes-Benz to withdraw from all forms of racing for 1965 must have seemed a disaster.
As a teenager, he'd dreamt of building Mercedes race engines and now, soon after finding employment doing exactly that, the dream was about to be shattered.
A lesser person would have just accepted the inevitable and gone back to building road car engines. But not Aufrecht. With a like-minded colleague called Erhard Melcher, he managed to acquire a 300SE, strip it, raise the power of its engine from 170bhp to 238bhp and, with Manfred Schiek driving, win ten rounds of the 1965 German Touring Car Championship.
News travelled fast and, by the end of the following year, Aufrecht and Melcher were deluged with orders for faster Mercedes, for use on road or track. So in 1967, they decided to give up their jobs at Mercedes and set up shop on their own in nearby Burgstall. And in the moment when Aufrecht, Melcher and Aufrecht's hometown of Großaspach came together, AMG was born.
Business came thick and fast. Even Mercedes appeared to realise that it had missed a trick and started releasing more highly tuned versions of its road cars, the 1968 6.3-litre 300SEL to name the most obvious example. But what AMG could have interpreted as an attempt to pull the rug out from under its feet was instead regarded as a unique opportunity: however fast and powerful a Mercedes super-saloon might be, AMG backed itself to make it even faster and more powerful. 
It took three years, but by the time of the 1971 Spa 24 Hours, a 6.3-litre 300SEL road car with 247bhp had become a 6.8-litre race car with 428bhp. Despite the gasps of crowd and competitors alike at the appearance of a large red cathedral on the grid, the SEL rumbled around to second place and a class win, outright victory being denied only by a rather frantic pitstop schedule needed to satisfy its appetite for fuel and tyres.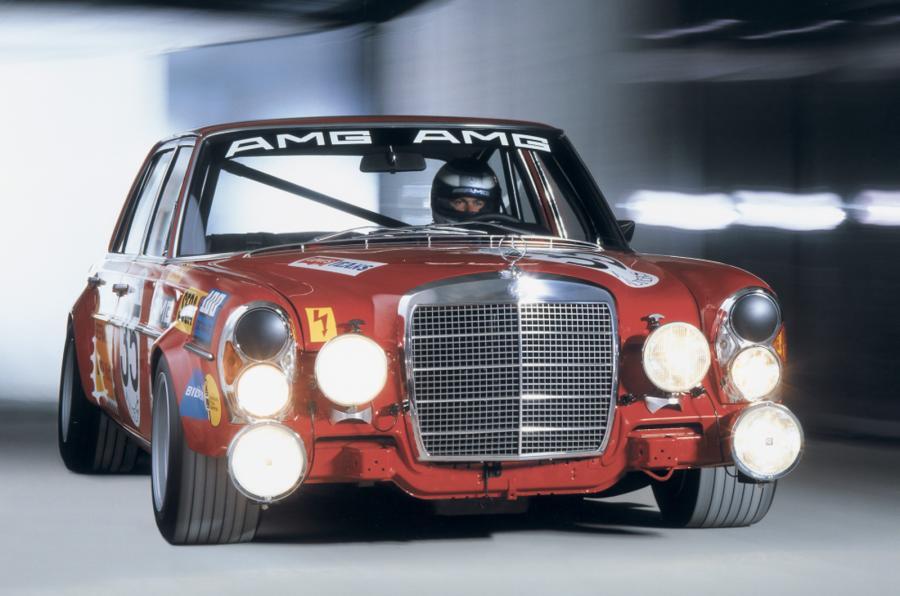 Business boomed, boosted by a demand for custom-made interiors as well as engines, and by 1976 it had outgrown the Großaspach premises, prompting a move to Affalterbach, where the company remains to this day.
By the mid-1980s, AMG was well into its stride and able not only to tune pre-existing product but to do so to such an extent that the resulting cars deserved to be thought of as models in their own right. The AMG 500SEC of 1984 had four-valve cylinder heads long before any purely Mercedes product, but it would be 1986 before AMG smashed its way into the global automotive psyche with a car that, appropriately enough, would become known as 'The Hammer'.
This was a mid-sized W124 saloon into which AMG had squeezed Mercedes' largest engine (5.6 litres), but only after fitting its own four-valve heads. One-time Autocar road test editor David Vivian described it thus: "Rapid enough to face down a Ferrari 288 GTO, it could be driven by your granny." Back then, a rear-drive saloon with a four-speed auto 'box that could nevertheless hit 60mph in 5.0sec flat on its way to 183mph was an unprecedented, preposterous achievement.
By 1990, the relationship between Mercedes and AMG – which had existed on a far more harmonious basis than many tuning companies and the makers of their donor vehicles – became formalised. This led not only to providing Mercedes with AMG's credibility but also to enabling AMG to sell its cars through Mercedes dealers with Mercedes-backed warranties. Most significantly, however, Mercedes and AMG started to work together on product design.
The very first fruit of these labours was the W202-based C36 AMG of 1993. Today, when you can buy an AMG A-class with 415bhp, the 276bhp of the C36 might not seem like much, but back then it was enough to put it on near enough equal terms with the E36-generation BMW M3, even if, with softer springs, a higher kerb weight and the retention of a four-speed automatic transmission, its character was distinctly different. This was a crucial car, because it set the tone for an entire generation of AMG models to come.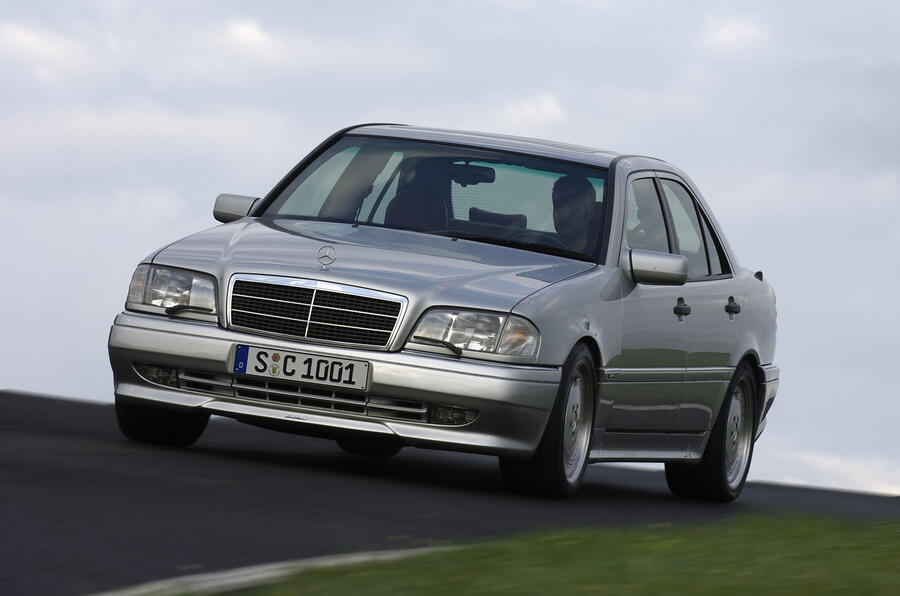 The rest of the 1990s were spent fleshing out the ranges from a central hub of core product, including SUVs like the G-Class and ML-Class for the first time. Spoke would eventually flail out to some of the maddest cars ever to wear a three-pointed star on their nose.
I give you, just by way of example, the 5.9-litre, manual-transmission G60 AMG off-roader, the 6.2m-long, six-door S63 AMG Pullman, the 25-off road-going version of the CLK GTR Le Mans car and the SL73 AMG roadster, whose 7291cc motor is still the largest ever fitted to a standard production post-war Mercedes road car.
But it was by no means the most powerful. By 2001, Mercedes and AMG had embraced a technology that it had used to dominate grand prix racing before the war. By supercharging its 5.4-litre V8, a new level of power and performance was achieved, with no loss of driveability. Even in its least powerful guise, a 2002 E55 AMG saloon had exactly the same power as a Ferrari F40 and a top speed that would have nudged 200mph were it not electronically limited to 155mph.
The next year, 2003, was a massive one for AMG. At one end of the spectrum, its engine powered the Mercedes-McLaren SLR. At the other, AMG produced its first diesel (who remembers the C30 CDI AMG?), but with only 227bhp, the five-cylinder motor was more diesel than AMG. In the same year, AMG introduced its twin-turbo 6.0-litre V12 to the S-class, an engine that is only now seeing its final years in the Mercedes-AMG S65.
Another landmark came three years later, with the release of a new 6.2-litre, normally aspirated V8 to replace the old blown V8. Astonishingly, it was the very first engine to be a pure AMG design from the ground up and not based in any way on a pre-existing Mercedes product. This was also the year in which Mercedes and AMG launched its first 'Black Series' car, the SLK 55 AMG Black Series.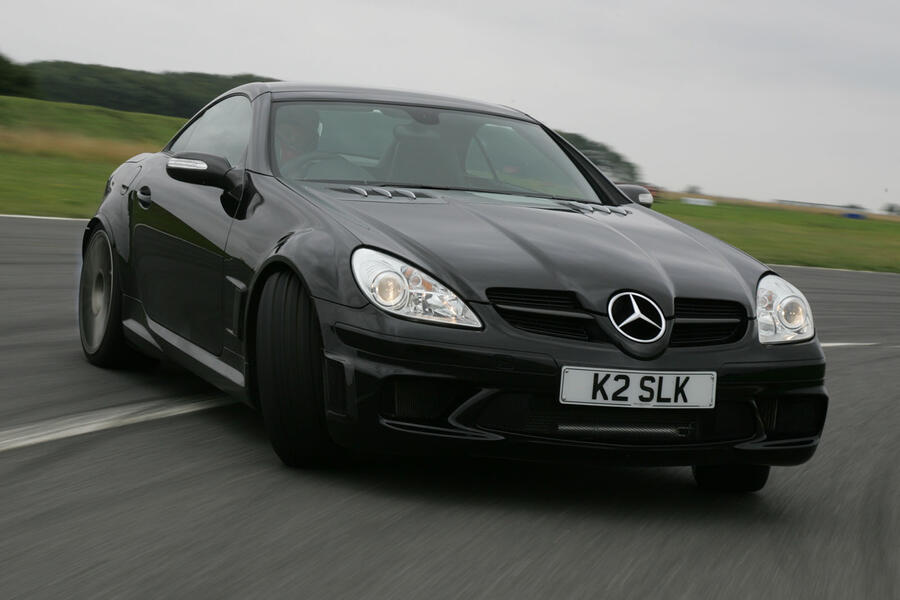 More Black Series models followed, including the wondrous Mercedes-AMG CLK63 Black and the less impressive SL65 Black, but these were merely preparatory to AMG's greatest achievement to date. When McLaren got the gig to develop the SLR, some at AMG were a little piqued and thought that they could have managed such a project themselves. Their time soon came and, in the SLS, produced the first bespoke AMG car, a machine that was cheaper and better to drive than the SLR and which also reintroduced gullwing doors and, in the SLS AMG E-Cell, the first all-electric supercar. A roadster with less eye-catching doors and an even more hardcore SLS Black edition would follow.
More obscure side projects would also see the light of day around this time, not least the Mercedes-AMG R63. A luxury MPV fitted with a 6.2-litre V8 producing 503bhp was an unprecedented combination, but despite being capable of 0-62mph in just 4.6sec, it found few homes and would be discontinued after a single year on sale.
AMG would then turn its attention to the Mercedes-Benz A-Class hatchback, transforming it into an all-wheel drive mega hatch with the pace to rival class leaders including the Volkswagen Golf R and Audi RS3. The A45 AMG would would be the most powerful hatchback on sale during its lifetime, yet managed to retain drivability after extracting as much as 376bhp from a 2.0-litre four-cylinder engine.
With its arrival, there were AMG versions of nearly every Mercedes passenger car on sale save the B-Class, every one with a motor assembled according to AMG's 'one man, one engine' philosophy. The SLS would be replaced by the Mercedes-AMG GT, only the second car AMG developed entirely in-house, which went on to see multiple variants including the track-focused AMG GT R and AMG GT R Pro, the folding roof GT Roadster, and the GT3 and GT4 professional race cars. The ultimate incarnation was the AMG GT Black Series.
2016 would see the introduction of the SLC43, the first in what would become a series of 3.0-litre V6 powerplants fettled by AMG, filling a gap in the entry-level below the flagship 63 models. Two years later, hybrid assistance would make its debut in the CLS53, E53 Coupé and E53 Cabriolet. An integrated starter/generator boosted the 3.0-litre twin-turbocharged six cylinder to north of 420bhp.
The AMG GT line-up would expand further in 2018 with the arrival of the GT Four Door Coupé, though it shared little with the two-seater sports car. Instead, this was a luxury executive cruiser with mild hybrid power assisting its 4.0-litre twin-turbocharged V8, and enough performance to rival the Porsche Panamera Turbo.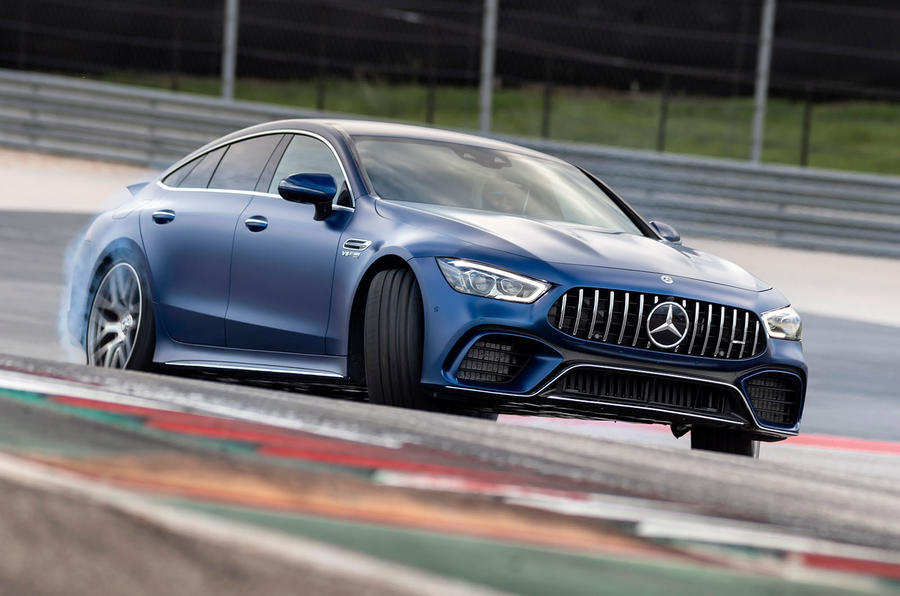 A second generation of A-Class would eventually come calling, and this time AMG would be permitted two variants. The entry-level Mercedes-AMG A35 brought the Affalterbach experience to its lowest price point yet, while the A45 would reclaim the title of world's most powerful production four-cylinder with its mammoth 416bhp output.
But like all mainstream performance brands, thoughts have turned to how to futureproof AMG's model line-up. Plug-ins were first, with the GT 63 S E Performance 4-Door Coupé bringing a colossal 831bhp courtesy of a 201bhp electric motor, in addition to the twin-turbo 4.0-litre V8. A downsized four-pot hybrid powerplaint is also expected to replace much of AMG's current V8 output, in order to comply with strict European emissions regulations.
Like every car brand, the firm is also embracing electrification, with the EQS and EQE electric saloons becoming the first EVs to wear an AMG badge. The EQE arrived in two forms, the AMG EQE 43 and AMG EQE 53, with the latter delivering up to 677bhp with an optional AMG Dynamic Plus package. The larger AMG EQS 53 is even more powerful, with up to 751bhp on tap.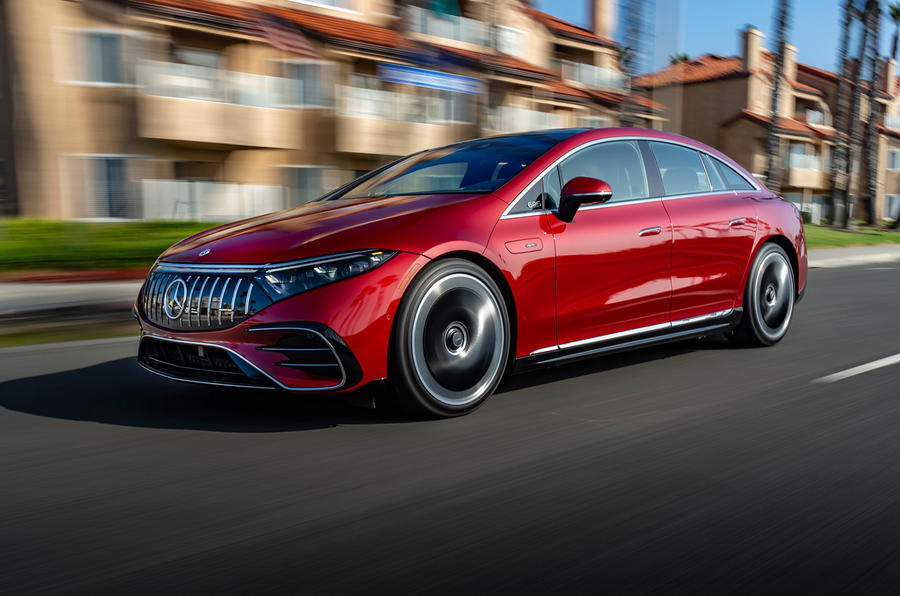 It doesn't mean the end of high performance combustion engines for Affalterbach just yet, though: it is also working on the AMG One hypercar, which is set to use a Formula One-derived 1.6-litre hybrid to produce more than 1000bhp. 
Autocar RSS Feed Read More