Top 10 Best hybrid hatchbacks 2022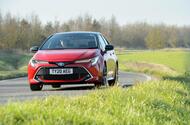 Not quite sold on electric power yet? These hybrids might convince you that going green needn't be a chore
These days, the term 'hybrid' gets bandied about to describe everything from a £150,000 super-GT with a plug socket to a £13,000 supermini with stop/start.
As electrification technologies in new cars have diversified, it has become an increasingly less useful descriptive term. And yet, as diesel engines have been vilified by the court of public opinion and the goal of moving to full-electric mobility is moved ever closer, more and more of us have decided we want a hybrid now – whatever that term should happen to encompass.
This top 10 chart seeks to take in anything that you might consider to be a hybrid car in the 'traditional' sense. That is, it has a small-capacity petrol engine that's supplemented by an electric motor and a small battery, and so can run for only very short distances without emitting anything from its tailpipe. Plug-in hybrids with their bigger batteries and greater electric ranges aren't included, and neither are the latest generation of so-called mild-hybrids with their integrated starter-generators.
That said, we are being a bit flexible in what we deem to be a hatchback in this list. The cars here come in a range of shapes and sizes, with everything from humble superminis to larger crossovers making an appearance. However, all of these cars have two important things in common: none comes with a plug socket; and all have the potential to offer impressive fuel savings in the sorts of stop/start urban driving environments in which they were designed to flourish.
Having spent more than two decades introducing the world to the hybrid powertrain, Toyota is now well advanced with normalising it – and there isn't a car on sale that does this better than the current Corolla hatchback.
Ushered in to replace the ageing Toyota Auris in 2019, the Corolla is a game-changer for Toyota in what remains one of the most important market segments of them all. It combines a healthy dose of visual style with tangible perceived cabin quality, and like one or two other of its showroom siblings introduced over the past few years, it's based on a new global model platform and has been dynamically developed and tuned – quite successfully – for distinguishing ride and handling sophistication.
In its range-topping 2.0-litre hybrid form, it even performs with a bit of sporting edge. The free-spinning, elastic-band-effect acceleration feel of the car's powertrain can still be found if you go looking for it under wide throttle applications, but generally the car's part-throttle responsiveness is much better than you might expect, and its outright performance level a lot more assured.
That the Corolla is also one of Toyota's self-proclaimed 'self-charging' hybrids will appeal to people who prefer their motoring lives to be kept simple – but not as much as the all-round ownership credentials of a car that they can feel equally as good about owning and driving as they do about their outgoings at the pump.
It's been a long while since we've had a Yaris that's as likeable and accomplished as this new fourth-generation model.
Not only does it look better than ever, but it's sweeter to drive, too. It may not be quite as engaging as some of its conventional supermini rivals, but it's nonetheless proof that opting for a hybrid doesn't have to mean giving up on the dynamism and sense of character that always mark out the best compact cars.
Gripes? Well, it could be a bit more practical and its 1.5-litre engine can feel a bit lacking in hard acceleration. But it more than makes up for this with easy drivability around town and an impressively frugal rate of fuel consumption. Job well done, Toyota.
Hybrid superminis are rarer than hens' teeth, and for a long while, the Toyota Yaris and the Honda Jazz were about the only ones out there. Now, however, Renault has joined the party with a hybridised version of its excellent little Clio.
It's called the Clio E-Tech, and it's powered by a complex powertrain that combines a 1.6-litre petrol engine with two, smaller electric motors and a tiny 1.2kWh battery. As complicated as its workings are, though, the fact of the matter is that it's incredibly easy to get along with out in the real world. It juggles its two power sources pretty seamlessly most of the time, and it feels a good degree punchier than the Yaris and Jazz.
Best of all, it retains the regular Clio's excellent ride and handling balance, and it looks as snazzy and alluring as you'd expect a small, French supermini to be. We'd have no qualms recommending one.
The granddaddy of petrol-electric hybrids further refines the formula Toyota developed back in 1997. The latest, fourth-generation version is built on a new platform and its tweaked 1.8-litre petrol engine has improved efficiency and performance.
Overall, the Prius is even more usable than before and genuinely frugal. Although it doesn't look like it ought to be so, the car's greatest asset has become how normal it is to drive: more responsive on part throttle, well within its comfort zone at high speeds and genuinely pretty rounded in daily use.
A sub-£25k price seals the deal for the best-selling hybrid car the world has known. In this class, particularly for those who want to save money at the pump and who don't have the opportunity to charge at home, it still takes some serious beating. Meanwhile, for those who can plug in for the night and still want a car designed for really distinguishing efficiency, the PHEV version will be well worth considering.
If you want evidence of Toyota's expertise in the field of hybrid powertrains, consider the fact that four of the cars in the top half of this list are made by the Japanese firm.
The C-HR was updated in 2019, with suspension tweaks and a larger, 2.0-litre hybrid powertrain related to that in the Corolla and RAV4 being introduced. The pay-off was a healthy, and much-needed lift in performance, and handling that was a bit more engaging than it was before.
Of course, its usability didn't suffer in the process. Around town, it's still a suitably polished and refined crossover, with good ride comfort and decent enough practicality. Admittedly, its sloping roofline does eat into rear head space a bit, but at least it can't be accused of looking like just another derivative, identikit crossover.
The latest Jazz might be small in stature, but its ingenious design makes it one of the most practical and flexible superminis out there. Not only will it offer the sorts of interior space that many larger crossovers would struggle to muster, but its exceptionally frugal 1.5-litre hybrid powertrain will also deliver gains in fuel efficiency those larger, heavier cars couldn't hope to match. When we put it through the full Autocar road test, it managed to average 60mpg over 500 miles of mixed-environment driving without even trying. It's hard not to be impressed by numbers like that.
It's not the most interesting hybrid to drive or look at, but as an ownership prospect, it would be inoffensive to live with. Ride quality is mostly comfortable, and its build quality is as typically robust as you'd expect.
Lexus's first crack at a crossover SUV is a slightly confusing one to contemplate, because the UX was also intended as an indirect replacement for the hybrid-only CT hatchback. That's perhaps why it wears its SUV design cues particularly lightly, and why you could be forgiven for thinking, when you see one, that you're looking at a slightly higher-riding, premium-branded family hatchback.
Needless to say, the UX isn't quite as spacious or accessible as a typical compact SUV, but it does counter with plenty of material quality and rich luxury ambience to complement the alternative styling of its exterior. Lexus's infotainment technology and its control regimes are less intuitive to use than some, but the car lacks little functionality once you get used to how it's accessed.
The hybrid offers a pretty effective blend of real-world efficiency, drivability and refinement; not the long-range efficiency that a diesel might, but better low-speed fuel economy and good urban cruising manners.
The Hyundai Ioniq was the first car to be offered in three different electrified states: hybrid, plug-in hybrid and fully electric. The hybrid mates a 1.6-litre petrol engine with a smaller electric motor for a combined 139bhp and 195lb ft, which is sent through the front wheels. However, whereas the vast majority of hybrids rely on some form of eCVT transmission, the Ioniq has a six-speed dual-clutch set-up.
Although it's impressively frugal, the Hyundai's petrol motor can be a bit vocal at times. Still, it drives smoothly enough, with sedate but tidy handling and a suitably comfortable ride. Practicality is pretty good, too, but the cabin does feel exceptionally plasticky in places. There are certainly hybrid hatchbacks that are easier to get excited about, but the Ioniq is nonetheless a competent and capable example of the breed. It's an impressively affordable one, too.
Just as with the Hyundai Ioniq, the Kia Niro SUV is available in hybrid, plug-in hybrid and fully electric forms. Both the hybrid and the PHEV mate a 1.6-litre petrol engine with a 43bhp electric motor for a peak 139bhp and 191lb ft of torque, and both are front-wheel drive, using a six-speed dual-clutch automatic gearbox.
The only meaningful difference that the plug-in hybrid offers, besides a socket via which to charge it, is a bigger drive battery (8.9kWh versus 1.6kWh) – so there's no extra electric performance associated with the PHEV here.
Being a crossover SUV, the Niro offers good practicality and convenience compared with a regular five-door hatchback, although its drivability and handling aren't as polished as those of other hybrids we've tested, and its real-world economy isn't a match for the best, either.
The fully electric e-Niro, by contrast, is one of the most compelling and convincing affordable electric family cars on the market – so if you were considering any Niro, the full EV is the one we'd recommend.
Subaru is not a company you'd expect to make a typical hybrid powertrain, and its new eBoxer system doesn't disappoint on that score. Intended to be lightweight and compact, to slot into its existing boxer-engined cars without major re-engineering and to allow them to maintain the off-road capability and towing and carrying capacity for which Subaru has built a reputation, the eBoxer system is currently available in both this XV and the larger Forester SUV.
In both cars, the eBoxer set-up adds only limited electric-only running and low-rev torque into the mix of the driving experience. It's quite a challenge to be gentle enough with the car's accelerator pedal in order to keep the combustion engine switched off at low speeds. However, the system's contribution of mid-range torque during intensive off-roading and towing is more telling.
The XV was an unusual and unconventional crossover hatchback before its hybrid powertrain came along, and anyone hoping that this would make it more suitable to everyday motoring, or that it might transform the car's fuel efficiency, will be disappointed by the reality of running one. But if you really do need a dose of ruggedness and true off-road capability in your petrol-electric hatchback (rather than an entirely electrically driven rear axle like rivals offer, which becomes pretty useless once the car's drive battery is flat) the XV might just have been made for you.