Top 10 best super-GTs 2022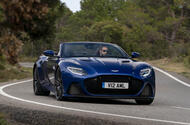 Super-GTs are a rare breed with the ability to be soft and gentle one moment and ferocious the next, while encasing their occupants in luxurious surroundings. Which make our top 10?
Today's super-GT inherits a legacy forged and refined over a century of sports car making, through front-engined, rear-wheel-drive legends such as the pre-war Alfa Romeo 8C and the likes of the Jaguar E-Type, Aston Martin DB4, Ferrari 250 and Mercedes-Benz 300 SL 'Gullwing'. No other part of the performance car market has better pedigree.
These are cars intended for the idyllic, high-speed continent-crossing missions of your waking dreams. They're 'have your cake and eat it' cars, with excellent touring manners and plenty of space for your luggage, often with a couple of occasional back seats included.
But the very best combine all that with absolutely first-order speed, power, handling poise and driver engagement, or, alternatively, limousine-like luxury, as you prefer.
If there's one marque you'd expect to get the execution of a luxurious, powerful and beautiful super-GT bang on the money, it's Aston Martin. And with the latest DBS Superleggera, that's exactly what the iconic British brand has done.
This new flagship model (at least until the Valkyrie hypercar arrives) was one of a small handful of cars to be awarded the full five-star rating by our road test team in 2018. It's an impressively well-rounded car, this one. The 715bhp and 664lb ft developed by its 5.2-litre twin-turbocharged V12 allows the DBS to cover ground with alarming and gathering urgency, and yet even with all that performance punch, the big Aston never feels intimidating, nervous or highly strung – something that can't be said of the Ferrari 812 Superfast. Superb handling and a ride that's taut but still usefully supple add to its outstanding grand touring credentials.
There are a few (minor) flies in its ointment, though. It's not exactly lightweight (despite what the Superleggera name might lead you to believe) and the eight-speed gearbox can be a bit aggressive at low speeds. The cabin is also a mite too similar to that of the considerably cheaper DB11 to effortlessly distinguish this quarter-million-pound sporting flagship as well as it might.
Even so, this is a phenomenal car, available in both coupé and Volante-badged convertible forms, that represents a welcome return to form for a much-loved British car maker.
That Aston Martin has laid claim to the top two spots on this list is a testament to the success of Messrs Palmer (now former CEO) and Co in turning the fabled British car maker from a slightly old-fashioned brand into a genuine force in exotic car making, at least from the perspective from the driver's seat. 
Think of the AMR as a DB11 2.0. Nearly three years after the original DB11 V12 was launched in 2016, it has been retired and replaced by the model you see here. Power from the twin-turbo 5.2-litre V12 is up 30bhp over the old model to 630bhp, while stiffer suspension bushes and retuned dampers mean it now handles even more sweetly than before. Outright traction has also been improved. Although the car's ride is understandably firm, there's enough composure on offer to ensure it remains a comfortable, effortless GT.
It's one that's not quite as complete as the DBS Superleggera, but considering that flagship model is the best part of £50,000 more, you'd hope it wouldn't tread on its bigger brother's toes too much.
The sporting realignment of the Bentley Continental GT got off to a fine start with the 12-cylinder, third-generation launch-edition coupé and it has moved onwards and upwards apace since with Crewe's even sportier V8 version. The GT is a car that retains all of the tactile material lavishness, top-level luxury and first-order touring refinement we've come to expect from its maker, but that probably halves the gap that existed between its predecessor and the best-handling cars in the super-GT niche on driver appeal.
Back to topThe towering real-world performance and all-surface four-wheel-drive stability of both versions will be big draws to customers who use their cars on a daily basis, but they come partnered with much better body control and cornering poise than existing GT owners will be used to. But for one or two details, and especially since the arrival of the fine-handling V8 version, which sits below the W12 in the Conti GT hierachy, it's hard to imagine how Bentley could better have delivered on this car's particular dynamic brief, which now caters to a wider range of customer preferences than any of its predecessors have.
Granted, there are a couple of rival super-GTs that nail the all-important compromise of handling agility and involvement and touring comfort ever so slightly better. But considering the weight of opulent luxury it has to bear, the Continental GT has come a remarkably long way as a driver's car. We'll be watching how much further it may come yet with interest.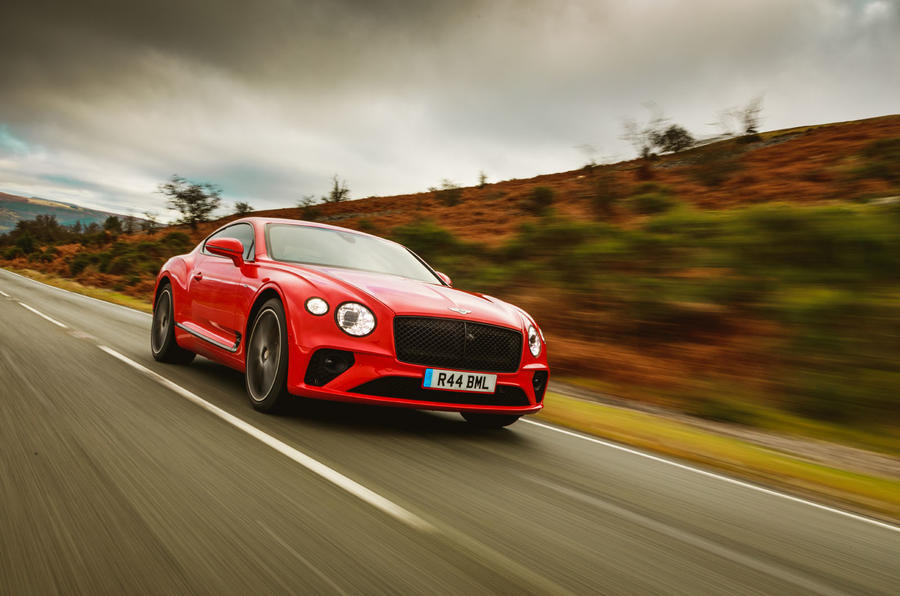 Maranello has rediscovered some old form when it comes to long-striding, front-engined, beautiful and fast GT cars. As its top-of-the-series-production-line V12 options have become wilder, faster and more exciting in recent years (or in certain cases, like those of the FF and GTC4 Lusso 'breadvan' models, just plain weirder) they have also incrementally become more demanding and imposing to drive. That left a gap in Ferrari's model range for a conventional, more laid-back super-GT coupé that the new Roma has filled rather effectively.
Handsome, usable, comfortable but also really dynamically engaging at times, the Roma picks up where the widely applauded 550 Maranello left off nearly two decades ago. That it's powered by a 612bhp turbo V8 and has 'occasional' back seats makes it differ from the 550's recipe in some ways, but the roundedness and breadth of the car's motive character and its carefully studied classic GT looks certainly seem tributes to the 550's spirit.
The Roma isn't just beautiful on the outside. With its interior, Maranello has gone after the likes of Bentley and Mercedes-AMG for material richness and luxury ambience; and with the car's new twin-screen infotainment and instrumentation layout, it has attempted an air of real technological sophistication also. In both cases, it has enjoyed notable although not entirely convincing success – but enough to tempt some fresh customers into the Ferrari fold without doubt.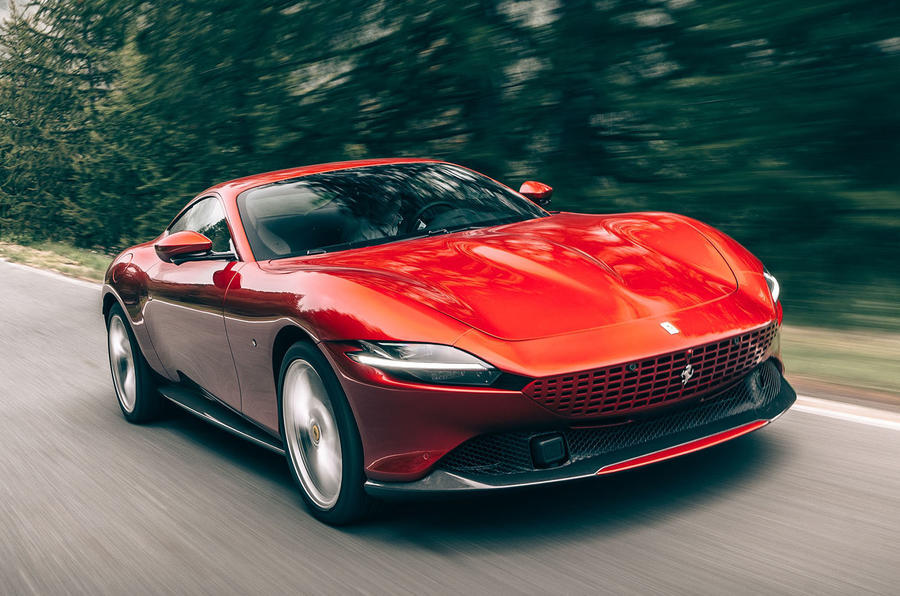 The electric revolution that is slowly taking root in other parts of the car market will likely take its time to really blossom in this one. Batteries and electric motors may currently seem like the last things you might choose in a car bought with continent crossing in mind; and it may very well remain that way for a while yet. However, plug-in hybrids have a ready reply to the insoluble problem of range; and with the Polestar 1, an emergent and innovative car maker from the Volvo Car Group's stable has rather ably demonstrated how appealing a fast GT with a charging socket can be.
Polestar's debut model draws power from two electric motors (which operate through separate transmissions and are therefore capable of providing genuinely asymmetrical torque vectoring) at its rear axle, but also from a 300-horsepower, four-cylinder petrol engine cradled between its front wheels. Overall its peak power nudges up to 600 horsepower; and on peak torque, thanks to those electric motors, it beats most of the other cars in this list. Being so transformatively electrified, however, it's a car with big, instant acceleration from low speeds, and perhaps not the autobahn clout of some of its direct rivals.
The 1 will be a rare sight in the UK. Coming in left-hand drive only and with limited boot space on account of its mechanical layout, it won't be the easiest super-GT to use – but it will certainly reward buyers with its alternative style, enveloping interior and multi-faceted driving experience that can make it change its motive character like a virtuoso impressionist comedian. A 70-mile EV; easy-going everyday-use GT car; or driver's car of the future? The choice is yours.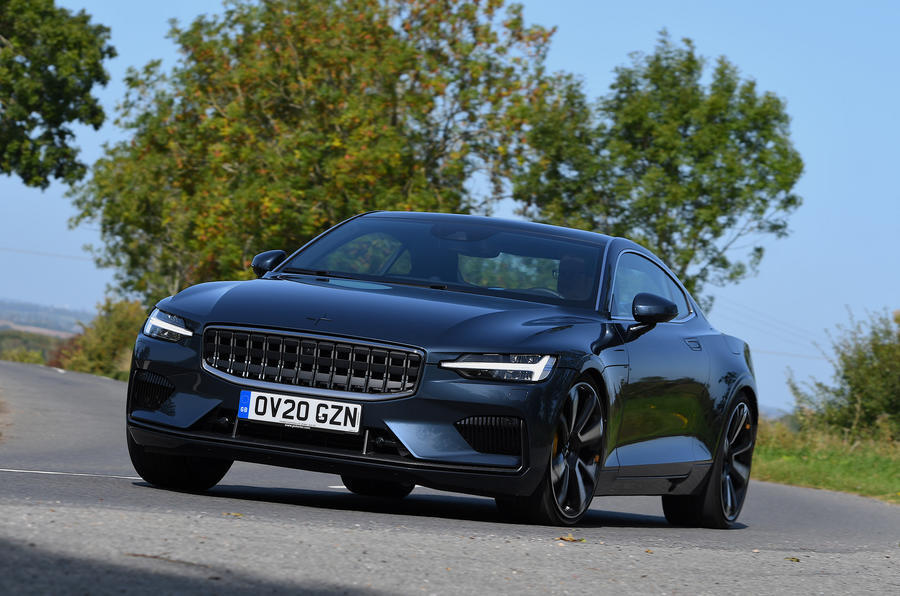 Little in the motoring world is more wonderful than the most aristocratic of passenger car blue-bloods dressed for some weekend amusement. That's what the Wraith represents. Rolls-Royce introduced the two-door gran turismo version of its last-generation Ghost saloon in 2013, and with it announced the most driver-focused car in its history.
The elegant two-door is only small by Rolls' standards, of course. It's easily big enough to accommodate adults in its beautifully appointed rear seats and has boot space for plenty of designer luggage.
Up front, it trades some of the extravagance and formality of the interiors of its sibling models for a more casual, intimate and understated ambience. Again, though, Rolls' idea of understated is still sufficiently stately to include soft hides, gleaming brightwork and large expanses of gorgeous wood veneer panelling.
The Wraith's handling has a starchier, crisper edge than the Ghost's, making the car very happy to be whisked along a testing road at pace and well capable of rewarding an interested driver with its deliciously weighted steering and strong, balanced grip levels.
The Wraith's V12 engine has abundant power, typical aristocratic smoothness and heightened responsiveness, although you still monitor its business at a distance, through Rolls' idiosyncratic 'power reserve' meter rather than anything as common as a rev counter. And if you want your power reserve with even less reserve, there's also the Wraith Black Badge, which came along in 2016 and brought stealthier looks, tauter air suspension, a recalibrated automatic gearbox and and extra 52lb ft of torque.  
Whichever version you plump for, this car is simply delicious to drive, as well as being a sublime way to travel.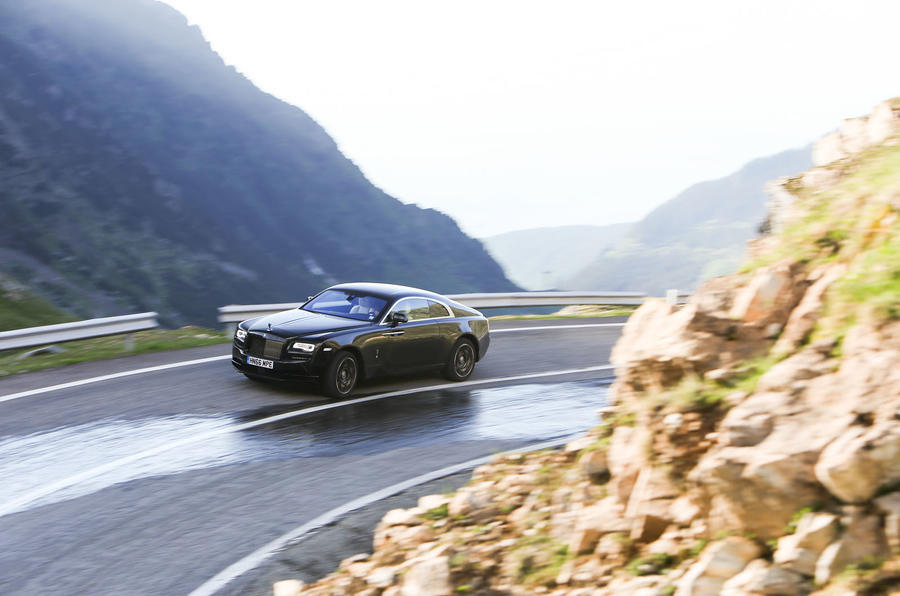 An updated version of the front-engined V12 introduced as the F12 in 2012, the 812 Superfast builds on everything that was good about its predecessor, and also incorporates a lot of what made the special-edition F12tdf such an incredible driver's car. Which isn't a bad start in life for any performance car.
With 789bhp from an atmospheric 12-cylinder engine that could genuinely be the greatest of its kind ever to grace a road car, along with super-alert handling that nothing in the super-GT class can really even approach, the 812 Superfast stands head and shoulders above its closest competitors for sheer excitement value.
The rapier-like handling agility of the F12tdf, caused principally by its aggressive four-wheel steering system, has been toned down, but without dampening the dynamic alertness and balance that has distinguished this generation of front-engined V12 Ferraris since its introduction. The new 812 GTS derivative is also now the first front-engined V12 Ferrari convertible since the 599-based SA Aperta of 2010.
Some would argue that a super-GT should be less highly strung – a more natural distance-coverer that's capable of making the miles fly by the window in less wearing mode. We would agree – and that, combined particularly with the 812's inability to deal well with uneven surfaces, is what relegates the car to the bottom half of these rankings.
However, if you do like the incisive vigour, sheer pace and combustive drama with which the 812 Superfast conducts itself, you might well find that nothing else in the class will do.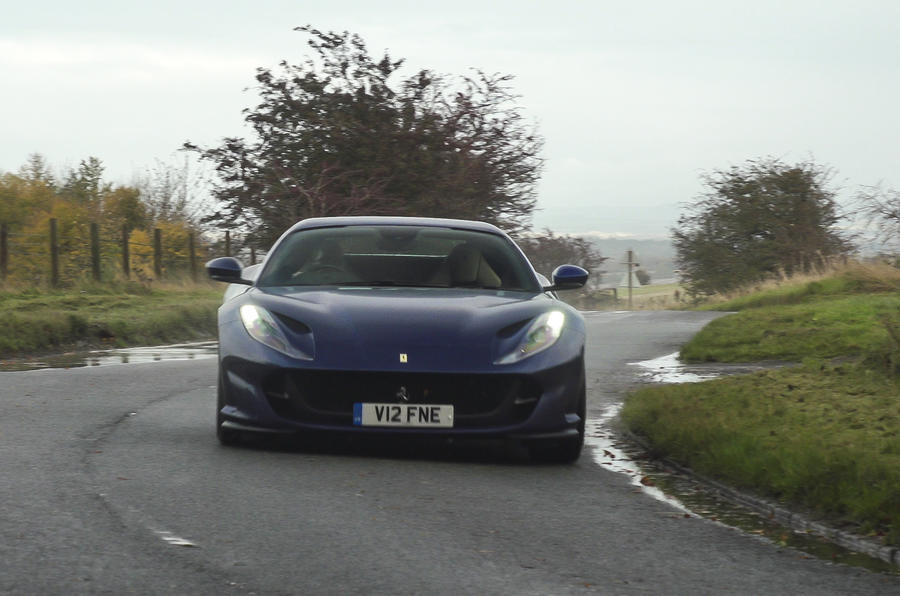 McLaren's GT has helped put the 'super' back into the super-GT class. At face value, the GT seems to have more in common with a supercar than an elegant grand tourer, what with its carbon tub and mid-engined, strictly two-seat layout. But with the lines between vehicle classes becoming increasingly blurred across the entire industry, it doesn't seem totally surprising that we now have a McLaren that can supposedly mix it with the likes of Bentleys and Aston Martins. 
Of course, McLaren pulled a similar trick with the excellent 570GT. But where that car was an adaptation of an existing model, the GT is its own stand-alone model. So you get even greater storage space, a more lavishly finished cabin, and a slightly softer suspension tune. Its 4.0-litre engine is also down on power compared with that of the 720S, but 612bhp and 465lb ft ensure the GT is still startlingly quick in a straight line. Furthermore, since the car was launched in 2019, McLaren has beefed up its standard equipment with more than £20,000 worth of kit without adding a penny to its list price.
The car's a peach to drive on challenging roads: incisive and agile with feelsome, precise steering. In fact, if driving pleasure is at the very top of your list of requirements, this could be the GT car for you.
There is a compromise, though. As comfy as it is by McLaren standards, it doesn't quite ride perfectly, with too much long-wave body movement becoming apparent at times; and, next to the Aston Martins and Bentley that sit at the top of this class, the McLaren doesn't quite compete for genuine long-legged touring ability, either.

Truth is, the brilliant, all-electric Porsche Taycan makes a much better fairly short-range sports car or pseudo sports saloon than it would a long-range super-GT – but since that has much more to do with the developling state of our public electric car charging infrastructure than the car itself, it's definitely worth a mention in this list.
The Taycan will explode any assumptions you might have about the potential of the EV as a driver's car. It's every inch a Porsche first and an electric car second, and both performs and handles like it. It's heavy, but certainly doesn't feel like it on the road. Roll-on acceleration is staggeringly responsive and monumentally strong from low speeds; visibility is first rate; the car's dimensions are pleasingly compact for a four-door car; and handling is so supremely agile, poised and engaging that a Tesla Model S hardly bears comparison (neither, frankly, does that of the vast majority of combustion-engined big GTs).
On a long trip, the Taycan's impressive rapid-charging capability would usually allow you to return it to full charge in less than half an hour on the quickest 350kW public chargers. Even so, it's also undeniably true that a continent-crossing mission in a car with a usable high-speed touring range of about 200 miles at best, among a still-limited number of public chargers that may be fast, slow, out of service or at worst non-existent when you happen to need one, would be a bold gambit. It would be exciting too, though – and by no means only for the sense of adventurous jeopardy.
Mercedes' S-Class Coupé packed the very latest and greatest of its maker's powertrain, suspension, safety and infotainment technology into an elegant two-door flagship when it was launched in 2014. And when you're an industry powerhouse the size of Daimler, you can pack in an awful lot of technology – much of it the kind that its niche-level rivals in this class still simply don't have the budget or scale to offer.
The Mercedes-AMG S63 Coupé, then, is a car with all of Mercedes' semi-autonomous active lane keeping, speed limit and braking assistance systems, with the latest on-board connectivity and digital concierge systems, and with Mercedes' Magic Body Control camera-based active hydraulic suspension that scans the surface of the road ahead and prepares the suspension specifically for the bumps it's about to encounter.
AMG's 4.0-litre twin-turbocharged V8 supplies the S63 with every bit as much power and torque as it needs, and the suspension strikes a clever compromise between isolation and driver engagement that does just enough to keep you interested in the driving experience but also makes the car feel superbly refined and long-legged.
But if you like the sound of all that, you'll have to move fast and get one while you can. The C217-generation S-Class Coupé has now gone out of production, and limited supply exists in dealer and distributor stock. Furthermore, it won't be replaced as part of the all-new S-Class model family, as Mercedes elects in some areas to scale back the model expansion programme it has been on for more than a decade