UK one of the most expensive countries to buy a car, study says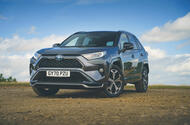 UK has 10th most expensive costs for SUVs, hatchbacks and electric cars in world, based on entry-level prices
The UK is one of the most expensive countries to buy a car, a study conducted by price comparison site Confused has shown. 
The study involved the price analysis of entry-level hatchback, SUV, electric car and sports car segments, and the UK placed 10th in three of the four categories.
With an average cost of £24,430, the UK was ranked the tenth most expensive place to buy a Volkswagen Golf out of 29 countries.  
Based on prices of a Toyota RAV4, the UK was listed as the 10th most expensive country in which to buy an SUV out of 43, with an average price of £31,945.
With prices of the Tesla Model 3 used as a parameter, the average cost of an electric car in the UK is £42,990, Confused says, again placing it 10th (this time out of 40). 
The US was named the cheapest place to buy a hatchback, with an average price of £17,082, while SUV prices were deemed to be the lowest in Canada, coming in at £16,796. 
Macao was listed as the cheapest place to buy an electric car, with an average price of £29,739. Sports car prices, based on the Ford Mustang, were lowest in Canada, with a price of £18,586. 
Singapore was rated the world's most expensive country to buy a hatchback, with an eye-watering average cost of £99,305, with the gulf in price because of taxes and fees implemented to reduce the number of cars on the road. One extra cost, called the Additional Registration Fee (ARF), can raise base prices by as much as 180%. 
The Asian city-state was also named the most expensive place to buy an SUV (£95,497) and an electric car (£61,486). EV prices are significantly lower in the country, as drivers can take advantage of a vehicle emissions scheme worth £13,745 (S$25,000) or an early-adopters incentive of £10,996 (S$20,000). 
Cambodia commands the highest prices for sports cars out of 48 countries, with a cost of £106,785, also impacted by vehicle and import taxes. 
Autocar RSS Feed Read More