Used buying guide: Honda S2000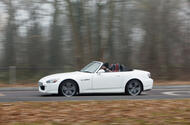 This high-revving roadster is a dream to own and a scream to drive
When you are one of the world's largest and most successful manufacturers of road and racing cars and motorcycles, known for your innovative thinking and unimpeachable engineering and splendid engines, and you want to produce a new model to celebrate a special birthday, what do you come up with?
The S2000, that's what. You see, the Honda Motor Company was officially formed in 1949 and, to mark the firm's golden jubilee, it gave the world this low-slung, rear-wheel-drive, two-seat drop-top sports car of prodigious performance, perfect 50:50 weight distribution and impressively low polar moments of inertia.
And there's more. For starters, there was a wonderful 2.0-litre 16-valve VTEC engine that produced 237bhp at 8300rpm and could rev to 9000rpm. It was a vivid screamer that could potter all day like an elderly professor and then hammer like a racer at the switch of a cam profile. The top speed was 150mph – wonderfully fast – and the 0-60mph time was a delightfully brisk 6.2sec. Chuck in a slick six-speed 'box and a Torsen limited-slip diff and suddenly things looked even juicier. 
And, of course, there was yet more eyebrow-arching wonderment: the front/mid-engined layout, the low centre of gravity, the wide track, the aluminium double-wishbone suspension, the rigid frame, the high-geared electric power steering, the special Bridgestone tyres, the digital instruments and even a hood that was impressively quick to lower and erect (from 2002 you could also buy a hard-top GT version). It was all tremendously well thought out and it was brilliant fun on the road – and it was an 'onda, of course, so it'd never go wrong. 
And that build quality stands it in good stead today. Many survive, and although those that do will by now have high mileage and been well used, the reports are good, and the accompanying costs of maintenance and repair surprisingly modest. It seems if you buy one now, you can still expect to enjoy many more years of wind-in-the-hair roadstering. 
I have to point out at this stage that some thought the on-the-limit handling of the earlier cars too twitchy, and others weren't convinced by that electric steering, but punting an S2000 of any vintage down a winding road on a sunny day will still have you laughing out loud: it's a yaw-busting, jaw-aching hoot. Later models had updates designed to dispel those criticisms, with tweaks to the springing and damping rates in 2002 and 2004, and traction control became optional from 2006 onwards and standard from 2008. That 2008 update also adopted the spring and damper rates from the Japanese-market Type S models. 
What isn't such a cause for laughter is that some time back, you could have picked one up for less than £5000, but you'll need roughly twice that now to buy a good one. Still, for a car that's a belly-laugh bout of fun and won't break the bank – and can now be seen as an investment, too – it all sounds like a reason for celebration to us.
What we said then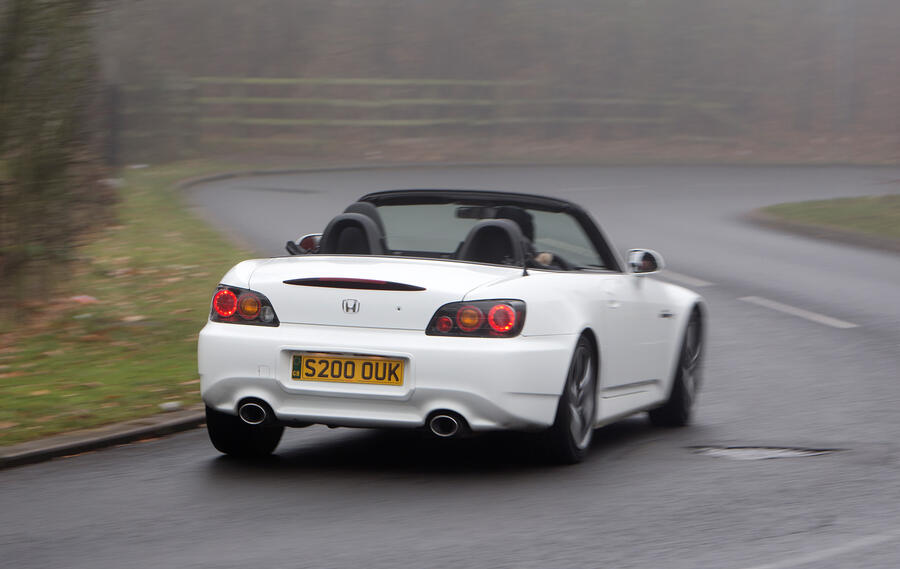 12 May 1999: "The engine is as revvy as its 9000rpm redline suggests. The S2000 turns in quickly and crisply and has one of the most adjustable chassis of any mass-produced car. You can immerse yourself in the delights of steering with the throttle in just about any attitude you can imagine. You can drive this sports car for hours at a stretch and the only parts of your anatomy likely to be aching are your facial muscles from the ear-to-ear grin."
How to get one in your garage
An owner's view
Sam Snoody, S2UK Owners Club member: "I bought my first one in 2007, a GT model on an 04-plate. I love these cars and I've had three. It's all about driver input. The driving experience is analogue and primal. It really grabs you by the lapels. It's durable and bullet-proof, and also practical, with a large boot, and it handles driving trips and weekends away with ease. I help organise meetings for enthusiasts through the owners club. We meet up at least a couple of times a year."
Buyer beware…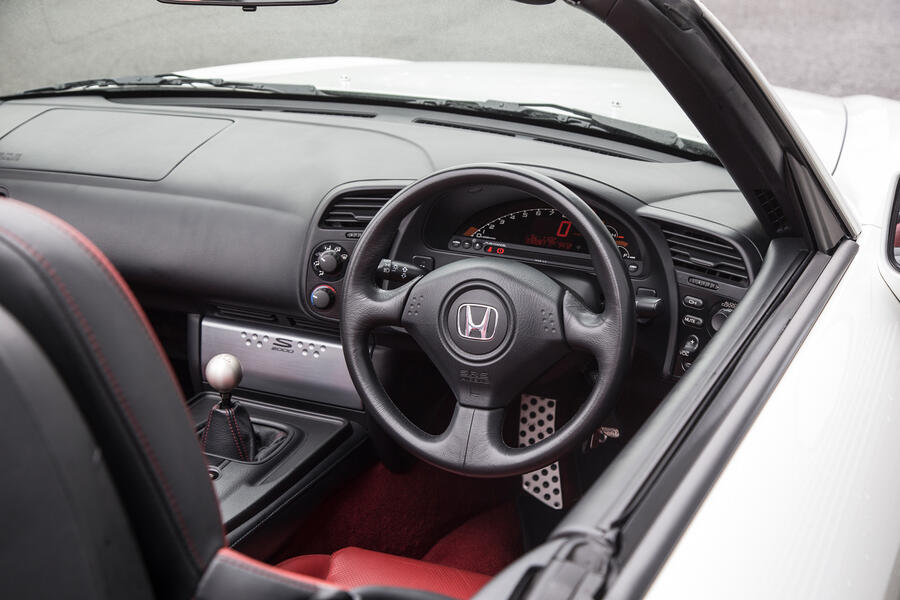 Bodwork: Solidly built with excellent all-round quality but check the body carefully because the panels are expensive to replace. Many examples have had relatively minor accident damage and some repairs are better than others.
Brakes: They're excellent in use and stand up to wear well. However, there are reports on older, high-mileage cars of a sticking parking brake mechanism and, in some cases, binding calipers.
Chassis: Bushings can seize. Honda UK doesn't sell individual bushings, so seek out Mugen replacements to save cash. Check receipts for evidence of work done on the bushings. If there has been none, ensure that the steering wheel is straight and there is no uneven tyre wear. Check nuts, bolts and eccentric adjustors as these can seize with age. 
Transmission: The six-speed manual has a lot of vibration through the lever because of its direct connection to the gearbox. However, the gearbox itself, the rear differential, driveshaft and clutch are all robust, although there are reports of clutches packing up after 50k-100k miles. The slave cylinder on older cars can go. 
Interior and hood: Generally, the interior quality is good. The leather interior wears well, although high-mileage examples can get a worn driver's seat. Inspect the soft-top roof for signs of any splits and potential leaks. Cars up to 2001 had a plastic rear window, which can crack. A new roof is £300-£1000.
Engine: On the whole, incredibly reliable. The timing chain tensioner, or TCT, will produce a distinct rattle on start-up or between 2000rpm and 3000rpm when it's on its way out.
If left for too long, a faulty TCT can cause the timing to slip out, with potentially disastrous consequences for the top end. These tensioners are much cheaper if bought online (around £300). Pre-facelift 2000- 2003 S2000s can get through oil particularly quickly – as much as a litre for every 1000 miles. As well as regular top-ups, frequent oil changes are advisable – preferably every six months or 6000 miles, whichever comes first. 
Also worth knowing: A minor refresh in 2002 introduced suspension mods, more trim options and a GT model that came with a hardtop as standard. A considerable upgrade arrived in 2004. Along with more aggressive bodystyling, LED rear lights and 17in wheels as standard, there were tweaks to the suspension and gearbox in a bid to reduce the car's twitchiness in the wet and on the limit. Two years later, Honda fitted stability control (Vehicle Stability Assist), a drive-by-wire throttle, new wheels and a few other upgrades inside the cabin.
How much to spend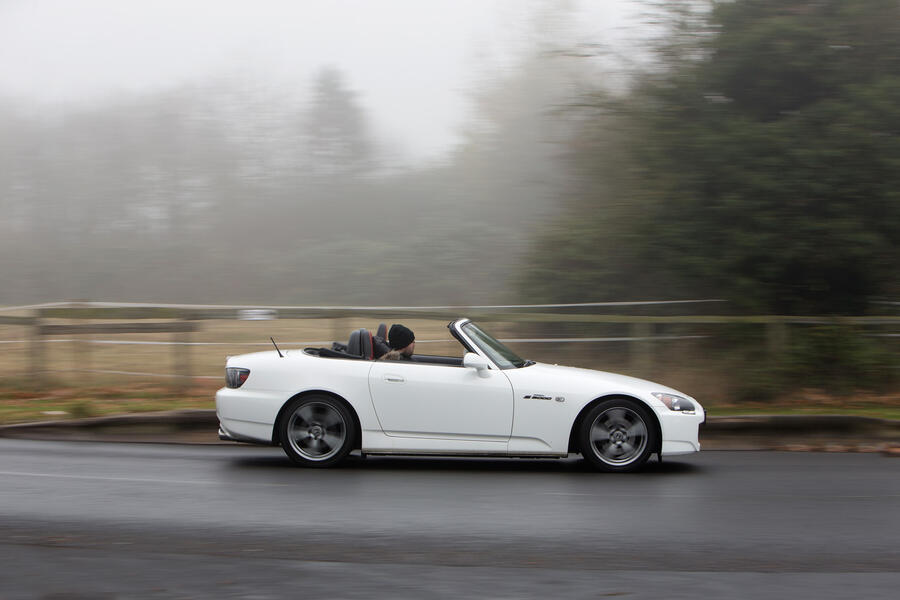 £7000-£9999: Early and high-mileage cars, mostly with in excess of 100,000 miles, for sale privately.
£10,000-£19,999: Where you'll find the vast majority of S2000s. Generally, these will be with a lower mileage for the year and some from specialist dealers. Some very clean and strxaight cars here.
£20,000 and above: Models in showroom condition with a complete history and low mileages, often being sold by a knowledgeable specialist dealer.
One we found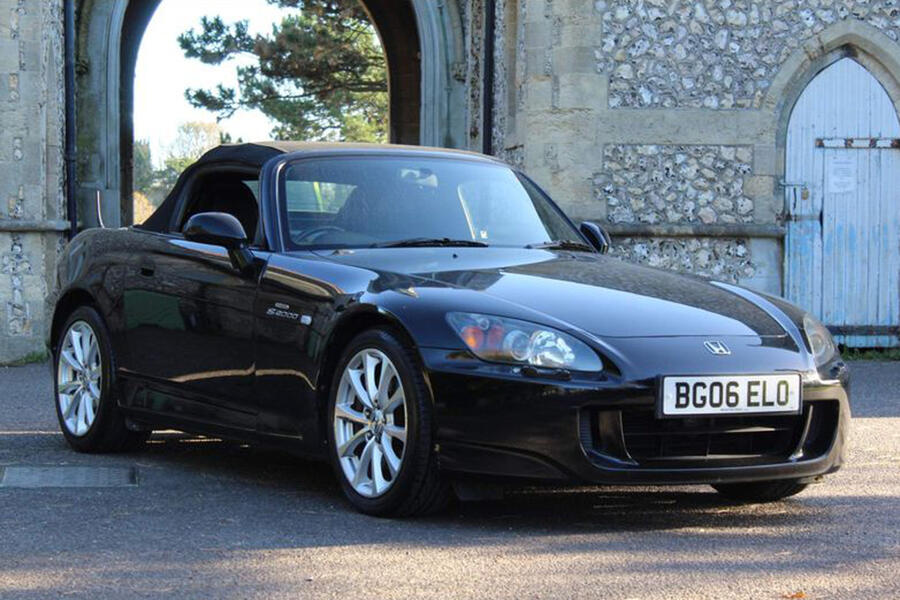 Honda S2000, 2006, 83,000 miles, £14,990: This immaculate 2006 version has had two previous owners and comes with a full service history, year's MOT and three-month warranty. It's in one of the most popular S2000 colours and is a straight, unmodified example, which is also a sought-after choice.
Autocar RSS Feed Read More