Visiting the world's biggest private motoring library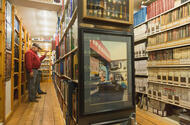 A private house in the Midlands contains a significant automotive collection. We were invited to nose around and were taken aback by what we found there
At the beginning of the first lockdown, I went into the basement at Haymarket Media Group and looked through the entire run of Autocar from 1895 to the present to see what the magazine did during moments of national crises. 
It turns out that it was not the Kaiser and Adolf Hitler that stopped production but industrial action. You might remember that I wrote a story about it. Anyway, after it was published, we received an email from a reader called E Dean Butler, who said that he had a full collection of Autocar from day one and reckoned that there were only six complete sets left in the world.
You will also be aware that the entire Autocar back catalogue has just been digitised (and you can sign up here). Shortly after it was announced, another email from the mysterious E Dean Butler was forwarded onto me. Mr Butler was interested to know whether an index was going to be produced so that it would be easier for him to locate articles of interest. I had a vision of Mr Butler living in a quiet semi with roof joists bending under the weight of 126 years of Autocar.
Not quite. It transpires that our man's collection of car magazines is not limited to Autocar and that, if you count a year's worth of magazines as a volume, he has 15,000 volumes of magazines. A complete run of Motor Sport, Russian car magazines, Auto Motor Und Sport and many more. In other words, one of the largest collections of motoring magazines in the world. This I had to see. And so followed one of the most enjoyable days of my working life. 
Dean Butler does not live in a semi but in a large Grade I Elizabethan pile in the middle of nowhere in the West Midlands. Born in Pennsylvania, Butler kicked off his working life at Procter & Gamble, and although he gained his degree in chemistry, it turned out that he was a bit handy at marketing. Fast forward a few years and he'd founded optical giant LensCrafters, flogged it and moved to the UK to create Vision Express. "I've sort of stayed here ever since," he says.
Butler is hugely impressed by the bright yellow 2021 Mustang Mach 1 that I arrive in. This triggers a V8 love-in, and before I see the archive, Butler has to show me a 1968 Chevrolet Camaro Z28 homologation special that's one of only 25 built.
"Hold on," says Butler. "I'll start it up so that you can hear what cars were meant to sound like when I was young in the 1960s." Slightly more rorty than the MG TD that 76-year-old Butler has owned since he was 16.
And there's more: a slingshot dragster with a flathead Ford V8, a Dodge Ram V10 pick-up, a Jaguar D-Type replica and a Buick Grand National (the one with a turbocharged V6). In another garage are some IROC (International Race of Champions) Camaro race cars, one of which was first raced by Graham Hill.
I have been misinformed. Butler has a vast collection of not only magazines but also books. Surely, it must be one of the largest automotive libraries in the world? "I think the Collier Collection in Florida is larger," says Butler, "but then there are things that I've got that they haven't and vice versa, of course." One reason why this is turning out to be such a great day is that Butler does not boast about the rarity of items or their value. There's just genuine fascination and passion for what they represent as historical pieces.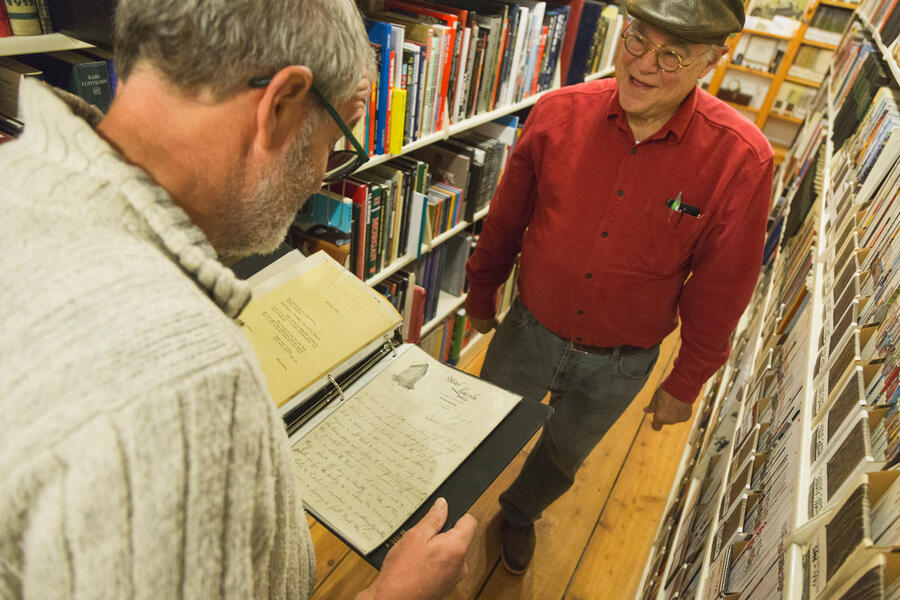 Such as the race programme for the first-ever meeting held at Brooklands in 1907. Just as I'm taking that in, it's joined in my hands by a similar publication from the first event held at Indianapolis in 1909. Butler has every single Indy 500 programme, from the first-ever meeting onwards.
But back to the magazines. One of Butler's favourites is La Vie Automobile. "It was published from 1904 to 1956 and what I love about it is that it was edited by the same man from issue one until the end. I bought these from the General Motors library," he says.
For me, the 'pass the defibrillator' moment is a complete set of Hot Rod magazine. "Wow," I say. "Right back to the early days when Gray Baskerville was first writing for the magazine." Butler's head turns towards me a few degrees: "I'm impressed." Having established my hot-rodding credentials, Butler pulls out the first catalogue produced by hot rodder and tuner Ed Iskenderian and then an early So-Cal Speedshop brochure.
I've been an on and off subscriber to Car and Driver since the late 1970s and unsurprisingly Butler has a complete set. The magazine started out as Sports Cars Illustrated until in 1961 then editor Karl Ludvigsen changed its name. Naturally, Ludvigsen's brilliant Porsche: Excellence Was Expected is on these shelves. "The first car book I ever bought," says Butler, "was on the MG T-series cars, which happens to be the first book that Karl wrote." Ferrari Racing: A Pictorial History by Colin Goodwin is in the Ferrari section and I add nothing to its value by signing it.
Occasionally, there are gaps in the shelves filled by an objet d'art, such as an Edelbrock cylinder head off a flathead Ford V8 or a carburettor off a Miller. (Butler owns the 1932 Miller FWD, a fantastic four-wheel-drive Indy racer that's one of only two built.) "Ever seen a Goodwood Ton?" asks Butler as he passes me a small pyramid-shaped object. "It was given to drivers who achieved a 100mph lap at Goodwood." Fetch back the defibrillator: this one was awarded to my hero Mike Hailwood for lapping the circuit at over 100mph in a Lotus in 1964.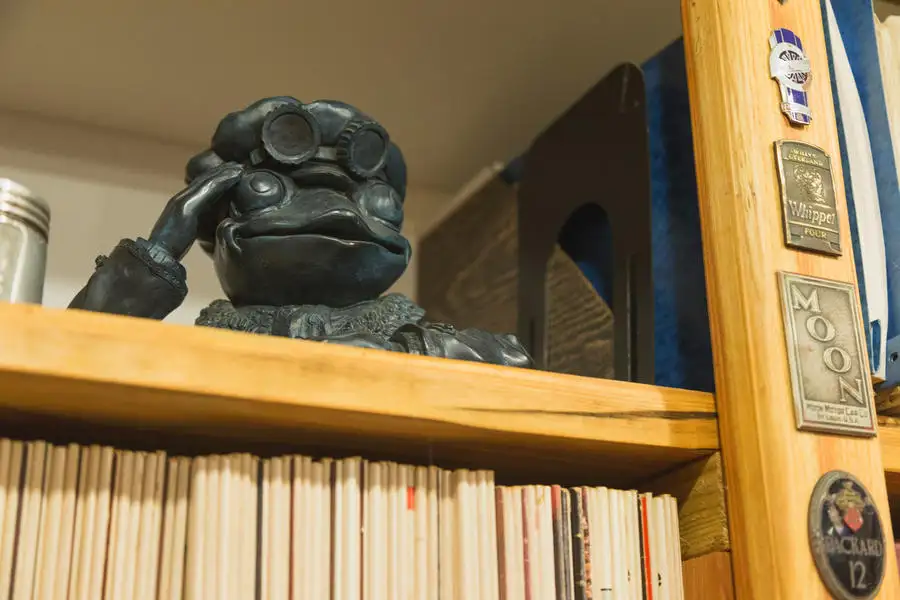 The pace is not lessening. I'm handed a book titled Sports Cars of the World. The flysheet is inscribed: 'To Dean, best wishes, Neil Armstrong'. "He was my neighbour in Ohio," says Butler.
Although he's not an autograph collector by choice, there are some good ones in the library. Butler's favourite car of the dozens that he's owned and raced is a Bugatti T51 once raced by Louis Chiron, so unsurprisingly the Bugatti section is well populated. There's a programme from the event that celebrated the centenary of Ettore Bugatti's birth that is signed by, among other Bugatti luminaries, Louis Blériot (son of the aviation pioneer) and Elisabeth Junek. Junek was a Bugatti driver who is one of the greatest women drivers of all time and who beat Tazio Nuvolari in a straight fight. "Look at this," says Butler, "a cook book of Czech recipes written by Junek. It's the only cookery book in the library but I had to have it."
There don't seem to be many biographies, I point out. "In a different room," says Butler. And sure enough, there is every racing and car industry biography you can think of. My own collection is not bad but Butler has everything I've got and a 1000 times more. A wonderfully fat biography of François Cevert, for example, but unfortunately in French.
Butler has an online business meeting at 3pm that he can't miss. He told me about this a week ago so it isn't a ruse to get rid of me. That said, if he hadn't had that meeting, he'd have had to invent it because I would be here forever. 
At every turn, there's a new delight. An album of photographs from the early days of aviation, including shots of Blériot. Uncaptioned and never published. A treasure. Butler's wife is Russian, an eye surgeon (there's a longer word to describe her speciality but neither Google nor I can spell it) and one of the team that pioneered laser eye surgery. Her father was chief electrical engineer of the Russian space programme in the 1960s. Needless to say, Butler has a large collection of Russian motoring and aviation books.
What a day, what an enthusiast and what a magnificent collection.
The tricky question: what happens to this incredibly important archive when he croaks? "Good question. It's very difficult to sell a library," says Butler. "It's going to be a question of finding the right place for it to end up."
One thing's for sure: if we get another lockdown or I have to self-isolate for 10 days or more, this is where I'm going to head to. Butler can lock me inside the archive with a sleeping bag and, if it wouldn't put him out too much, slip a plate of sandwiches under the door a couple of times a day. My life's passion is within these walls and so, if this isn't a sickeningly pretentious thing to say, is most of my life's work.
What if Butler had bought TVR?
In a garage on its own is a blue TVR Griffith 500, the second to last one made. Butler likes this car so much that he tried to buy the company that made it. And he was within weeks of doing so before Nikolai Smolensky bought it. "He ended up paying rather more than we were willing to," says Butler. "We'd had a left-hand-drive Tuscan built that was to sort of American specs and had gone a long way down the road with fixing up to build TVRs in the US. A great shame."
TVR instead went to a young zillionaire with no experience of the car industry and then onto someone who after years of trying hasn't progressed the brand beyond what appears to be a fantasy project. Butler's passion for cars would have been a boon and his business acumen even more valuable. You don't set up a business in 28 countries without having your eye on the ball.
Autocar RSS Feed Read More