Worth the weight? Lotus Emira first ride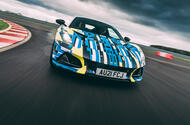 The Emira is claimed to be a sports car for the masses as well as for the purists, despite pushing one and a half tonnes. We see for ourselves
"We'll do a few laps in the electrical car," says Gavan Kershaw, standing beside a Lotus Emira prototype outside Lotus's impressive new Hethel HQ. 
It's an odd-looking machine – familiar in shape and basically white, but covered in random colour flashes as if it recently lost a high-speed argument with a random salvo of paintballs.
This word 'electrical' is unexpected. Every shred of Emira publicity has so far made it clear that while Lotus is indeed readying an all-new pure-electric sports car for launch in the mid-2020s, this Emira is very much Hethel's last tilt at "celebrating the glories of combustion". It isn't even a hybrid.
The electrical explanation turns out to be undramatic. Lotus currently has around 35 Emira prototypes engaged in final testing in locations all over the world, before production cars start flowing in time for launch. This one belongs to the team in charge of electrical architecture, but Kershaw, the company's pre-eminent driver and guardian of 'Lotusness' (official title: director of vehicle attributes and product integrity) has commandeered it for an hour to show us how it goes on the Hethel test track. There's no question of a test drive just yet, but I know riding with Kershaw will in some ways be even more instructive.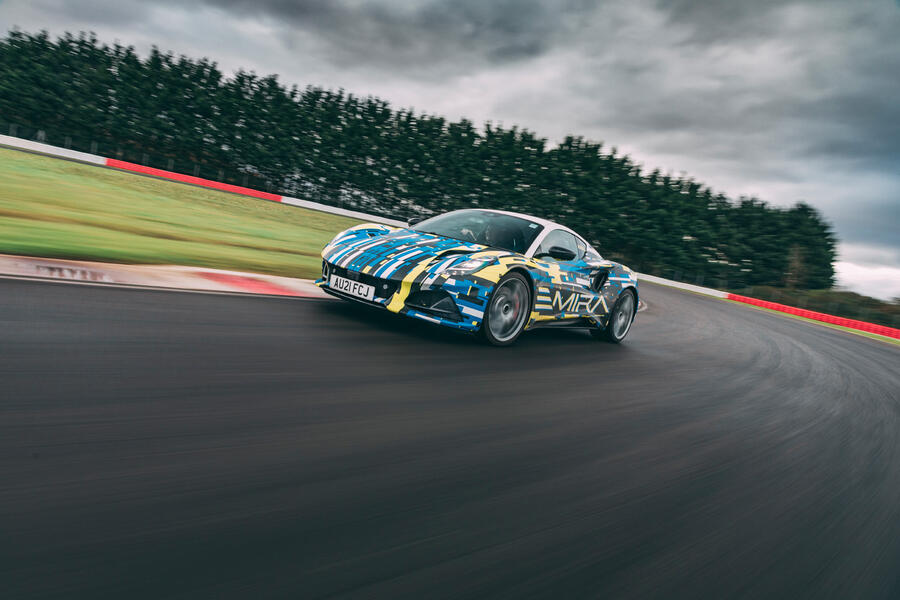 Doing quick passenger laps with visitors is an ancient Lotus tradition that goes back to Colin Chapman himself. Mike Kimberley, the first post-Chapman MD, did it and so did Roger Becker, Alistair McQueen, John Miles and many other great engineer-drivers since Lotus moved to Norfolk in 1966. Kershaw is very much a bona fide member of that team, having been brought up by a successful motorsport dad before moving as an apprentice into the orbit of McQueen, Miles, Becker and the rest of them. As we prepare to move, his definition of the Emira – which is tilting at 4500 sales a year against a previous total Lotus sports car volume of fewer than 2000 – could hardly be more apposite. 
"To sell more cars we've got to steal customers from the others," he says, "which means we have to provide the stuff modern owners need: usability, durability, stowage, a connected screen, modern infotainment. But at the same time we must maintain all the Lotus dynamic properties that can't be traded. You have to feel completely connected to a Lotus, and that it rewards you. It must never feel aggressive or edgy."
Who will buy an Emira? Traditional Lotus types, of course, but the new model needs a much wider bandwidth. Kershaw cites two disparate new types seeking pure driving enjoyment: people who've had supercars or aggressive sports cars but no longer need the drama or ownership difficulties, and people who are new to cars like this and don't want to be "beaten up" for their pleasure. The Emira will deliver day-to-day capability, he says, without ever losing the circuit speed and delicacy built into every Lotus. 
The Hethel track has changed repeatedly over the years. It started as a disused airbase but has been remodelled at least half a dozen times since opening in 1966. Today, it splits into several circuits; we're using the Southern Loop, encompassing corners that invoke the names of Chapman, Senna, Hill and Andretti, but missing out Clark, the scarily quick Windsock right-hander and the Mansell main straight, where committed drivers get to 160mph.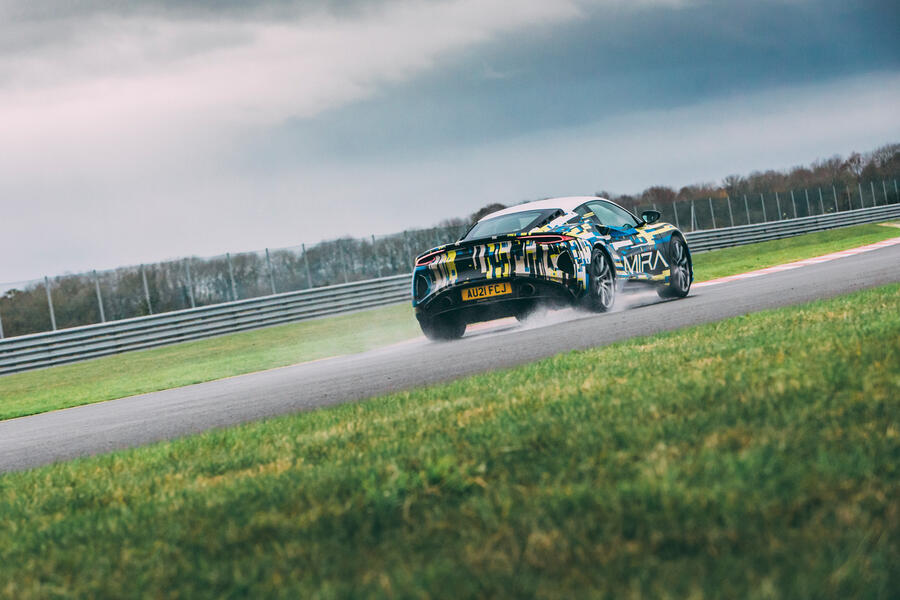 Climb into the Emira's left-hand seat and you'll instantly notice how much easier it is lifting your feet into the generous footwell, over the now impressively low body sills and easily around a door pillar that no longer intrudes. This all-aluminium chassis uses the extruded, riveted and bonded 'tub' principles of the Elise, Exige and Evora (and has a relationship with the Evora) but contrasts heavily with them all on ingress and egress. Kershaw explains that this new-found ease of entry is an emblem for the whole car's user-friendly nature. He also points out that the Evora relationship isn't so close that it places limits on the new car: the Emira has wider tracks, a new steering column, a new steering rack, new suspension uprights, new subframes and new hard points. And, of course, the suspension rates and most of the hardware are all new.
Why the wider tracks? "We liked the Evora's mass distribution but decided to make Emira wider because this improves the centre of gravity height," explains Kershaw.
"That means the car rolls less in corners so you can drop the spring rates and make it more supple. I was also desperate to design a new anti-roll bar set-up, with less friction. That would make it faster-acting, which meant smaller bars – another ride benefit. Of course, we modelled all this extensively in CAE (computer-aided engineering), but there's no substitute for real-life testing."
The Emira is 4.4m long and sits on the Evora's generous wheelbase so the cabin can be snug but relatively spacious. There's even room behind the two seats for a couple of bags. The space also allows plenty of screen rake, which means the fascia can be low, and the door sills can be cut away at their leading edge to improve visibility. Sitting inside, it's remarkable what these moves achieve: the Emira feels compact on the road, and when we start to drive, even from the passenger's seat you feel it's easy to place. Various fullhouse supercars are hardly bigger, but inferior visibility makes them intimidating by comparison.
We discuss the design elements of the interior, which even in this mule is more of a quality production than that of previous Lotus models. The sophistication designed into this one by Russell Carr's team is translated better than ever by a specialist trim supplier, in high-grade materials. As billed, a big central screen puts new emphasis on connectivity and modern infotainment, but Kershaw also points out the overriding emphasis on driver focus of key elements like the ventilation that continues to be knob-controlled. A red, jet fighter-style flip-up cover over the starter button makes a neat touch.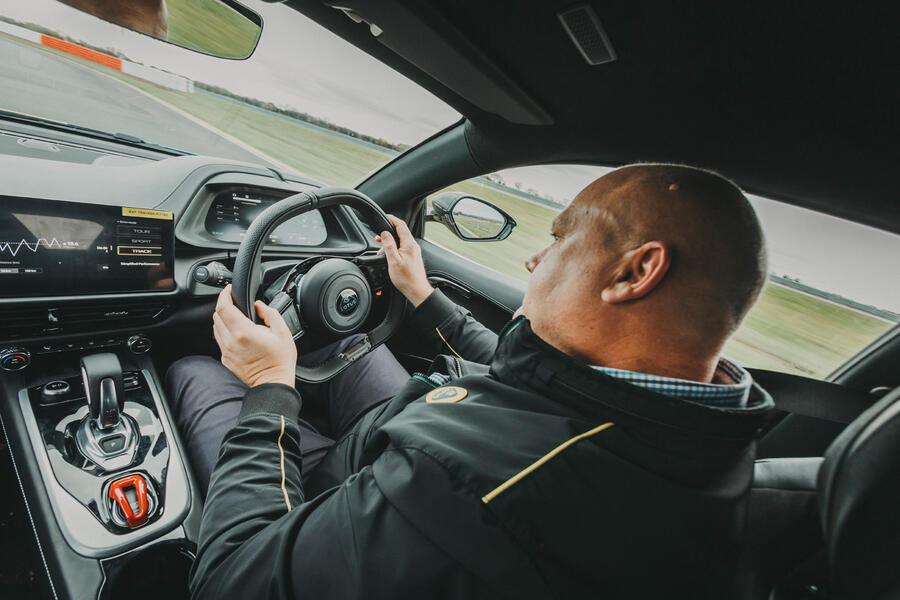 Kershaw demonstrates how the gearlever is positioned within a hand span of the steering-wheel rim, a Lotus tradition going back to Chapman's day. "Colin did this in the 1960s Lotus 25 grand prix car," explains Kershaw. "He believed if the lever was easily reached from the wheel, a driver wouldn't get distracted hunting for it."
It has been raining and the track is greasy, so I'm expecting a car control masterclass. Kershaw is famed for this but he wears his skills lightly. 
We ease across the apron of the test track, past a Portakabin marked 'Clubhouse' and through a boom gate that raises for our arrival. Our Toyota-derived supercharged 3.5-litre V6 mounted transversely behind us is murmuring its potential with a smooth, bass rumble as we go.
This electricians' Emira has an automatic gearbox plus the so-called Tour chassis (you get a choice of this or a Sport set-up) and the car runs same-size 20in Goodyear Eagle F1 Supersport tyres front and rear. Higher-grip Michelin Cup 2 tyres are offered but Kershaw makes it clear (here by word and soon by action) that these will only be needed by the most focused of drivers, who will specify them specially. Both Tour and Sport chassis versions roll on standard Goodyears because they work so well. 
"Tyre testing is everything," says Kershaw. "Our CAE chassis modelling relies enormously on tyre data. You can make what's on screen a good or bad car entirely according to tyre behaviour. We probably tested 70 or 80 sets of tyres to get to what we have now; it drove the tyre technicians half-mad. But they understood and supported it really."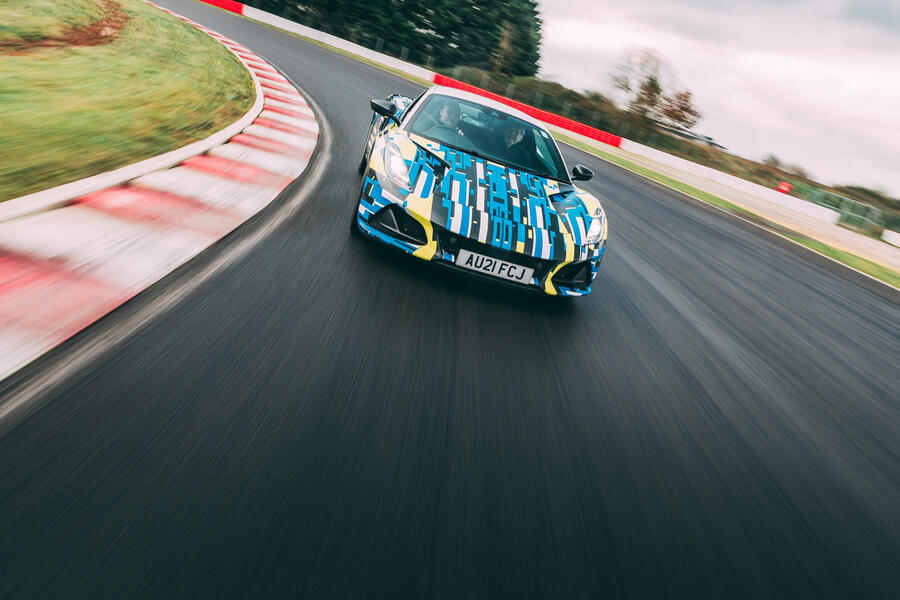 It's not just quantity; the quality of grip is key to both satisfaction and safety, stresses Kershaw. The holy grail is a property he calls "sliding grip", which means if a tyre breaks away, it's always trying to recover.
Over the years, Kershaw has probably disappointed a decent proportion of the people he's driven by not exploding into tyre-smoking action the second his car noses onto the track. He could certainly do so if he wanted, given all his (winning) Lotus GT race experience and his extreme familiarity with the Emira. But today he chooses to build up to speed, first stroking the car around and making manual shifts at about 4500rpm – 2500rpm short of the V6 redline – by moving the neat, loop-shaped lever sideways. Production cars will have paddles.
The speed builds. We start cornering harder. Then harder still. I'm still fairly well held by the touring seats, but the car must surely be getting close to breakaway. But it just tracks straight. Even the steering effort doesn't seem to have built up greatly. The grip from these Goodyears is awesome. Kershaw calmly follows the racing line, but now he's starting to really use the supercharged V6, which proves strong and torquey to 7000rpm. "I love the way it pulls right to the line," he says, demonstrating its throaty howl at the top of the range, "without ever getting really intrusive. We've worked a lot on that…" 
There isn't really a proper straight on this southern loop, but we still hit an easy 115mph out of the Senna Curves and on towards Chapman before peeling hard right and back through left and right kinks, one named for Graham Hill, to the Andretti hairpin. The car feels superb, planted but agile. One normally negates the other, but not here. And such is its grip that there are only three places where it can easily be pressed to display real attitude: oversteer on the hard righthanders at the loop's extremities (Kershaw does this for fun, holding the car at whatever angle of slide you'd like) and understeer – if he deigns to allow it – into the Graham Hill left-hander, where there's a challenging transition from a faster kink going the other way.
I'm detecting hints of body roll – just enough of it – and we discuss how they tuned it. "I prefer a bit of roll," says Kershaw, "and nearly all drivers benefit from it. The best cars take an initial stance, so the driver knows instinctively where and when cornering has started and how it builds up. If a car corners dead flat, you don't feel the small differences you need. Ayrton Senna always said the hardest Formula 1 cars he drove were the active suspension types because you had to guess where the limit was. They felt nervous – and nervousness is the very last thing we want in a new Lotus."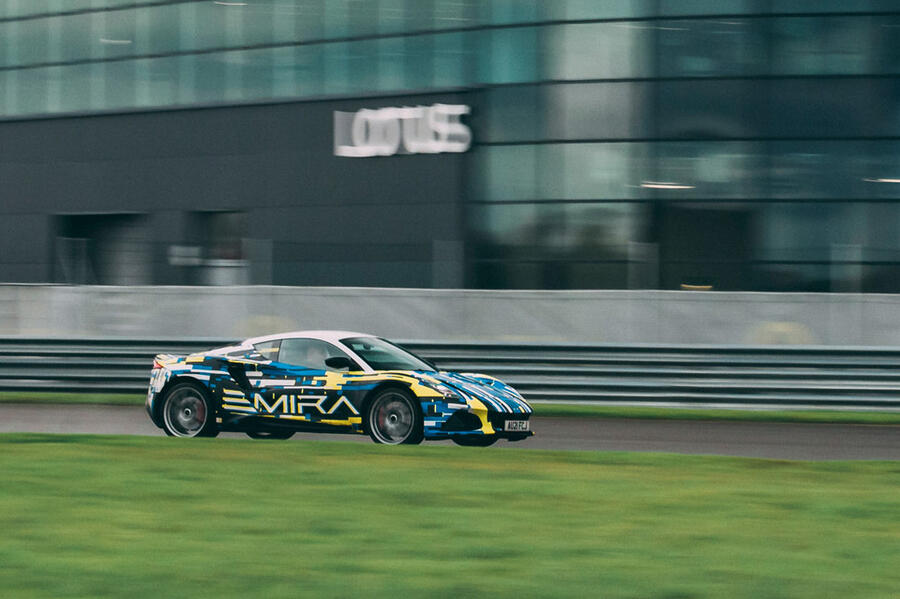 This track surface is very smooth but I'm still detecting a suppleness of ride that I hadn't expected. It's baked in, says Kershaw, and especially true of the Tour chassis, though even the Sport is a good-riding car. They've always done things this way at Lotus, and buyers overwhelmingly say they like it. When we start discussing the fact that in an era of almost universal electric power steering the Emira sticks with a better-feeling hydraulic system, Kershaw refers to a quality he calls "engagement", which is quite different from accuracy. It's tough to define, but when you drive the Emira (says Kershaw tantalisingly), it's unmistakable.
It's time to end our session. The electricians want their car back. We've probably done two-dozen laps of this little circuit, at higher speed than I could have driven, yet with the car only ever out of shape when the driver required, usually to demonstrate the Emira's built-in stability and speed of recovery. I've enjoyed Kershaw's smooth, decisive, unhurried driving style; it's quite obvious the car's responses have been shaped around him.
Driving back through the boom gate, Kershaw explains why smoothness matters so much. "I try to race like that," he says, "because a Lotus never needs to be hustled. We build them that way. Our view is that everything that happens while you're driving depends on four little bits of rubber connecting you to the road. What's the point of picking a fight with them?
Inside Hethel's new production hub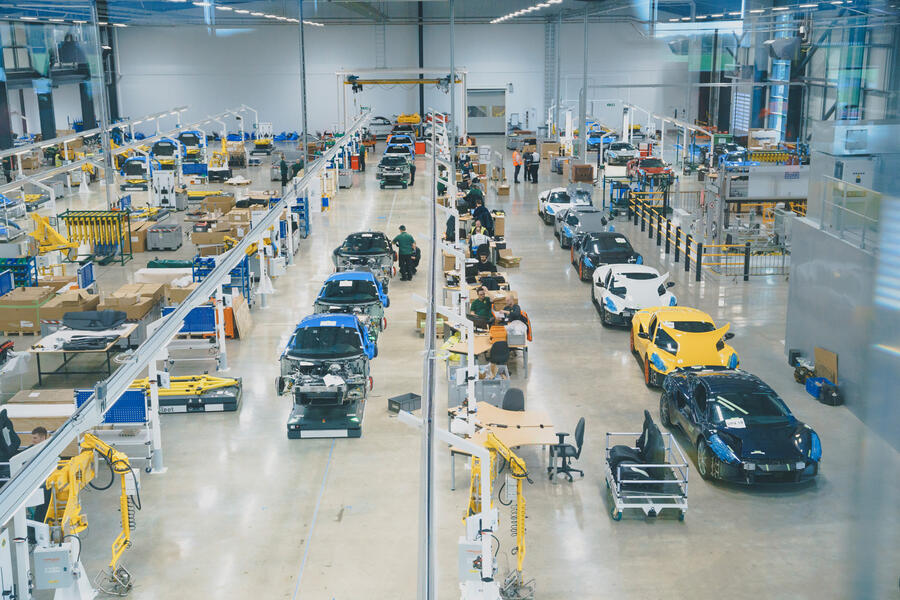 Your overwhelming impression from standing for the first time in Lotus's magnificent new Emira assembly hall at Hethel is that, for the first time, this really is a firmly founded long-term sports car business. 
Hethel has been responsible for 55 of Lotus's 73-year production history, but there has always been an undercurrent of impermanence brought by organisational changes and hiatuses from weak sales. But this place, and the mighty three-tier paint shop beside it, has clearly been built by planners looking 20 years ahead.
Wandering the new hall with Carl Elston, executive director of quality, it's impossible not to be impressed by the scale of the thing. Bodies emerge from a framing line next door into a spacious four-line assembly process where they travel on AGVs (automatic guided vehicles). Chassis parts come from a new Lotus facility outside Norwich; powertrains arrive built up on pallets. At present, there's a 17-minute cycle time and the factory is on one shift as it produces the last pre-production cars. Soon it will start on £75,000 Emira First Editions.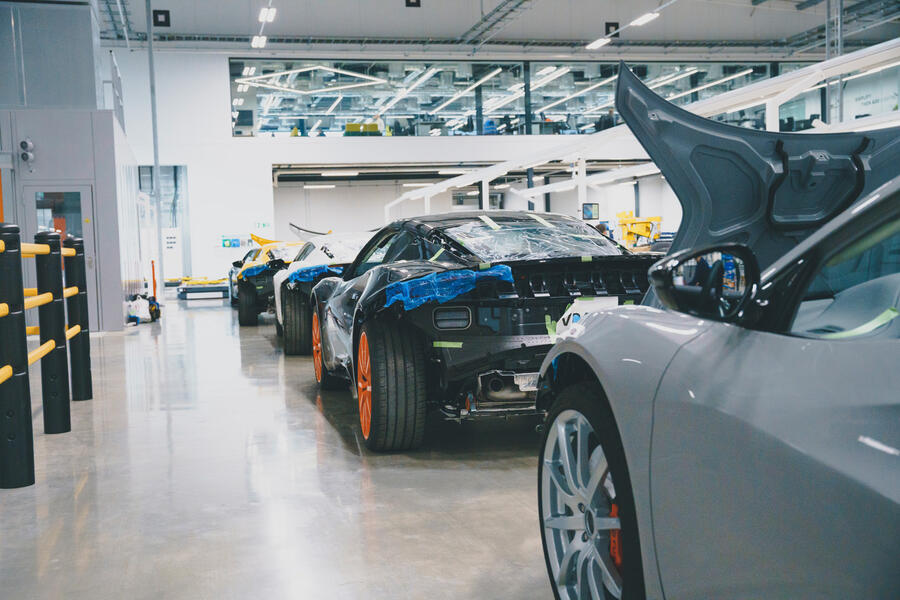 The production cycle time will get shorter as practice improves, says Elston, and two shifts a day are possible. This is the factory that will build Lotus's upcoming electric sports car three or four years away, and maybe even the promised Alpine spinoff. The future looks exciting, but this is already a deeply impressive place with pervading optimism fully up to usual Lotus standards. But this time there's no sign of a wing and a prayer.
Autocar RSS Feed Read More